Legendary South African footballer Lucas Radebe appears to be living in marital bliss as he enjoys the best life has to offer with his second wife Thobela Silver. The duo met a few years after Radebe's first wife Feziwe passed away. Lucas and Thobela dated for a while before exchanging the forever commitment.
The couple tied the nuptial knot in 2015 and has been inseparable ever since. What's more, their love has been cemented by the birth of their daughter Jessica Radebe. The couple's union is 18 years old and counting, and they look set to take it far into the future
Lucas Radebe is a Retired Footballer
He was called Lucas Valeriu Ntuba Radebe at his birth which occurred on the 12th of April 1969. Lucas Radebe was born in the Diepkloof part of Soweto where he also grew up. He is one of the 11 children of Emily Radebe and Johannes Radebe.
Lucas started schooling in his locality, attending local Bopasenatla Secondary School till age 15. When he was ready to enter grade 10, the emerging star was sent to a former homeland, Bophuthatswana; his parents saw this as a way of safeguarding their son from their Diepkloof Zone Four neighborhood which was deemed to be violent. There, he joined Ngotwane High School very close to Zeerust.
Radebe has always wanted to play football, thus, he quickly joined amateur side ICL Birds and it was there that the Kaizer Chiefs scouted him in 1989. The South African football star went international when he transferred to Leeds United in England where he ended up playing a total of 256 matches. He equally played for the South African national team and earned several monikers on the field of play. While some called him "The Chief", many others refer to the center back as "Rhoo".
At the peak of his football career, Lucas Radebe captained the Bafana Bafana and as well as Leeds United. He earned a mention from the legendary SA freedom fighter Nelson Mandela who called him a hero at the 2002 World Cup tournament.  Lucas hung up his boot in 2005.
He Has Been Married Twice
The former professional footballer is a family man who has exchanged marriage vows a couple of times. From what is obvious, Lucas Radebe is a one-man woman. He only had the need to venture into a second marriage when death snatched his first wife Feziwe from him.
Radebe's marriage to Feziwe occurred in 2003 and their union only lasted a few years before it ended due to her death. He went on to marry his second wife Thobela Silver in 2015. He has been with Silver since they exchanged the forever commitment and their union is still going strong.
Lucas Radebe Met His Current Wife Thobela Silver in 2012
According to reports, the duo first crossed paths in 2012, four years after the Bafana Bafana star lost his first wife to bowel cancer. However, the circumstances surrounding his initial meeting with Thobela never made it to the public space. Going by reports, it was at a time when Lucas was still trying to find his foot after Feziwe's passing.
The details of their dating period are equally not available but from what is obvious, Lucas didn't let the grass grow under his feet after he became convinced that Thobela Silver was the woman for him. This conclusion is drawn from the fact that they only seemed to date for barely three years before taking their union to the next level.
Thobela Silver Became Lucas Radebe's Wife in 2015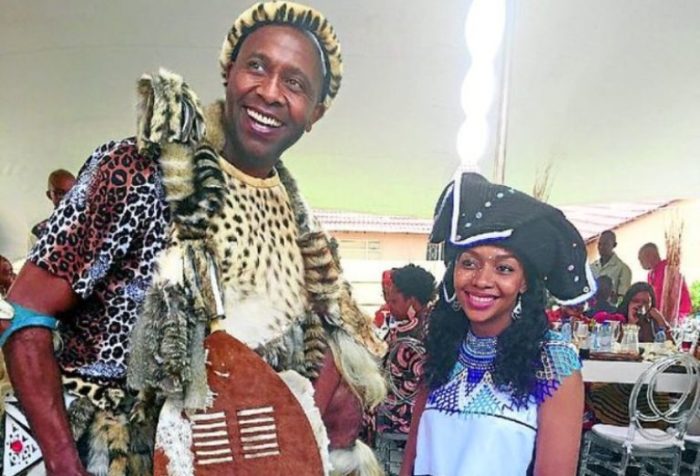 The year 2015 was a memorable one for the South African football star as that was when he exchanged the forever commitment with Thobela Silver. It is common knowledge that the two became one following a traditional wedding ceremony that took place in Diepkloof, Soweto – the hometown of the South African center back. The ceremony also marked the duo's umembeso (a meeting involving the bride and groom's family where they exchange gifts). The beautiful occasion was witnessed by family and friends.
The photos of the traditional wedding ceremony showed the couple attired in their colorful traditional apparel as they arrived at the venue in an exotic Porsche. Going by the reports emanating from the couple, you don't need a crystal ball to conclude that Lucas Radebe hit it lucky a second time as his union seems to be running on oiled wheels.
Lucas's marriage to Silver seems to be the best decision he took since losing Feziwa as the union appears to have succeeded in getting the former soccer player back on track. When quizzed on the secret of their success, Lucas Radebe ascribed it to the way they conduct their marriage. According to the Leeds United star, they excel in taking care of their union and shower each other with love, respect, and commitment.
Silver is obviously what the former center-back needed to get over his grief from Fezi's death and Lucas has confessed that she has put him on the right path to recovery.
What to Know About Lucas Radebe's New Wife Thobela Silver
Since Thobela Silver is not a known figure, details about her personal life have never been revealed in the public space. In fact, the football star's second wife's name is rarely mentioned and whenever you hear the name Thobela Silver in the media, then it must have something to do with her celebrity husband.
However, after her nuptials with Radebe, it came to the fore that Silver earned a living as a businesswoman before getting married. The kind of merchandise or services she sells is not known and no one can tell whether she continued with the business after becoming Radebe's wife.
Lucas Radebe's First Marriage Lasted Over Five Years
When you consider the level of love and commitment between the former Bafana Bafana center back and his wife Silver, you may believe that he has never been committed to another woman in his life. However, that is far from the truth. Lucas Radebe was a widower when he met Thobela for the first time. In fact, reports said the soccer player was battling a heart condition which was a resultant effect of the heartbreak he felt from losing his first wife.
Lucas started dating his first wife as far back as 1997. They met when Lucas was already playing soccer on a professional level. Their relationship survived a dating period that lasted for over six long years when Fezi would travel out of the country to meet up with the love of her life. They finally decided to tie the connubial knot on the 15th of June 2003.
Though their marriage lasted for barely five years before Fezi lost the battle to bowel cancer, the lovebirds were together for over a decade. Right from the time they met, Lucas Rabebe and Feziwa became inseparable – as lovers, they were very compatible and as a married couple, they exuded a rare kind of love and affection for each other.
Feziwe Radebe Had Two Children
Feziwe Radebe was born Feziwe Ngqobe on the 5th of September 1974 to parents Lesley and Eunice Ngqobe. She grew up in her place of birth, Mafikeng, alongside a sister named Thandiwe Ngqobe.
Feziwa graduated from Batswana High School in 1991 after which she proceeded to study Public Relations at the Technikon Witwatersrand. Before her death, she was already a mother of two. Her children Owami Radebe and Lucas Hugo Radebe are part of the legacy she left for her family.
What Happened to Lucas Radebe's First Wife?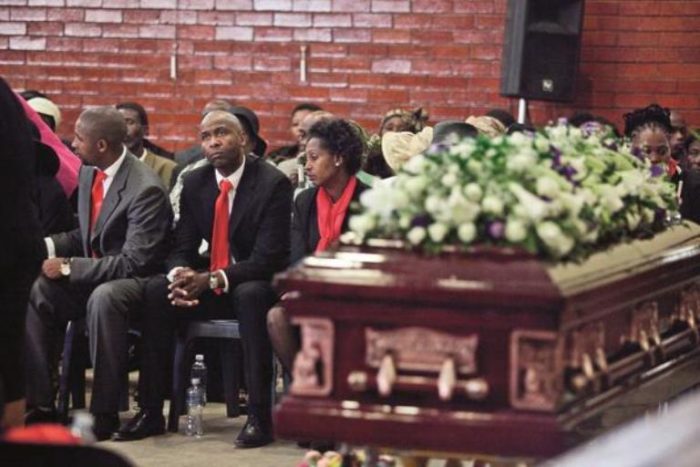 Trouble came into their paradise in 2008 when Fezi and Lucas' joyous marriage was marred by her terminal health condition. Fezi had a few years earlier been diagnosed with bowel cancer and she fought with an uncanny determination to the end. However, the strong-willed mother of two was later outdone by her terminal condition even though she never gave up on the hope of recovering fully.
After taking everything with strength, grace, and humility, Feziwe kicked the bucket on the 11th of October 2008 at the young age of 34. She had already given her husband two beautiful children prior to her illness. Feziwa's demise occurred in a hospital in Sandton, South Africa.
Six days after her demise on the 17th of October 2008, family and friends gathered in Randburg at the Rhema Church where they held a service in her honor. Her remains were later interred at West Park Cemetery.
Lucas Shared a Very Close Bond with Feziwe
It is no secret that Lucas Radebe shared a close affinity with his late wife Feziwe Ngqobe. According to him, Fezi was of immense help throughout his football career. His time in England as a member of Leeds United FC flourished with Fezi by his side; her unflinching support saw him through.
Their bond was so intense that Lucas became totally devastated after Fezi was diagnosed with intestinal cancer. The soccer player said it was a herculean task to break the news of his wife's terminal condition to her after the doctor told him to do so. According to Lucas, he went to the hospital three times before he could muster the courage to tell her about the diagnosis. Radebe was by his wife's side throughout her ordeal and was there when she breathed her last.
After Fezi's burial, Lucas Radebe found it difficult to get back on his feet. As the man of the house, he needed to be strong for his children but the former footballer said he was breaking inside and had no idea of how to cope with the situation. Fezi, who has always been there for him, suddenly died and the pain was unbearable.
Shortly after this tragedy, Lucas collapsed on the treadmill while working out and when he was diagnosed with a heart condition, the former center back said it was the resultant effect of the heartbreak from losing his wife. The shock and ensuing confusion were too much to deal with and it was while trying to figure out how to go on without Fezi that his heart failed.
Lucas Radebe is a Father to More Than Four Children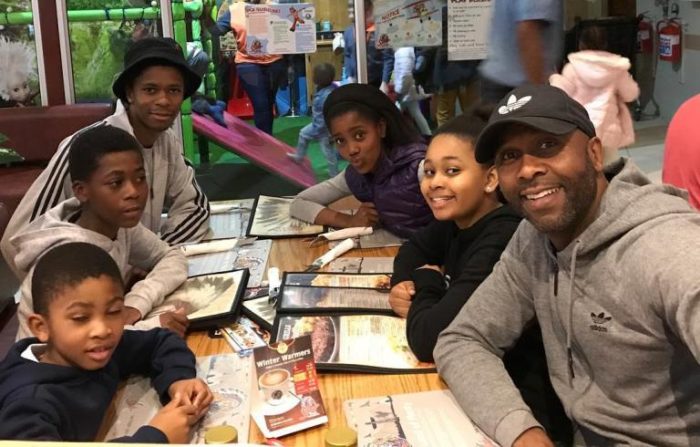 Before Lucas Radebe met his first wife Feziwe Ngqobe, he was already a father. According to reports, his relationship with Pulane Baloyi who earned a living as a model resulted in the birth of his first child, Ofentse Radebe. The duo dated in the 1990s and it was around that time that Ofentse was born. Lucas was involved in a baby mama drama in 2001 after Ofentse's mum dragged the former footballer to court for child support; she was requesting R10,000 monthly for a then eight-year-old Ofentse.
When Fezi died, she was a mother of two – her first child with the center-back, Lucas Hugo Radebe, was already nine while his sister, Owami, was four. Lucas's marriage with Silver has produced a daughter who goes by the name Jessica Radebe.
The grapevine said Lucas Radebe still has other children, however, the footballer seems to have managed to keep them in the shadows as there is no information about them – not even their names are known.
Where are Lucas Radebe's Kids Now?
An apple they say never falls far from the tree. This saying rings true when you begin to consider the fact that out of the four known children of Lucas Radebe, the first are already beginning to follow in the former soccer player's footsteps.
With that said, the last two are yet to declare interest in any career field.
Ofentse Radebe
His first son Ofentse Radebe is currently trying to create a niche for himself in football. From what is perceivable, Ofentse wants to be just like his father, he even plays in the defense position in the same way as Lucas.
According to the records, Ofentse played football at the university and is currently putting effort to go professional through the Mpumalanga Black Aces (PSL side). He is already training to make his dream a reality.
Lucas Jr. Radebe
Lucas Jr. is currently in his twenties and the second son of Lucas Radebe is equally showing positive signs of becoming another great footballer in the family. He seems to be moving at a faster pace than this big brother as the youngster already played as a striker with the junior side of Leeds. Reports surfaced in 2018, claiming that Lucas Jr. tried for the Under-23 team of the English Championship but wasn't successful.
Another report hit the airwaves in 2019 saying that the emerging football star inked a deal with the English football club, Farsley Celtic (the Under-23 side). A statement released from Farsley Celtic said Lucas Jr. engaged in a week-long training with them and his performance was quite impressive. They deemed him talented enough to merit a deal with Celtic and according to speculations, the young Radebe just needs to get international clearance before going to join the football club. He is expected to be featured in their ensuing seasons.
Owami Radebe
For his first daughter, Owami Radebe, nothing has been said about her career path as the young lady seems to be living her life away from the penetrating eyes of the public. Even as she doesn't believe in a public display of her life, it is believed that she is doing great in her chosen field.
Jessica Radebe
Jessica Radebe is the last child of the former football star with his second wife Silver. She is considered to be too young to declare interest in any field; time will tell which path she would tow in the future.