Afeez Agoro (born 13 December 1975, Age: 47 Years Old, Height: 2.25 metres) is a Nigerian man who was previously regarded as the tallest person in Nigeria. However, he now stands shorter than his 2.41 metres fellow countryman, Abiodun Adegoke, who is now likely the tallest man in Nigeria
A giant in the real sense, Agoro instantly turns heads and catches attention whenever he walks into any place. As a matter of fact, most people don't even measure up to his shoulders when they stand beside him. If you think you are tall, one look at Afeez Agoro is sure to change your mind.
Popularly known as "Mr. Tallest" by his fans, Afeez Agoro burst into the limelight when his incredible height was discovered and he has since gone on to use the opportunity his fame provided him to embark on a career in the entertainment industry. Today, he is an actor and reality TV star.
Profile Summary Of Afeez Agoro Oladimeji
Full name: Afeez Agoro Oladimeji
Date of Birth: 13th December 1975
Age: 47 Years Old
Place of Birth: Yaba, Lagos State, Nigeria
Ethnicity: Yoruba
Nationality: Nigerian
Marital Status: Single
Education: the University of Lagos and Lagos State Polytechnic
Known for: Being the tallest man in Nigeria at some point
Height: 7 feet 4.58 inches
Afeez Agoro Was Born In Lagos
The tall man was born in Sabo Yaba, a neighborhood in Yaba, a suburb located on Lagos Mainland, Lagos State. Born on the 13th day of December 1975, Agoro is now 47 years old. At birth, he was just like any other normal newborn child and weighed 8 pounds, which was normal for a baby. It was much later that his growth spurt began. Though he was born in Sabo Yaba, Afeez and his family would later relocate to Akoka Yaba, another suburb of Yaba, when he was about seven years old. It was in Akoka Yaba that he grew up and also had his education.
Afeez Agoro was not the only child of his parents as he had siblings with whom he spent his childhood. As a matter of fact, the tall man was born as the last child of his mother who was the second wife of his late father. It is not clear if he has any step-siblings from his father's other wife.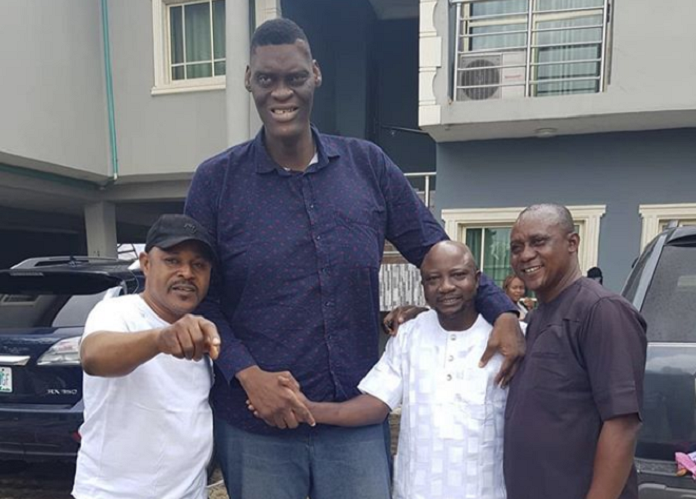 His Growth Spurt Began At Age 19
Like we have mentioned, when Afeez Agoro was born, he was a very normal child and nothing signified that he was going to grow into a giant. In fact, he was not even among the tallest kids in his pre-teen and early teenage years. Speaking with The Nation Newspaper in 2019, Agoro also revealed that he was not among the tallest boys in his secondary school as well. He was just an average kid with an average height.
However, when he finished secondary school and had turned 19 years old, he suddenly started falling sick. The sickness was quite mysterious to everyone and it made him grow taller. He fell ill several times around that period and he kept experiencing rapid growth in height. The growth was so pronounced that he was soon taller than everyone in his neighborhood. This shocked people who know him, especially those who had not seen him for a long time before his sickness. He told The Nation that some of his secondary school classmates who had not seen him for years after graduation were dumbfounded when they finally saw him following his growth spurt.
When his growth spurt started, accompanied by his strange illness, Agoro's father was scared for his son as the situation was very unusual. So, he took the lad to different hospitals but doctors explained that they could not see anything wrong with him. But Afeez kept growing taller and it left his parents disturbed. All medical attempts to control the strange growth failed until he was the tallest person his friends, family, and neighbors has ever seen. Today, he is 7 feet 4 inches tall and this makes hands him the unofficial title holder of the tallest man in Nigeria.
His Father Built A House To Accommodate His Height
Afeez Agoro and his father were close but, sadly, the man died in 2005. However, before his passing, the older Agoro built a house that could accommodate his son, considering his unusual height. Afeez explained that his father's decision to design the house to suit his height went a long way to help him as the years rolled by.
After his father's death, Afeez Agoro's mother decided to continue seeking medical explanations for his unusual height and illness. She took him to the Lagos State University Teaching Hospital and got him tested. Nothing was seen. It was years later when Afeez traveled to the USA that he knew what was wrong with him. According to him, when the doctors there tested him and the results came back, it was revealed that he had been diagnosed with a condition called acromegaly. Acromegaly, which is also known commonly as gigantism, is actually a condition that causes abnormal growth in people.
Afeez Agoro said the doctors gave him a drug that could help stop any further growth. But it didn't really help.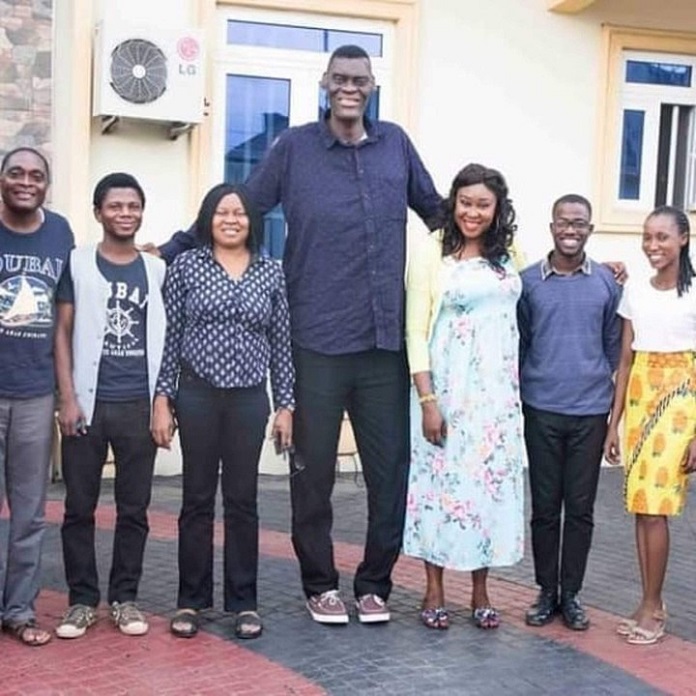 How Afeez Agoro Became Known As Nigeria's Tallest Man
Even though Afeez Agoro was very popular around his Akoka Yaba neighborhood because of his unique height, he remained unknown around the rest of Nigeria until 2016 when his photos hit the internet. The photos depicting how incredibly tall he was and how easily he dwarfed everyone he met, went viral online and this sparked a widespread curiosity in people to know exactly who he was and where he was from.
Before long, media houses started taking interest in the man and he started getting booked for interviews. By this time, he was already being addressed as 'the tallest man in Nigeria'. He has been interviewed by so many newspapers like The PUNCH, The Nation, and others. He has also appeared on TV programs. Before long, Afeez started meeting celebrities who shared his photos on their social media pages each time they took pictures with him. As his fame kept growing, he was crowned with the unofficial title of 'tallest man in Nigeria'. This was because no one else in Nigeria who is taller than Afeez Agoro has been seen anywhere in the country. For now, he remains number when it comes to height measurement in Nigeria.
Afeez Agoro Has Faced Some Challenges Because Of His Height
As expected, Afeez Agoro's height has caused him some problems and inconveniences. Some of the problems Nigeria's tallest man faced include:
Job Problems
Afeez Agoro faced serious job problems because of his height as he found it very difficult to get employed. After graduating, Afeez went on to serve in the National Youth Service Corps (NYSC) program in Bayelsa. Upon completing his NYSC service, the tall man returned to Lagos to seek a job. However, he was disappointed because he was repeatedly turned down by many employers. Many of these employers, he imagined, turned him down because of the inconvenience his height may bring in the long run. They may have also been intimidated by his height.
However, after some time, he was lucky to land a two-year contract job with the Lagos State government. The money he got from this contract helped him to set up a small business for himself.
Transportation Problems
Afeez Agoro also faces transportation problems. This is obviously so because his insanely tall frame cannot fit into every automobile. During his interview with The Nation, Agoro revealed that he once had a jeep several years ago which he used to move around. As expected, before he could use the car, he took it to a panel-beater to help adjust the seat. This adjustment made it convenient for the Nigerian giant to drive the car.
However, after some time, the customized vehicle broke down irreparably and he had to resort to using motorcycles to cover short distances whenever he moves around the Akoka area. He also says he uses Uber taxis several times whenever the need to travel to far distances arises. At such times, he would have to adjust a lot in the cars he gets into to accommodate his seize. According to him, whenever he takes a taxi, the passenger seat in front has to be adjusted all the way to the back for him to be able to fit into the car. He also says that the charges of these kids of transportation are actually telling on his resources.
Agoro explains that he rarely uses public transport because of his inability to fit into commercial buses. Commercial buses usually have so many people in them. This makes it practically impossible for him to board any because his frame will disturb the seating arrangement for other passengers.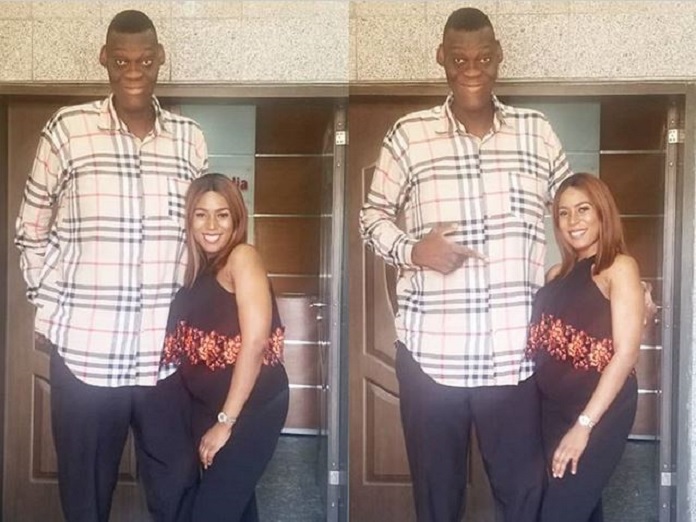 Health Problems
Afeez Agoro has also faced serious health challenges because of his unusual growth spurt. The tall man has had to battle with the effects of gigantism which includes joint pains and rheumatism. His tall size and immense weight place a lot of burden on his legs and so he has to work out often. Usually, he wakes up early in the morning to go for leg exercises and other forms of workouts.
The Nigerian giant has had to undergo heart surgery in the United States. This is because heart correction is one of the surgeries that most persons with abnormal growth will have to go through.
Problems With Clothes and Shoe Sizes
Afeez Agoro also has problems with clothes and shoe sizes. This is because it is tough for him to find the size that suits him. For his massive height, Agoro wears an incredible shoe size 53. Of course, this shoe size is hardly in the market. This means he has to keep looking everywhere for long periods to find his size. Many times, he has to contract shoemakers to make his own shoe. Most times, his shoes are also imported from the US after sending his specifications.
Also, Afeez Agoro's clothes size cannot be found on the shelves anywhere in Nigeria. His size is way too big to fit into anything in boutiques. To get the right size of his clothes, he has to buy the clothing materials in the market and then take them to his special tailor who will then sew them to fit his size. Also, his huge size means he cannot just sleep on normal beds. At the moment, he uses a 4 by 8 size bed.
Problems Finding Love
Afeez Agoro also had issues with finding someone to love him. His height was way too big and intimidating for many ladies. During his interview with The Nation, Agoro explained that for a long time, ladies ran away from him because of his height. A few women who managed to talk to him left after some time because of the huge height difference. They just could not cope. At some point, his mother became so concerned that she arranged a woman for him but it didn't work out. The women she brought for him were hardly the type he liked.
However, all this is now in the past as Agoro also revealed that he has finally found love. According to him, the lady he now loves happened to be one of his many fans. She approached him and asked to be his friend. Eventually, they got so friendly and started dating. Agoro revealed that he has actually proposed to the woman, whose name he has refused to disclose, and that she has said 'yes' to him. Apparently, the woman has taken him for who he is.
Afeez Agoro's Height Has Also Been A Blessing To Him
Despite all the problems Afeez Agoro has faced because of his insane height, he has also enjoyed a number of blessings too. According to him, he is highly respected in his neighborhood because people treat him like a special being. Some people even think he has special superpowers. They also feel he has acquired fighting skills and can beat anyone. He is feared by many people.
Agoro once told the story of how he helped one of his friends who is a landlord to collect rent from his tenants. The friend had approached Agoro, explaining that his tenants did not want to pay their rents even though it was time for them to pay. He then begged Agoro to use his intimidating height to coerce the tenants to pay. Agoro agreed and followed his friend to his compound. When the tenants saw how tall Agoro was, they got scared and three of them paid the rent on the spot.
The Nigerian giant has also found support from people over the years. He explained that he has met so many people who extended their hands of love toward him because of his unique height. Also, when Agoro became popular because of his height, his fame brought a lot of good things and ushered him into the entertainment industry.
Acting
When he became popular, Afeez Agoro turned into one of the highly sought-after persons in 2017 and 2018. He began to meet with many celebrities, including actors and actresses. Eventually, he began to land roles in different movies. He appeared in the 2020 movie, Fate of Alakada. He also appeared in the film, Ebudola.
He Had His Own Reality Show
Because of how popular he had become as a result of his unofficial title of the tallest man in Nigeria at the time, the demand for more information about Afeez Agoro was high. Subsequently, in August 2018, a Reality TV show centered around his life, called I Am Agoro was produced for TV audiences.
The show, which aired exclusively on Linda Ikeji TV (LITV), was centered on his life and what it feels like to live life as the tallest man in Nigeria. The show made him a reality TV star.
How His Height Helped Agoro Get US Visa
During his talk with The Nation, Afeez Agoro told an interesting story about how his height helped him to easily get a US visa. It is widely known that to get a US visa is not a piece of cake as you would be made to go through processes and answer several questions. However, for Agoro, he got his visa quite easily.
According to him, when he went to get a visa to enable him to travel to the USA, the Consular General was stunned at how tall he was and concluded that there was no way Agoro could escape even if he wanted to. So, he approved his visa almost immediately. Agoro would go on to spend six months in the United States after getting the visa.