Any name that goes with Mugabe is a household name, at least in Zimbabwe and most of the Southern African countries. Grace is one of those bearing the popular last name as the former First Lady of Zimbabwe. An entrepreneur and politician, Grace Mugabe is most recognized as the widow of the late Zimbabwean President, Robert Mugabe. As her husband led the Zimbabwe African National Union-Patriotic Front (Zanu-PF), Grace served as the Secretary of the party's Women's League and was a strong force in the politics of the country.
For someone who came very close to becoming the leader of the Southern African nation, Grace seems to have disappeared from the limelight since the removal of her husband from office and his death that followed, leaving many to wonder what she has been up to. People have also wondered about the kind of upbringing the former first lady had while growing up.
Grace Mugabe Came From A Humble Background
Grace was born on July 23, 1965, in Benoni, Johannesburg, South Africa. Before her marriages, she was named Grace Ntombizodwa Marufu. Born to immigrant parents as the fourth of five children in the family, Grace moved with her mother Idah Marufu to Chivhu, a small town in Mashonaland East province of Zimbabwe, then called Rhodesia.
Looking at the height she has attained in life, it is difficult to imagine there was a time when life was hard for the former First Lady. According to various reports which have been authenticated, Grace had quite a rough upbringing. She was not born with a silver spoon and grew without her father who remained in South Africa to work and support his family.
Grace had a history of hawking when she was young. Thankfully, she was able to continue her education. She had her primary education in Chivhu and thereafter, schooled at Kriste Mambo Secondary School located in Manicaland.
She Was Married When Her Love Story With Robert Began
Grace Mugabe did a secretarial course which helped her secure a job at the president's office in 1980. What followed was not what anyone saw coming. Working as the secretary to late Robert Mugabe paved the way for a romantic relationship to develop between them. This marked the beginning of her rise to fame and subsequent political journey.
Grace was once married to Stanley Goreraza, a Zimbabwean air force pilot. They had a son named Russell Goreraza. He was born in 1984 and they lived quite a happy and contented life as a family until Mugabe came into the picture.
Perhaps it is not just a stereotype that dictators have a history of coveting people's wives. Though not everyone would agree that Robert Mugabe was a dictator but there was no doubt he stole Goreraza's wife. Mugabe and Grace reportedly had an affair while both were married to their spouses.
Inside Grace Mugabe's Marriage To The Late President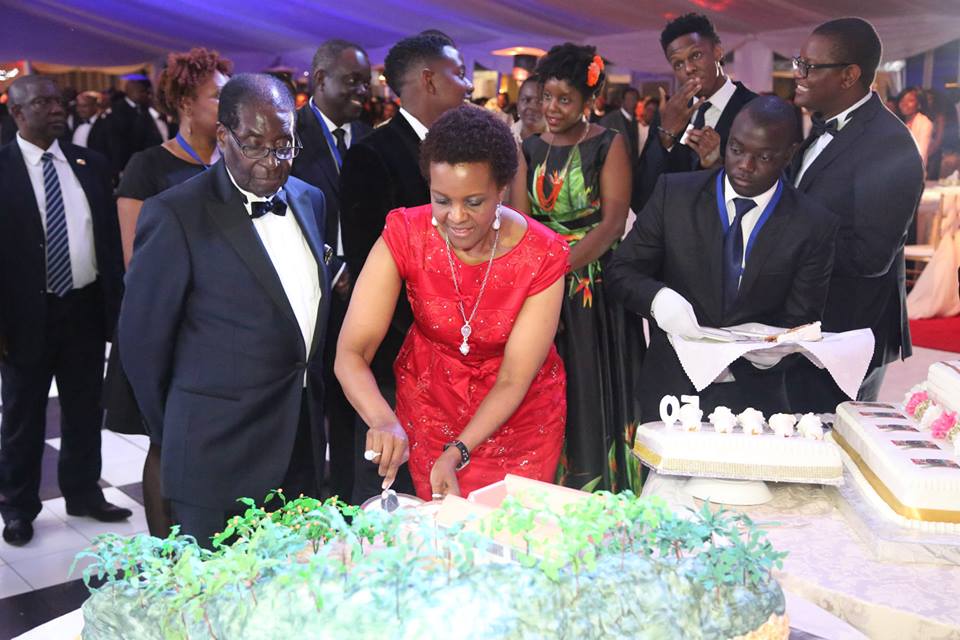 After they have been together for a great deal of time, Grace and Mugabe decided to formalize their affair and got married in 1996. The marriage ceremony took place in Mugabe's rural home of Zvimba at Kutama College after Grace's husband Stanley Goreraza was officially posted away in China to serve the military.
At the same time, Mugabe was married to Sally Mugabe. It was a few years after her death that Grace and Mugabe got married. Sally died on the 27th of January 1992 from kidney failure. So, it was after the death of Mugabe's first wife that Grace legally became a Mugabe. Back then, she was almost certain she would not have any business with politics. But things changed as time went on.
She Is A Mother Of Four
It is not hard to find that Grace Mugabe is a mother of four kids. She had her first child with Stanley Goreraza whom she got married to when she was only 19 and divorced in 1996.
The rest are her children with Mugabe. Robert also had a son named Michael Nhamodzenyika Mugabe with his first wife. He was born on the 27th of September 1963 and died a few years later in 1966.
Meet Grace Mugabe's Children
1. Russell Goreraza
Russell Goreraza was born sometime in 1984, a year after Grace got married for the first time. Like the rest of the Mugabes, he has been in the spotlight for a number of wrong reasons, ranging from culpable homicide to grabbing mines, houses, and for his wayward and extravagant lifestyle. He was once married to a lady identified as Gladys Chiedza Chiwaya. They had a child together before they parted in 2014.
2. Nyepudzayi Bona Mugabe
The only daughter of the late Zimbabwean president, Grace and Robert had Bona on the 18th of April 1988. Now described as a businesswoman, Bona is not a stranger to the controversies that have trailed the family. She was deported from Australia where she was studying in 2008 by the government of the country because of what was perceived as human rights abuse in Zimbabwe. The following year, her bodyguards were accused of assaulting reporters in Hong Kong where she completed her studies. Bona got married to Simba Chikore and is now a mother of two.
3. Robert Peter Mugabe Jr.
Born on the 4th of February 1992, Mugabe Junior is the first son of Grace and the late president. He was also born before Grace formalized her relationship with Robert. He studied Architecture at the University of Johannesburg in South Africa and has a huge interest in basketball; he has even represented the Zimbabwe National Basketball team in various competitions. Peter has contributed to the many controversies surrounding the Mugabe family.
4. Chatunga Bellarmine Mugabe
The last of Grace Mugabe's kids, Chatunga, was born in 1997. There have been various reports of him doing drugs, engaging in reckless spending, and splashing money on women. He is famed as a troublesome child of the Mugabe family.
The Political Power Grace Wielded in Zimbabwe
Prior to her husband's forceful removal as the President of Zimbabwe after ruling for over 3 decades, Grace Mugabe became a force to reckon with in Zimbabwean politics. She had even taken steps and called shots that the ruling party finds interfering. Her political tussle with Joyce Mujuru, a former Vice-President of Zimbabwe, will not be forgotten in Zimbabwe's political history.
The former Vice President Emmerson Mnangagwa was believed to have been fired by Mugabe so that she could be in line for president. Many predicted that she would succeed Mugabe as her political presence and activities could not be mistaken for what it clearly pointed to. In the late months of 2017, Grace made a shocking divorce threat to her husband during his bid to negotiate with the armed forces.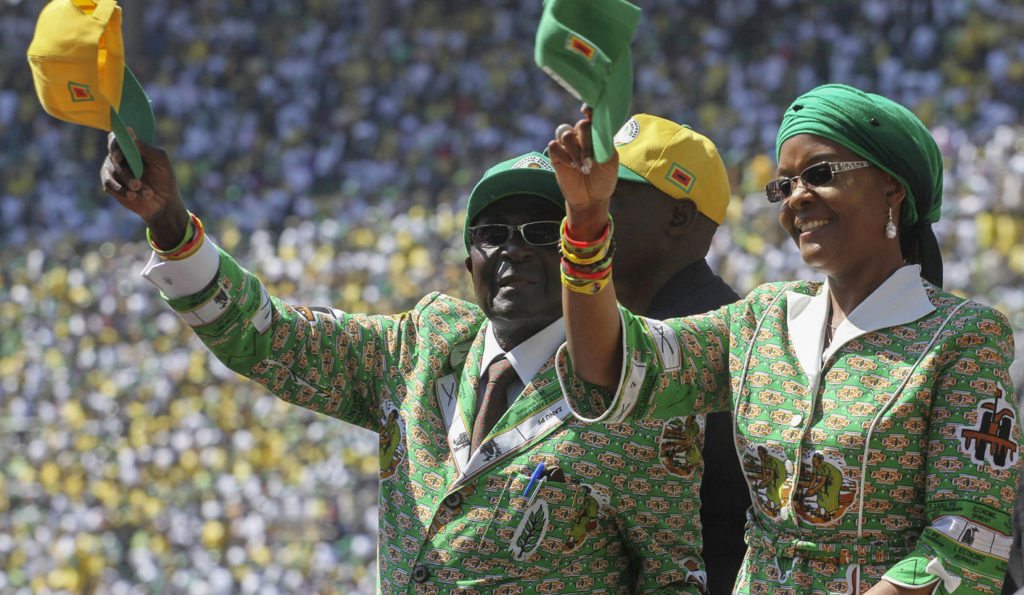 Along with the political power she wielded, there were numerous reports of abuse; human rights abuse, and the abuse of the national treasury. For instance, She has featured in a controversial report in which she physically assaulted a journalist with her bodyguard.
She earned the name "Gucci Grace" for her lavish lifestyle. While she was still the first lady, she spent $120,000 on just one shopping trip to Paris and was rumoured to have withdrawn approximately $8 million from Zimbabwe's Central Bank for personal use in 2004.
How Grace and Her Children Have Been Coping Since Mugabe's Death
Among other hidden wealth, Grace Mugabe owns a business called Gushungo Holdings. The former first family owns about 10 farms through Gushungo Holdings (Pvt) Ltd. So, their lavish lifestyle might have been tamed but there is no doubt that they are not in financial distress.
Following the power tussle between the late President Robert Mugabe and the military force, which led to his forceful removal from office through a bloodless military coup which brought to an end his 37-year grip on power, Grace Mugabe reportedly fled to Windhoek, the capital of Namibia with her children.
Although there is no clear report about Grace Mugabe's whereabouts, it is believed that she still lives in Zimbabwe as the Mugabe family was granted immunity for any crimes that they might have committed while in office. The family was also allowed to retain all its assets.