Beautiful, charming, and super-talented, ChaCha Eke Faani is a Nigerian actress who has been in the industry for more than 10 years and has risen to become one of the people making waves in Nollywood. But besides just her acting talent, one other thing that has endeared the actress to many fans is her relationship with her husband and the children they share. Since their marriage started, the actress has always been known to flaunt her man online, expressing her deep admiration for him.
This is why many Nigerians were utterly shocked when ChaCha Eke Faani took to social media to announce that her marriage had crashed as people wondered what on earth could have affected a union that seemed so perfect. The ensuing drama got tongues wagging even more.
ChaCha Eke Faani And Her Husband Started Out As 'Best Friends'
The interesting thing about ChaCha Eke Faani's marriage is the fact that long before she and her husband became a married couple, they were, first of all, best friends. The actress herself made this known while reminiscing about how they started their relationship. According to her, the fact that they were best friends made everything easy for them when they eventually started dating and got married.
The exact time that ChaCha Eke Faani started dating her husband is not clear but it is believed that they were friends for sometime before they decided to take things further. The actress explained that being her husband's best friend has removed so much pressure from the marriage because whenever they had misunderstandings, they easily found a way out of their squabble.
When Did The Actress Become Austin Faani's Wife?
Even though we don't know the exact time that ChaCha Eke Faani and her husband started dating, we sure know precisely when they became man and wife. The couple tied the knot on the 1st day of June 2013 in the presence of family and friends. The actress got married only about four years after she started her acting career in 2009. The wedding was quite an exquisite one.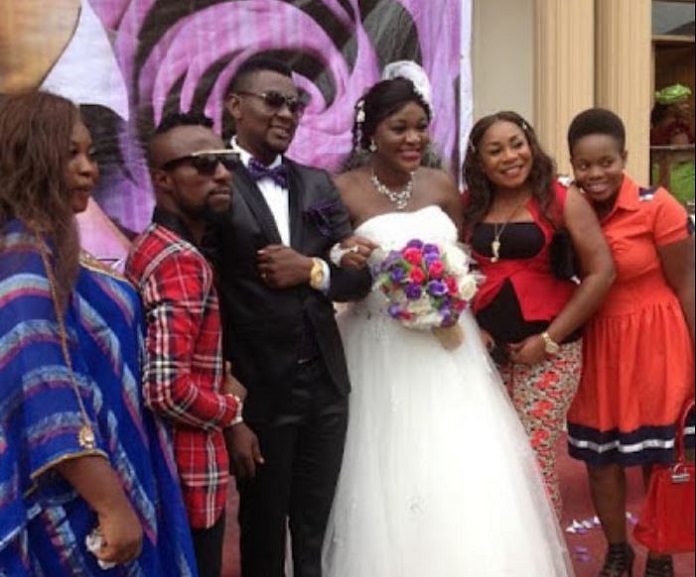 For the record, ChaCha Eke Faani's husband, Austin Faani is also a Nollywood heavyweight. The man is a famous Nollywood director, film editor, and producer who was born and raised in Asaba, Delta State. Over the years, he has edited several Nollywood movies, including Kiss My Pain, Royal War, and Mirror of Life among many others.
Theirs Had Been A Blissful Union
As a married woman, ChaCha has always cut the image of someone in a perfect marriage. Following their wedding, the actress became very fond of showing her husband off on social media. She looked completely happy with her husband and this endeared fans to her as they felt their union was a role model of what a happy celebrity marriage should look like. For a long time, there was no sign or hint that her marriage may be in trouble or that she may be struggling to get by with her man.
On June 1, 2020, the actress and her movie editor husband celebrated their 7th wedding anniversary with very loving words showered on each other on social media. ChaCha, in an Instagram post, explained that she laughed when her husband proposed and asked her to be his wife and thought he was joking. She also added that 7 years into the marriage, she was still laughing, signifying that everything was fine with their union.
The couple also released a video on YouTube, chronicling their journey together as a happy family. They also shared some marriage nuggets with their fans to teach them how to keep a marital union healthy and strong.
Seemingly, everything was well with the couple. The way they treated each other and the way they looked at each other when they spoke, it was clear that they were in a world of their own when it came to the proper handling of marriage. Fans were convinced that ChaCha Eke Faani and her husband were made for each other and that nothing could separate them.
They Are Parents To Adorable Children
ChaCha Eke Faani and Austin Faani are proud parents to three adorable children. They are parents to two girls and one boy. Their daughters are called Kamara Faani and Kaira Faani while their son is called Chiemerie Faani.
There is no gainsaying that ChaCha and her husband are very busy people, considering how much they have to work hard to stay relevant in Nollywood. However, despite their very busy schedules, the couple has tried to make time for their kids and raise them properly. ChaCha is always seen sharing photos of the kids on social media, showing how much she holds her children in high regard and cares for their upbringing.
How ChaCha Eke Faani Shocked Nigerians By Announcing The End Of Her Marriage
Despite the fact that everything seemed to be very fine with ChaCha Eke Faani and Austin Faani's marriage, the actress shocked Nigerians on the 3rd of October 2020 when she took to social media to drop a bombshell, claiming that her marriage was over.
The actress released a video on her Instagram page showing her looking troubled and without makeup. In the video, ChaCha claimed that she was done with her marriage. According to her, it was over between her and Austin Faani, and that she was happy to be walking away with her life intact.
She explained that she was not crazy but knew what she was talking about. She also explained that she would not say much at the time but that the world would hear her story later.
ChaCha's video shocked Nigerians because everyone saw her marriage as a perfect one. No one expected that the actress of all people would be out on social media to announce the crash of her marriage. The video caused a stir on the internet and the actress trended online for days.
The whole thing was more shocking because only months before, in June, she had celebrated her 7th wedding anniversary with Austin Faani and even released a YouTube video on how to have a great marriage. So, the sharp turn of events shocked everyone to the core.
She Soon Deleted The Video And A New Story Followed
The video which ChaCha Eke Faani made on Instagram to announce the end of her marriage did not stay on her page for too long. She took the video down after some hours but it had already gone viral on the internet and was causing a serious stir. Everyone was talking about it. Fans were also concerned about the actress and her state of mind at the time.
Eventually, a new story emerged about the actress. The report claimed that ChaCha had fallen ill and was rushed to a hospital. The story was shared by Gistlovers, a popular Instagram blog. According to the report, they were there as witnesses when ChaCha was taken to the hospital. They also claimed that the actress was actually forced to enter the ambulance that took her by Nollywood actor and producer, Ernest Obi and Solo Amaco. Also, it was claimed that ChaCha was accusing her husband of domestic violence.
Another witness identified as Comfort Gabriella also corroborated Gistlovers' story. According to the woman, she saw when ChaCha was being taken into the ambulance. She also revealed that the actress was behaving strangely and was making some utterances that people could not understand. Gabriella claimed that the actress was literally begged to enter the ambulance before she was forced into it.
This new story stunned Nigerians even more as people tried to understand what was happening. Some theories were propagated with some fans claiming that she had fallen ill because she had been thoroughly abused by her husband but had been keeping silent about it for years. Lots of people supported her for making a decision to walk away from the marriage.
ChaCha Later Blamed Her Actions on Bipolar Disorder
Some days after she made a video to claim that her marriage with Austin Faani was over, ChaCha Eke Faani stunned fans again when she released another video with fresh claims. This time, the actress declared that she had bipolar disorder which is a mental health condition that causes extreme mood swings. She insinuated that it was this health condition that made her send out the video claiming her marriage was over.
The actress denied the reports that she had been assaulted by her husband. According to her, Austin never raised a hand against her. She explained that she was at the First Delta American hospital, Asaba, Delta, receiving treatment and that several psychiatrists had come to assess her mentally. According to her, it was these physicians who diagnosed her with bipolar disorder. From all she had to say, it was clear that she was telling people her marriage was far from over.
The new video of ChaCha saying she had bipolar disorder caused another massive stir on social media. Many people suspected foul play and claimed that it was her husband who was forcing her to make the video. They claimed he was indeed guilty of domestic violence and just wanted to clear his name by all means.
ChaCha's colleague, Victoria Inyama also joined fans in suspecting foul play. According to Inyama, she does not agree with ChaCha's bipolar claims. She claimed that ChaCha's supposed bipolar disorder is a result of years of abuse in her marriage. She went on to urge the actress to try and stay sane and alive for the sake of her kids.
What Her Brother Had To Say About The Whole Drama
At this point, the drama surrounding ChaCha Eke Faani's marital crisis was at a fever-high pitch and there were speculations everywhere about what may truly be going on. However, another twist came into play when ChaCha's brother spoke up about the development.
ChaCha's brother, Aik Eke took to his Instagram page to react to the actress's claims that she had bipolar. According to him, he never reacts to things he sees online but that ChaCha's video was too big for him to ignore. He claimed that ChaCha was never diagnosed with bipolar disorder and that there is a cover-up at play. He also claimed that the actress had not used a phone in the past five days and so did not post the said video on her Instagram page.
Aik Eke insinuated that ChaCha's husband was guilty of domestic violence and was only trying to clear up the mess he had gotten himself into at ChaCha's expense. He then warned Austin Faani to be careful.
After he spoke up, Aik Eke's claims went viral immediately and fans promptly took sides. Many agreed with the man and even asked that ChaCha's husband be held responsible if anything happened to her. They all agreed that sufficient fingers were pointing at Austin Faani to prove that he was physically abusing ChaCha.
How ChaCha Eke Faani Reacted To Her Brother's Claims
Another sharp twist came when ChaCha Eke Faani came out to blast her own brother, Aik Eke after he made his claims about her. The actress made a new video to address all the stir that her marital crisis had caused up to that point. In the video, she told her brother to stay away from her family and marriage and just face his own life. She further revealed that she had not seen him for almost two years and that the last time she called him, he did not pick, only to show up suddenly and make false claims about her.
Also, in the same video, she revealed that she was pregnant and also explained that every time she gets pregnant, something in her just erupts and makes her do crazy things. She insinuated that it was this same thing that made her go online to say her marriage to Austin Faani was over. She added that during her previous pregnancies, she also suffered episodes of these eruptive fits.
According to her, after the incidents that caused her to go viral, she was finally diagnosed with bipolar disorder and found out that the thing that erupts in her anytime she gets pregnant was actually bipolar.
After the video emerged, fans who had come out with different theories of what may be happening to the actress were finally placated. Slowly, the stir that ChaCha's crisis caused died away.
What Is The Status Of ChaCha Eke Faani's Marriage At The Moment?
At the moment, ChaCha Eke Faani is still very much a married woman who is head over heels in love with her husband, Austin Faani. In the video she made, the actress explained that she is still Mrs. Faani and that she is going nowhere. She also thanked her husband profusely for being patient with her whenever she has her eruptive bipolar episodes.
Since the incident happened, the actress has returned to her usual lifestyle of drooling over her man and flaunting him all over her social media pages for her fans to see.
It is clear that the incident which seemed to have nearly torn them apart and ruined their marriage only strengthened their union and encouraged them to stay together while enjoying happier times as a family.