For obvious reasons, many people thought that this Nollywood legend may not get to marry the woman of his dreams due to his diminutive height, but as we have all come to know, love has no regard for color, height, or gender. From what we know about Chinedu Ikedieze's marriage, he has definitely found his true love and they are living the best days of their lives in luxury.
Initially, when the public got to know that he was dating a woman taller than him, it set tongues wagging that the lady could probably be a gold digger and just after his fortune and fame. It was strongly presumed that the union wouldn't last but their love over the last decade has proved all doubters and haters wrong as the two are waxing stronger by the day.
Let's Meet Chinedu Ikedieze's Wife Nneoma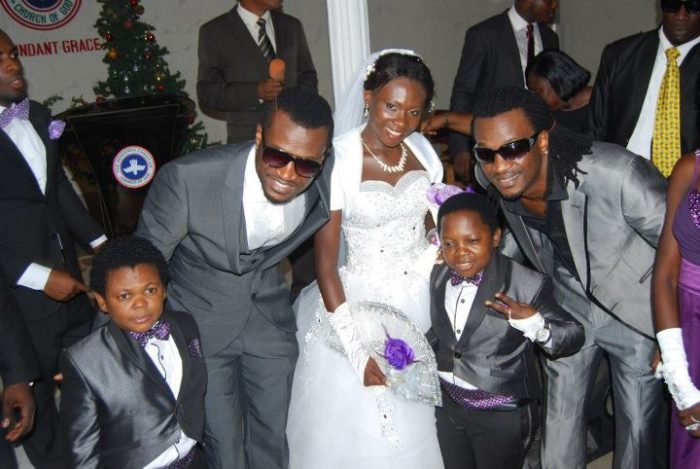 Love conquers all and it may also be true to say that affection comes in all shapes and sizes. From what we have seen so far, the personal impression and personality of Chinedu's wife show that she loves him wholeheartedly and she is not in it for fame or money.
Chinedu Ikedieze's wife's name is Nneoma Ikedieze (nee Nwaijiah). She hails from Isiala Mbano Local Government Area of Imo State, in the South-Eastern part of Nigeria – the town has about 200,000 inhabitants in it. Details of her birth, parents, early life, educational background, etc, are not readily available, but we do know that she is a fashionista – a very good fashion designer who worked in the entertainment industry in Nigeria, mostly as a costume designer. This means she is also involved in the movie industry like her husband but works behind the scene.
She is the owner of Nikiz Fashions, a fashion design outfit which she has been running for about a decade now – though some believe she owns the company with her husband. She is probably one of the reasons why her husband is always looking fashionably trendy and styled to perfection by her fashion ingenuity. Those that know the actor well would attest to the fact that he looks dapper most of the time.
How the Actor Met and Courted Her For Three Years Before Marriage
According to Chinedu Ikedieze's account on this, he met this wonderful lady called Nneoma on the set of a movie and it was almost love at first sight for both of them. He once stated that even God will not forgive any man who sees a woman he wishes to make his wife and doesn't make his intention known; he must have put this to work as he got talking with the lady who captivated his heart and they quickly became friends.
As they began to enjoy each other's company the more, their friendship quickly turned into a romantic one and it became a 3-year courtship where they began to take things more seriously and talk about their future together. Chinedu on his own part knew that Nneoma was the right woman for him from the very start and wasted no time in proving his love for her. On her own part, Nneoma later came to know him as a classical, wise, and mature man, who is very loving and understanding. Though their marriage came as a surprise to many, the couple already knew they were meant for each other.
Inside Chinedu Ikedieze's Marriage and Family Life
After dating for a few years, both Nneoma and Chinedu eventually decided to tie the nuptial knots on November 26, 2011, in her hometown and they brought the who-is-who in the entertainment industry with them to this town. Also, the then serving governor of Abia State (Chinedu's state), Theodore Orji graced the occassion. The whole town witnessed the culmination of the love story between the couple, and it was the talk of the town for a while.
The couple has been together for a decade now and their love seems to be waxing stronger with each and every passing day, with Chinedu firmly believing that it is only death that can do them part. They are seen almost everywhere together and are known to go on vacations almost regularly to escape the very hectic schedule that they both run and to unwind. The union has weathered many storms like every other celebrity marriage but despite popular suggestions that they will not last, this Nollywood A-list couple seems to be unmoved by what people think. Besides, they have plans of expanding their family.
Chinedu Ikedieze is Not a Father Yet
To the best of our knowledge and according to the information given out by the couple, they seem to be more focused on their careers right now and have decided not to start procreation at this time. Despite his lack of interest to bring forth offsprings, Ikedieze and his wife have said that when they are ready, they intend to have 3 children only – irrespective of whatever gender they come as.
There was a furor on social media a few years ago when Chinedu posted a picture of a newborn with the caption "Unto us a child is born" and a lot of fans were confused about this development as they couldn't tell when the wife got pregnant and gave birth, but he was quick to dispel the rumor and stated that it was his niece. Obviously, the actor is unperturbed that they don't have a child yet.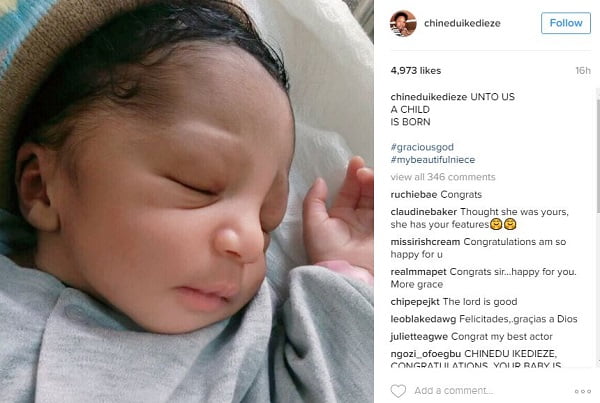 The Couple Lives in Luxury
It would be pretty difficult to put a value on Chinedu Ikedieze's castle – at least the one he has decided to make public for now. He built this contemporary bungalow cum duplex with a penthouse at the back in his hometown of Uzuakoli in Bende LGA, Abia State. The interior is exquisitely furnished as he made sure it was fit for his status as one of the comedy kings in Nigeria presently.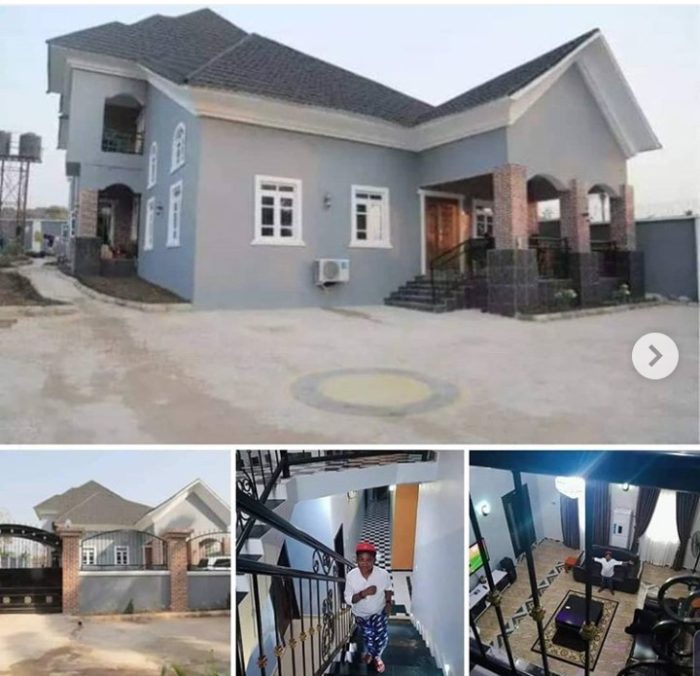 His present abode in the posh area of Omole Phase 1 in Lagos is believed to be a rented apartment but he is currently building a palatial mansion somewhere in the Lekki-Ajah axis of Lagos, which he would be relocating his family to very soon.