Apple Inc. has unveiled the iPhone X, its premium smartphone which according to Chief Executive, Tim Cook is "the biggest leap forward since the original iPhone."
The much-anticipated device was unveiled at a glamorous event in the Steve Jobs Theater at Apple's headquarters in California. Two other phones, the iPhone 8 and iPhone 8 Plus as well as the Apple Watch 3 and the Apple Watch 4K TV were also unveiled at the event.
Apple, who saw a huge decline in revenue last year because consumers had rejected its last device, the iPhone 7, due to its lack of new features and similarity to the iPhone 6, may have won back the hearts of its customers who have all embraced the new device's dramatic redesign.
Fans queued up for hours before the event started, and even though it got off to an embarrassing start with Apple Senior Vice President, Craig Federighi having to try twice before successfully unlocking the phone with one of its new features – face recognition, they, the fans, have embraced the glass and stainless steel device.
iPhone X Price And Release Date
The iPhone X doesn't come cheap for consumers as it ushers in the age of the $1,000 smartphone.
Apple released two versions, a 64GB version, which will start $999, and a more expensive 256GB version for $1,149. Similarly, in Kenya, the 64GB phone sells for at least KSh 150,000 while the latter sells at a slightly higher amount. This price is due to the increase in the former price of iPhone models that were imported.
The phone was made available for pre-order from 27 October but was released generally on November 3, 2017.
iPhone X Features
As you might expect, iPhone X has the latest technology, including an edge-to-edge OLED display, wireless charging, and facial recognition security.
It also comes with a huge screen that takes up the whole front although with a small band cutting into the top of the screen. The screen is a 5.8-inch OLED super retina display; 2438×1125 resolution with 458 pixels per inch.
The back of the phone is basically made of glass. It has a 12MP dual lens camera like the iPhone 7. The selfie camera is 7MP and it is able to function for 3D tracking.
Apple also dropped the iPhone's iconic home button. The display is now enabled simply by tapping on the screen. To navigate, you can access the home screen by swiping up from the bottom, and you get to multitasking by swiping up and pausing. The side-button is dedicated to Siri.
TouchID has been replaced with Face ID. Apple's TrueDepth camera system lets users unlock their phone by simply looking at it. Seven separate sensors are packed into that small band at the top, and it's how the company hopes to overcome flaws with the previous face unlock systems. It also works at night.
The iPhone X is the first iPhone to come with wireless charging as the new iPhone X uses Qi wireless charging. Additionally, Apple plans to release a wireless charging pad in 2018 called the AirPower, which will be able to charge multiple devices at once.
iPhone X Specs (64GB) and Everything You Need To About The Amazing Device
There are many factors to consider when you want to know how great this device works. Fortunately, we have broken them down to make you fully understand what this innovation actually offers.
Platform 
Its operating system(OS), which is the software that manages its fundamental function is iOS 11
GPU: It doesn't have any
CPU: Hexa-Core
Chipset: Apple 11 Bionic
Camera
Its main camera is 12 MP Dual, plus other amazing features such as; Geo-tagging, Face detection, Autofocus, Touch to focus, HDR, PDAF, OIS, Quad, LED flash, 2x optical zoom, Panorama.
Front Camera: 7MP
Display
Type of Display: Super AMOLED
Size 5.8″
Protection: Gorilla Glass 5
Resolution: 1125 x 2436 pixels
Memory:
Internal Storage: 64GB
External Storage: Nil
RAM: 3GB RAM
Battery
Battery Size:  Unknown
Battery Type: Li-ion
Network
SIM: Nano Sim
Technology: 4G
Colour:
The phone comes in three two different colors including space grey and silver.
iPhone 8 and iPhone  8 Plus
The iPhone 8 has a 4.7-inch screen, while the iPhone 8 Plus has a 5.5-inch screen and a dual camera lens on the back.
The iPhone 8 and 8 Plus are upgrades to the iPhone 7 and 7 Plus, although, similar in appearance.
Their processors are the A11 Bionic, which according to Apple, is "the most powerful and smartest chip ever in a smartphone."
Both models will have glass on the front and the back of the device which will be reinforced by a laser welded steel and copper which will make them dust and water resistant.
They will have an HD retina display and feature a 12MP camera.
While the iPhone X will not have a home button and Touch ID, the iPhone 8 will maintain both features and will also be without facial recognition.
The iPhone 8 will go on sale on September 22 with pre-orders starting from 15 September.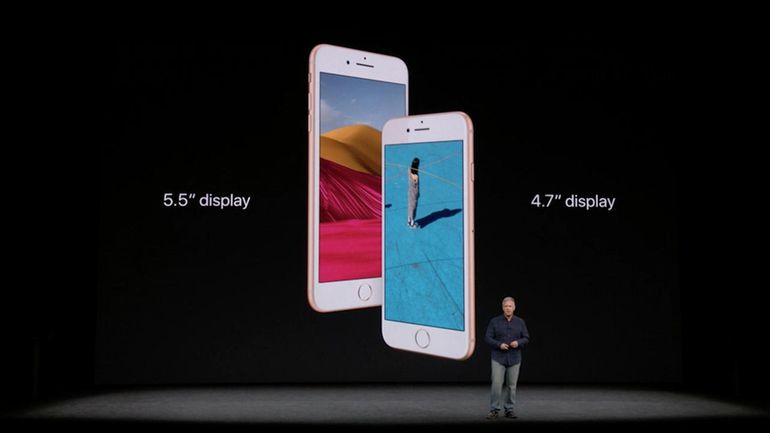 The iPhone 8 will cost £699 for the 64GB version, while the iPhone 8 Plus will start from £799 (64GB). 256GB versions will also be available.