Iris Weinshall is the wife of Chuck Schumer, an American politician and long-serving Democratic senator. The Iris Weinshall and Chuck Schumer first met each other in 1975 and married in 1980. They have two kids.
Chuck Schumer's wife was born on 5th September 1953. The 70 year-old is an American public service official who has served as the Chief Operating Officer of the New York Public Library. She has also been the Deputy Commissioner for Management and Budget of the NYC Department of Environmental Protection and Commissioner of the City's Department of Transportation. She has a net worth estimated at $5 million.
Who Is Iris Weinshall?
Iris Weinshall was born on 5th September 1953 in Brooklyn, New York City of the United States of America. After her elementary, middle, and high school education, Iris enrolled at Brooklyn College where she earned her first degree. She subsequently earned a Master's Degree in Public Administration from the New York University Wagner Graduate School of Public Service.
On completing her studies, Iris Weinshall became a public servant, serving in various capacities in New York City's Municipality in course of her career. She started as a Senior Vice President of the New York State Urban Development Corporation. Following this, Weinshall served as the Regional Vice President of Integrated Resources, Inc. She later became the President of the Financial Services Corporation, a non-profit arm of New York City's economic development programs.
For a period of eight years (1988-1996), Iris Weinshall served as the NYC Department of Environmental Protection Deputy Commissioner for Management and Budget. She subsequently moved to the Department of Citywide Administrative Services, serving as its First Deputy Commissioner.
By the year 2000, Weinshall became the Commissioner of NYC's Department of Transportation (DOT). She served in that capacity until 2007 when The City University of New York appointed her Vice Chancellor for Facilities Planning, Construction, and Management. As the NYC DOT Commissioner, Weinshall embarked on various programs and projects that impacted several areas of importance including an improved bicycling system, enhanced traffic flow, bridges/road safety, and maintenance, among others.
In 2014, Iris Weinshall became the New York Public Library's Chief Operating Officer.
How Iris Weinshall Became Chuck Schumer's Wife
The duo first met each other in 1975, at a Democrats gathering held in Midwood, Brooklyn. Their first speech encounter was Chuck asking Iris to allow him to speak ahead of her at the event, a request she granted under the spell of the former's charm!
Weinshall and Schumer later married on the 21st day of September 1980 in Lower Manhattan, New York City. The Wedding party precisely took place in the Windows of the World Restaurant located on the top floor of the World Trade Centre's North Tower.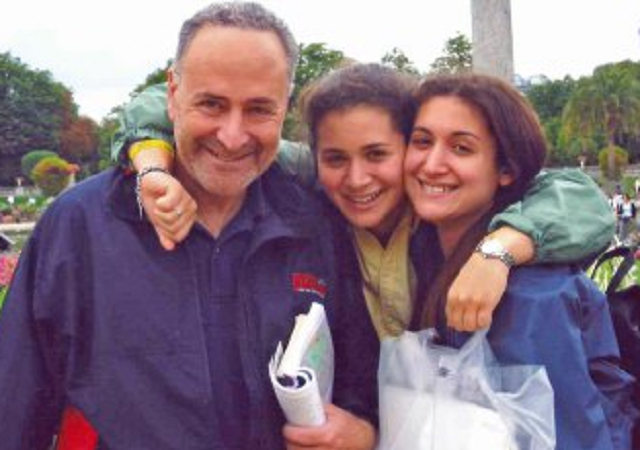 Meet Iris Weinshall's Kids
Iris Weinshall has two grown-up kids with her husband, Chuck Schumer. In 1984, Iris welcomed her first child, a daughter named Jessica Emily Schumer. In 1989, she gave birth to her second child, also a daughter, Alison Emma Schumer. Both of Weinshall's daughters finished from their dad's Alma mater – Harvard College. Their professions, however, differ.
While Jessica is pursuing a political career just like her father, Alison works with Facebook in NYC as a Marketing Manager. The former worked on the US Presidency's Council of Economic Advisers (CEA), later rising to the position of Chief of Staff and General Counsel in 2013.
In 2011, while working on the CEA, Jessica Schumer met fellow Adviser, Michael Shapiro with whom she shared the same working space on the second floor of the White House West Wing Office. They subsequently became friends but only started dating in 2013 after Michael had left CEA for Law School. The duo later married in April 2016.
Alison Schumer, on the other hand, is a lesbian. She married a fellow woman, Elizabeth Weiland on Sunday, 18th November 2018. The weekend following their wedding (Saturday, November 24th), Iris Weinshall and her husband, Chuck Schumer became first-time grandparents after Jessica welcomed her first child (a son) with Michael Shapiro. They named him Noah Melvin Schumer-Shapiro.
Summary of Facts About Chuck Schumer's Wife
Iris Weinshall is about three years younger than her husband Chuck Schumer who was born on November 23, 1950.
Iris and Chuck are both Brooklyn-born and brought up and have lived in the town all their lives. The latter, however, spends a greater part of his time in Washington D.C.
Iris Weinshall and Chuck Schumer have both been Democrats from their youth. Just like Schumer, Weinshall is also Jewish.
In 2015, Weinshall represented her husband on the occasion of his induction into the Jewish Hall of Fame.
Crain's New York Business once named Iris, alongside her husband in their list of "Power Couples In New York Business"
What is Iris Weinshall's Net Worth?
Iris Weinshall's net worth is put at $5 million. A primary source of her wealth is the salaries that she has earned over the years from the various public offices she has occupied. For instance, she served as the commissioner of the Department of Transportation of New York for seven years. She also served as the Vice Chancellor of CUNY for a couple of years. Both offices paid her six-figure salaries, ranging from 200k to as much as 400k per annum.
Iris Weinshall is currently the chief operating officer of the New York Public Library system and data shows that her salary has steadily increased over the years. In 2016, she was paid $356,409 per annum while in 2017, it was $376,458. For 2018, it was $414,859 and for 2019, it increased to $429,377. In 2020, Iris Weinshall's salary was nearly half a million dollars as she earned $445,159.
Asides from salaries, Weinshall also stands to make good money from investments in companies, real estate, etc.