Is Al Pacino Married? is one question that buzzes in the minds of many of the actor's fans. The Legendary multiple award-winning American actor has been around since the 1960s. Pacino who usually plays commanding roles, first made it to widespread public notice by playing Michael Corleone in The Godfather (1972). So far in his over five-decade career, Al has starred in more than fifty films.
Notable among them are Scarface (1983), Dick Tracy (1990), Scent of a Woman (1992), Heat (1995), The Insider (1999), Insomnia (2002), Angels in America (2003), and You Don't Know Jack (2010), among others. Al has continued to act well into his old age, doing his latest on films like Hangman (2017), Paterno (2018), and Once Upon a Time in Hollywood (2019). For his exceptional performances, the talented actor has pocketed several prestigious awards including four Golden Globes, two Emmys, two BAFTAs, two Tonys, one Oscar, and the Lifetime Achievement Award.
Despite his longstanding career success, Al Pacino's personal life, especially his romantic life remains a puzzle. In this article, we have gathered all the facts you'd love to know about Al Pacino's married status.
Is Al Pacino Married? Does He Have a Wife or Girlfriend?
As of 2019, Al Pacino (born April 25, 1940) remains an unmarried man. Surprisingly, the Serpico star so far has never married in his lifetime, and so has never had a wife. Despite not having tied the knot with any woman, Al Pacino has had several romantic affairs, most of which went public as well as lasted many years. Here's a look at Pacino's known girlfriends/partners through the years.
Diane Keaton
Al Pacino met Diane Keaton, an American actress on the set of The Godfather in 1971. The duo maintained a romantic relationship throughout the making of the film and its sequel, The Godfather Part II (1974). Although they parted ways on the completion of the projects, Al and Diane reportedly continued to pair up on and off for decades. They once again co-starred on The Godfather Part III (1990).
Pacino's affair with Keaton overlapped with his relationship with Jill Clayburgh, now late American actress whom Al dated between 1967 and 1975. Around this same period, the actor also had fleeting dalliances with actresses Carmen G. Cervera and Tuesday Weld.
Jan Tarrant
Jan Tarrant, an American acting tutor was one of Al Pacino's notable girlfriends. Although the exact time the duo hooked up is not available on media, their relationship lasted well into the late 1980s. Pacino and Jarrant welcomed a daughter named Julie Marie in 1989.
Probably before meeting Tarrant, Pacino dated actresses Marthe Keller between 1976 and 1978, and Kathleen Quinlan from 1979 to 1981.
Beverly D'Angelo
From 1996 to 2003, Al went out with American actress Beverly D'Angelo. Beverly is popular for her roles on National Lampoon's Vacation and Coal Miner's Daughter. While their affair lasted, the pair welcomed a daughter and a son named Anton James and Olivia Rose. The set of twins were born in 2001.
Prior to hooking up with Beverly, Al had a fling with actress Penelope Ann Miller from 1993 to 1994.
Lucila Solá
After parting ways with D'Angelo, Pacino started an affair with Argentine actress, Lucila Sola in 2008, and the two actors remained a pair until 2018. Lucila is notable for her roles in Pride and Prejudice (2003) and 10 Rules for Sleeping Around (2013). Together with Sola (b. 1976), Pacino celebrated his 77th birthday in the most romantic way. The duo was spotted in Mexico having a steamy beach date on the special day. Al and Lucila's relationship was such a serious one that the latter's daughter, Camila Morrone regards Pacino as her stepfather. Lucila had Camila with ex-husband Maximo Morrone (m. 1997-2006).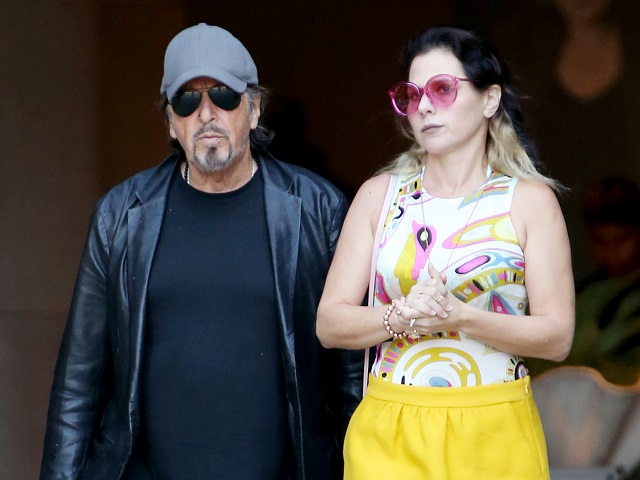 Also See: 5 Things You Need To Know About Jacqueline Obradors
Meital Dohan
Meital Dohan is Al Pacino's latest girlfriend. She is an Isreali actress, musician, and writer. Dohan is popular in the Isreal's filming industry where she has won several awards. She has however, garnered considerable notice in the U.S for portraying Yael Hoffman on Weeds in 2006. Meital and Al started going out sometime in 2018 after the latter parted ways with long-time girlfriend, Lucila Sola. The duo was first spotted together in September of the same year while on a furniture shopping outing in West Hollywood, California.
From the given details above, the answer to the question – Is Al Pacino Married is simply NO! Whether he decides to tie the knot with Dohan, or not would be revealed with time.