The American actress, writer, and poet, Betty Aberlin is today esteemed as one of the best veteran TV actresses in Hollywood. Aberlin has published many poems and has also contributed to several literary websites. She earned the respect and love of millions through her achievements in the field of writing and acting. Though retired since 2011, Aberlin has come a long way in the world of acting. The American actress is most popular for her role as Lady Aberlin in the children TV series, Mister Rogers' Neighborhood. On the children TV series, Mister Rogers' Neighborhood, Aberlin had a steady role as Lady Aberlin for 33 years (1968-2001). Meanwhile, many are curious to learn facts about the legendary actress's love life. Read on to find out this and other details about her.
Who Is Betty Aberlin and How Old Is She?
Betty Aberlin was born on 30th December 1942, making her 77 as of 2019. She was born as Betty Kay Ageloff in New York City, the United States under the zodiac sign of Capricorn.
Betty grew up in a Jewish family. She studied at Curtis high school, New York City. After that, she proceeded to Bennington College where she studied literature, arts and modern dance. During her days in school, Betty met thrifty writers like Howard Nemerov and Bernard Malamud. Owing to her establishment in the arts, Aberlin had already made meaningful moves towards the field of writing and acting even before she left college.
Was Betty Aberlin Ever Married and Is She Married Now?
Wondering if Betty Aberlin has ever married or not? You're at the right place. In 1973, Aberlin married Seaborn Jones Gustavus. In the presence of both families and friends, the duo tied the knot precisely on 13th February that year.
Aberlin and Gustavus however, had a happy union just for a while. Unfortunately, their marriage hit the rocks, eventually leading to a divorce. When they divorced and the reasons for their separation, however, remain under wraps. It is also still uncertain whether the marriage produced children or not. Nevertheless, the actress is currently single and apparently happy.
A Ride Through Her Acting Career
Betty Aberlin started her career in 1954 with theatrical productions. Then, she made her debut with the Phoenix Theatre in Sandhog, a folk-opera by Waldo Salt and Earl Robinson. In 1968, Betty started starring as Lady Aberlin on Mister Rogers' Neighborhood. She also played some other roles on the long-running TV series, including appearing as the main character and King Friday's niece in the "Neighborhood of Makeover Believe" segment. She also on some occasions, appeared as the surrogate mother to Tiger Daniel.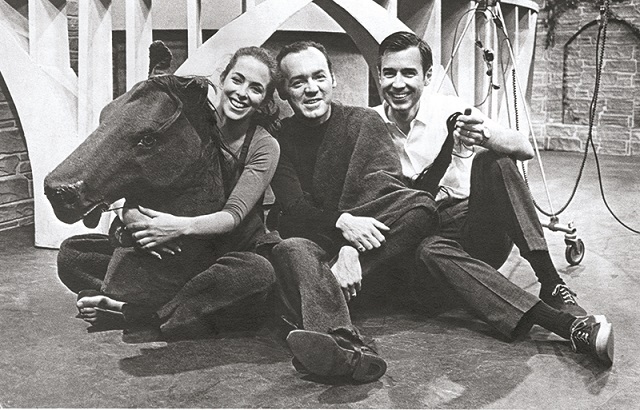 In 1975, Aberlin appeared on the Smothers Brothers show and several other TV programs. She shortly did a late-night radio show in Pittsburgh on WYEP-FM, a channel she co-founded. The program featured comedy, music, and some spoken arts and poetry. WYEP is a non-commercial, community-supported radio station that airs music programming 24 hours a day. It was founded in April 1974.
In 1978, Aberlin starred as Heather in Joseph Papp production of Ford and Cryer's I'm Getting My Act Together and Taking It on the Road. She later played back-up singer Cheryl at the New York Shakespeare Festival's public theatre in New York. From 1980-1981, she played Meryl Streep's sister in a Public Theatre performance of Elizabeth Swado's play, Alice in Concert. She later reprised the role in a 1982 television version, Alice at the Palace.
Betty Aberlin later formed a kinship with Kevin Smith, subsequently appearing in a number of his films. Some of them include Dogma (199), Jersey Girl (2004), Zack and Miri Make a Porno (2008), and Red State (2011). Aberlin through the years has shown maximum significance in the acting business. She has, however, been out of the limelight since 2011.
Writing
Betty was not going to stop at radio and Television alone, she is also quite impressive in her writing roles. She published her essay, The Blonding of America in 2005, as a contribution to the literary web site "Fresh Yarn". The essay shed light on women's effort to feel secured and included by going blonde. It undoubtedly earned her huge popularity.
In 2008, Betty also published a collection of poems titled, "The White Page Poems". She released the book as a companion to the 1880 collection of poems by George MacDonald, in the "Form of the Diary of an Old Soul".