Brian Quinn is not married and has never been. He, therefore, does not have a wife. However, The 47 year-old American actor and comedian known for his work on Impractical Jokers is reported to have a girlfriend, a woman identified as Emily Amick, who works as a makeup artist.
What is He Known For?
Brian Quinn had his higher education at Brooklyn College and upon graduation, became a Firefighter with the New York Fire Department. He later spent seven years working at the Ladder Company 86/Engine 166. After years apart, Quinn and his the troupe mates who had gone on to different schools and other endeavors reunited in the late 1990s and this time decided to take their talents to a whole new level.
They began holding frequent meetings at Joe Gatto's house to polish their skills and six months later, in 1999, they went public. They toured the country, performing improv and sketch comedy in cities such as New York, Los Angeles, Chicago, and Miami.
Brian and his troupe mates continued this way for a few years until 2006 when they expanded and began producing filmed comedy sketches, short comedy videos and uploading them to YouTube, Myspace, Metacafe, and other social media platforms.
What followed was a huge viewership which further propelled the group of four—Brian, Joe, Murr, and Sal—into the celebrity status they are enjoying.
In 2011, after winning the NBC-hosted competition It's Your Show, Brian Quinn and his troupe mates produced and starred in their first show Impractical Jokers. The show premiered on December 15, 2011. The following year, they began doing podcasts.
So far, their podcasts have garnered millions of streams and downloads on iTunes. Brian Quinn himself has also presented several other popular podcasts including Tell 'Em Steve-Dave! Which runs on SModcast Podcast Network. As the third host of the show, Brian Quinn sits with various big wigs in comedy and improv. Let's get to the piece de resistance; is Brian Quinn Married?
Is Brian Quinn Married or Does He Have a Girlfriend?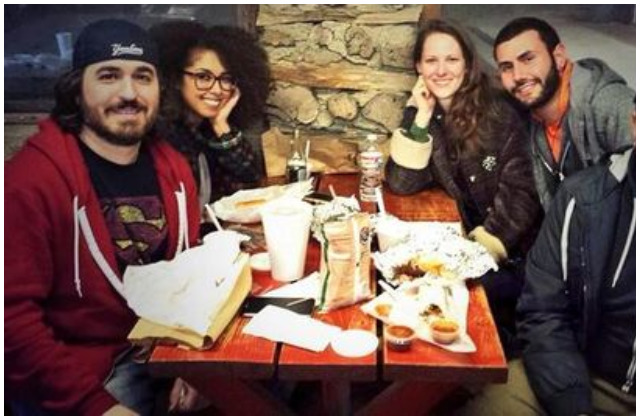 Sources believe that Quinn met the love of his life while he was engrossed in his comedic career. Although the comedian has done a great job at keeping his love life off the public's reach, his growing popularity and fame have made it a daunting task, to say the least. Fans haven't stopped asking and the paparazzi never stop prying either.
Finally, it's no news, Brian Quinn has a girlfriend. Although it took a lot to get to it, we finally have a name. Emily Amick may not be a household name like her partner, but she's not taking the backseat when it comes to her career.
The successful makeup artist has sandwiched acting into her fashion career and is known for her work on a few films and shows such as Lightning in a Bottle (2012), Some Guys Are Bigger Than Others (2014) and of course, Impractical Jokers (2011).
There are no specifics as to how long they've been together. What is known is that they have been seeing each other for a pretty long time. With the chemistry they display on social media, there was no doubt they will end up becoming husband and wife.
More recently, however, reports have come up with claims that the two are no longer together. If this holds true, then it's safe to say Brian Quinn's relationship status is unknown. So, the answer to the question – is Brian Quinn married would be…Not yet!