Hulk Hogan's daughter, Brooke Hogan, is not married. The 35 year-old American television personality, singer, and actress is single, although she once came close to getting married.
In 2013, the retired professional wrestler's daughter was engaged to Phil Costa, a football player for the Dallas Cowboys. There was a lot of talk in the media about the relationship thanks to the overprotective attitude of her father. The pair eventually called things off, and since then, Brooke appears to have remained single.
Is Brooke Hogan Married?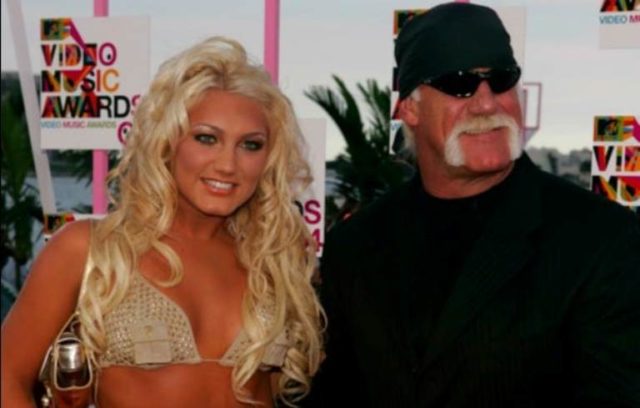 The veritable daddy's girl Brooke Hogan was involved in a situation in 2013 when her father developed some form of a natural aversion to her then-fiancé – football center for the Dallas Cowboy Phil Costa.
On her own part, Brooke knew better than to go against her father and wasted no time in terminating the engagement. The duo's official engagement happened in June 2013, and they were together for all of five months before Hulk Hogan decided to cut their proposed wedding short.
According to the famous wrestler, he entertains no regret for stopping them, a fact which he made known in an interview session with 105.3 THE FAN in August 2014. Hulk went further to state that being a lifelong fan of the Dallas Cowboy will not make him sanction his daughter's marriage to a guy just because he was from the club.
He described Phil Costa as a man that didn't talk the talk and walk the walk. He had no remorse about halting them and buttressed it by saying that it is not possible for his daughter to get married to a guy that he doesn't like, who got in his face and got him mad. Hulk commended Brooke Hogan's former fiancée for not stepping up since he would only slam him in the same way as Andre the Giant.
What we have gathered from the reports indicates that it was not just his daughter's engagement that the wrestling champion smashed, he is also suspected to be the reason behind Brooke Hogan's split with former lover Yannique Barker (Stack$) a black rapper.
Failing at those two relationships didn't seem to affect Brooke one bit, as she appears to be the type that does not dwell on what is done as well as dusted. Water under the bridge never ceases to flow, and so does Hulk Hogan's daughter with her life.
It didn't take long before she was seen with a different guy whose identity is still under wraps. The singer cum model was not averse to sharing beautiful pictures with her man, and from what is perceivable, nothing is likely to stop them, except perhaps, Brooke Hogan's dad of course.
Till date, no one has information on the whereabouts of the duo, they might still be an item or long separated, it is up to them to confirm or refute. Besides, with Brook so quite, it is difficult to know her current relationship status.
Apart from the aforementioned, Brooke Hogan has been in several high profile relationships; she was hooked-up with actor Jerry Reid for a year between 2005 and 2006, next on the scene was Matthew Llyod aka Spice Boy in 2007 followed by Jonathan Prater in 2008. RnB singer Colby O'Donis came in 2009.
Hulk Hogan himself walked her down the wrestling aisle for a wedding with Bully Ray which never came to fruition. With this impressive list of high profile relationships, one would think that Brook Hogan has been married before, but the answer, is a capital no, she is still visibly single, and the veritable daddy's girl
Where is She Now?
Though she has managed to escape the marriage noose till now, the daughter of Hulk Hogan is still very much involved in the wrestling business. Due to the involvement of her family in wrestling, the singer has gone into collaboration with the original creators of Glow (a popular TV show) to launch a female wrestling league. Apart from that, she creates and develops TV shows outside LA, and directs The Fashion Hero which is her brand new competition format show.
Who is Brooke Hogan married to?
Brooke Hogan is not married to anyone. The TV persoality is single and has not been publicly linked to anyone since her engagement to Phil Costa was called off.
Is Brooke Hogan engaged?
Brooke Hogan is not currently engaged to anyone. In 2013, however, she was enegaged to Dallas Cowboys player Phil Costa but the pair later ended the relationship.
Is Brooke Hogan Related to Hulk Hogan?
Brooke Hogan is the daughter of professional wrestler Hulk Hogan and TV personality Linda Claridge. She was born on May 5, 1988, five years after her parents got married on December 18, 1983.