Dr. Oz is a real doctor of medicine. He currently serves as a professor at the Department of Surgery, Columbia University. He bagged his Doctor of Medicine (MD) degree from the University of Pennsylvania School of Medicine before moving on to Columbia-Presbyterian Medical Center, New York, from where he received his license as a cardiothoracic surgeon.
Dr. Oz is an eminent health expert, author, and TV icon famed for his highly acclaimed television show, The Dr. Oz Show. His beliefs in integrated medicine and advertisement for medical remedies without scientific backup has brought him into many controversies as he has been panned numerous times for promoting and encouraging homeopathy on his show.
But besides hosting his show, Dr. Oz has made many guest appearances in several other television shows. He raised himself to the status of a celebrity following his popularity as a TV idol. In addition to his many achievements as a multifaceted superstar, he has flexed his writing muscles by penning down many best-selling books and journals. But is Dr. Oz a real doctor? Find out more below.
Is Dr. Oz a Real Medical Doctor?
Before delving into the question of whether Dr. Oz is a real doctor, let's define who a medical doctor is. A real doctor is a professional who practices medicine, which is concerned with promoting, maintaining, or restoring health through the study, diagnosis, prognosis and treatment of disease, injury, and other physical and mental impairments.
Based on the above definition and having obtained the degree of Doctor of Medicine (MD) at the University of Pennsylvania School of Medicine in 1986, Dr. Oz is indeed a real doctor. After undergoing a seven-year training in surgery and cardiothoracic medicine at Columbia-Presbyterian Medical Center, located in New York, he received his license as a cardiothoracic surgeon and currently serves as a professor at the Department of Surgery, Columbia University.
Who Exactly is Dr. Oz?
The celebrated medical expert was born Mehmet Cengiz Oz on the 11th day of June 1960 in Cleveland, Ohio, United States. His father, Mustafa Öz, was born in Bozkir, Turkey but after earning a scholarship for his post-graduation medical education, he emigrated to the USA from Konya, Turkey in 1955. His father later became chief of cardiothoracic surgery at Wilmington Medical Center, Delaware. Dr. Oz's mother, Suna (née Atabay) is a member of a prominent family in Istanbul. She later became the head of her family's pharmaceutical company in Istanbul, Turkey.
Dr. Oz had his childhood experiences along with his two sisters, Nazlim and Seval Oz in Delaware. Having been born of Turkish parents in America, he underwent mandatory Turkish military service in order to become a Turkish citizen. Regarding his ethnicity and nationality, Dr. Oz is a Turkish-American.
Details of His Educational Background
Dr. Oz is an alumnus of Tower Hill School, a private college preparatory school situated in Wilmington, Delaware, USA. He furthered his education by obtaining a biology undergraduate degree at Harvard University. While in college, he was a safety player at the Harvard football team and was part of the water polo team that won the intramural college championship.
Following his graduation from Harvard University in 1982, Oz enrolled at the University of Pennsylvania School of Medicine and Wharton School and graduated with a Doctor of Medicine (MD) and Master of Business Administration (MBA) degrees respectively in 1986. During his time in medical school, his excellent leadership skills were recognized as he was gifted the Captain's Athletic Award for Leadership in College after discharging his duties as the class president and later the student body president.
Dr. Oz's Career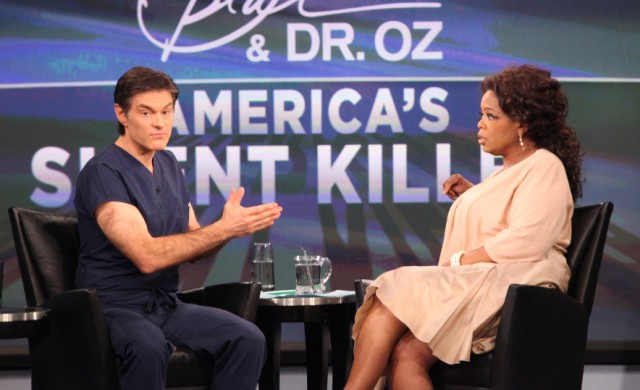 After he graduated from medical school, Dr. Oz kicked off his medical career by working as an attending surgeon at Columbia-Presbyterian Medical Center, the City of New York in 1993. He soon proved himself as an expert in heart-transplanting as he began to write numerous research articles for widely-read journals on cardiac-related problems and cares.
Following his realization of the significant impact of the patient's state of mind on the outcome of surgery, Dr. Oz ventured into supplementary remedies like guided imagery, hands-on healing and other age-old beliefs about the link between the body and the mind. He went on to set up a Cardiac Complementary Care Center at Columbia-Presbyterian in 1995.
In addition, Oz co-wrote his first book with his wife Lisa and Ron Arias titled Healing from the Heart: A Leading Heart Surgeon Explores the Power of Complementary Medicine. So far, he has written eight New York Times bestsellers, of which seven were co-written by Michael F. Roizen. He is also a frequent columnist in many A-List magazines like The Oprah Magazine, O, and Esquire magazine.
After he became the executive of the Cardiovascular Institute of Columbia-Presbyterian as well as a professor of surgery at the Columbia University College of Physicians & Surgeons, his popularity soared as he became a frequent guest on fitness and health issues segments on many television networks including CNN and Dateline NBC.
Dr. Oz then followed it up by appearing as the host of multiple TV shows like Life Line, Live Transplant, and The Truth About Food, all on Discovery Health. With the help of his friend, Oprah Winfrey, he started the multi-award-winning syndicated American daytime TV talk series, The Dr. Oz Show in 2009 where he promotes homeopathy and has attained global recognition for his work.