Flavor Flav is one man who has definitely lived life to the fullest. The rapper/TV personality is a star in music and culture, despite an 18-year long battle with drug addiction. Flav has also had a well-documented love life and fathered seven children from three women. So, is Flavor Flav married? Who is his wife and what are his children up to? All these and more questions about the Public Enemy hypeman are answered below.
Is Flavor Flav Married, Who Is His Wife?
Flavor Flav is married to the beautiful Liz Trujillo. The exact date of the couple's nuptials is not known but they got engaged around 2003/2004. Since then, the couple has remained together despite several challenges. For instance, in 2006, the rapper signed on to star in a VH1 dating game show titled Flavor of Love. This was despite the fact that he was already engaged to Liz at the time. Liz has since revealed that this was the lowest point of their relationship as her man signed on to do the dating show without informing her.
Flav and his wife have also had troubles with their business ventures. The couple had partnered with James Hawkins to open a fast and casual restaurant, known as Flav's Chicken and Vinny's Pizza, in Henderson, Las Vegas. The couple put their "blood, sweat and tears" into getting the establishment off the ground but Hawkins allegedly fleeced them out of the business profits. Flav and his wife had no choice but to sue him in May 2019, asking the court for damages as well as the profits they are entitled to.
See Also:  Who Is Marianela Oroño – Manu Ginobili's Wife and Do They Have Children? 
Facts About His Children
Flavor Flav has a total of seven children. They comprise four daughters; Dazyna (also known as Da'Zyna), Kayla, Jasmine, and Quanah Drayton, and three sons, Shaniq, William and Karma Drayton (borne by Liz). Three of the rapper's children, William, Quanah, and Da'Zyna, featured in the reality TV series, Growing Up Hip Hop: New York, in September 2019.
Their appearance on the show shed some unfavorable light on Flav's family life. For instance, Da'Zyna, accused her dad of being a dead beat father. She revealed that most of her calls to him went unanswered. The young lady also disclosed that she endured a tough childhood and had to contend with bullies and the likes.
Da'Zyna was also homeless on more than one occasion while her father was living it up in Las Vegas. Also, on another episode of the show, Da'Zyna and her two siblings visited their father in the studio in order to pitch their song to him. He praised their efforts but declined to do a few adlibs on the track as he supposedly had no time. This annoyed the trio as they felt that he hadn't done much for them before and should oblige them that one favour. Some fans of the show slammed Flav's actions as selfish while others defended him.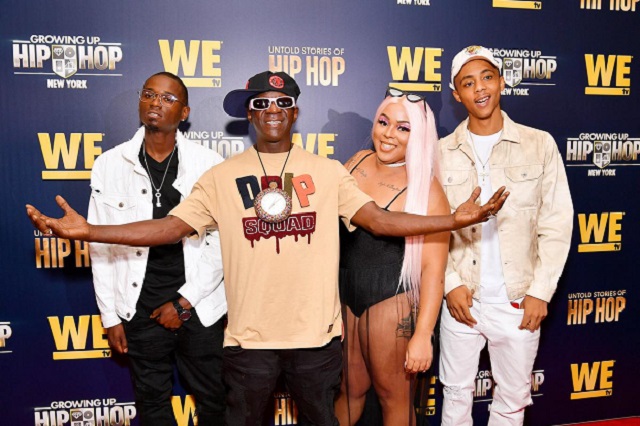 Flavor Flav's Relationships
Prior to finally settling down, Flavor Flav had previously established a rich dating history. The rapper dated actress, model and reality TV star, Beverly Johnson in the late 90s and early 2000s. Johnson is the first African-American woman to cover American Vogue. She is also the first black lady to appear on the cover of the French edition of Elle.
Flav also dated the likes of Nicole Alexander, Tiffany Pollard, and Candace Cabrera, all of whom emerged winners of his dating game show, Flavor of Love. Flavor of Love debuted on VH1 in 2006 and basically featured several ladies competing for Flav's heart. The rapper is assisted in his quest to find 'the one' by his bodyguard and chauffeur, Big Rick, as well as his mother.
Flavor of Love ran for three seasons and was premised on the fact that the rapper would end up marrying or dating one of the winners. It was however not to be as Flav revealed that he was already engaged to another lady.
Flav was also in a long-term relationship with the likes of Karen Ross and Angie Parker, both of whom bore him three children each. The rapper also dated Danish actress and model, Brigitte Nielsen. The pair first met on the set of the VH1 series, Surreal Life, in 2005. They subsequently commenced a relationship and this was chronicled in a spinoff show titled Strange Love. The couple, however, broke up by the end of 2005.