Frederick Leonard is one of those Nollywood actors that many have come to love and appreciate, first for his talent, and then for his success and good looks. Currently 46 years old, the award-winning actor has checked most of the boxes as far as his career and other aspects of his life are concerned. One area, however, that has captured the interest of many is his love life.
Born Frederick Nnaemeka Leonard, the actor has always ensured to keep his private life away from the public, making it very hard for many to come up with speculations about his love life. Because of this, many have continued to wonder whether he is married or if he is currently in a relationship with anyone.
Frederick Leonard Has Never Walked Down The Aisle
While many may find it rather very surprising, Leonard is not married at the moment. What is more fascinating is the fact that he has never been married in the past and from all indications available to the public, there was never a time that he came very close to getting married.
He made it clear that despite his age, he believes that he will still get married sometime in the future because he has not lost hope in the institution of marriage. More so, he made it known that he doesn't want to end up alone. However, he is not ready to rush into it because he doesn't want to be with someone who would make his life miserable. In a previous interview when he was in his late 30s, the actor lamented that living in a time when marriages keep ending for the wrong reasons, he is looking for someone who understands the value of a family and someone with an understanding of how to keep a marriage because he believes that love is important but it is not just love that keeps a marriage.
The actor's delay in picking a wife is because he wants to get a woman with whom he shares so many things in common. In as much as he believes in the teachings of the bible that it's not good for a man to be alone, he wants to find a woman that he is compatible with, stating that when it comes to marriage and picking a partner, it is important that people be realistic with themselves. He lamented that in the days of veteran actors such as Olu Jacobs and his wife, Joke Silva, people value their partners and there was humility, tolerance, and compromise, but now, those values are gone as western influence has led to an age of broken marriages, as well as baby mamas and baby daddies, so he is still praying to God fervently so that he doesn't fall in a similar hole.
Having lost his mother many years ago, he revealed that the void she created is one that cannot be filled by anyone else, and also noted that she is his first love and the love of his life. The actor indicated that he can get married to a lady in the industry once he finds a good woman there since no one is an indigene of Nollywood. On when he might likely settle down in marriage, the actor said that it could be far in the future and it might be any time soon.
He Allegedly Dated Several Women In The Past
Frederick Leonard has not lifted the veil as regards the woman he is currently dating or any that he has dated in the past. Nonetheless, he has been linked to a number of women in the past, all of whom were also entertainers. Here is a look at all of the known women he has allegedly dated:
1. He was recently linked to Peggy Ovire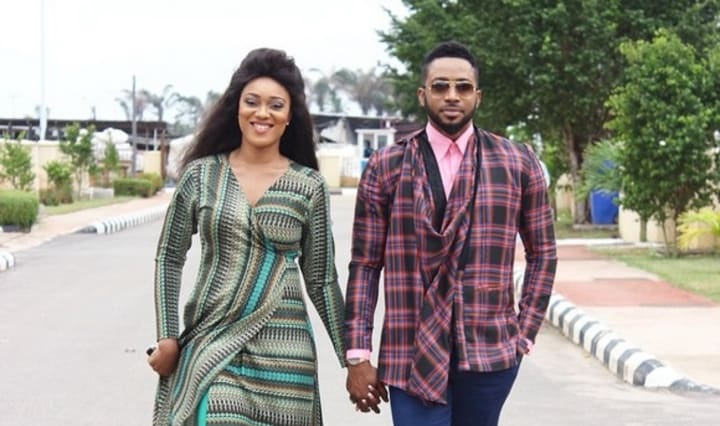 In May 2021, celebrity Instagram blogger, Cutie Jules made a shocking revelation that Freddie Leonard, as the actor is described by friends and associates, was in a relationship with fellow Nollywood actress, Peggy Ovire. In the report that attracted the attention of many, Jules claimed that Peggy was having an affair with a married man while making reference to Frederick. Fans of the actor came out to set the record straight that the actor was still single.
Peggy Ovire Enoho is also a Nigerian actress and model who has been in Nollywood since 2013 when she made her debut. The award-winning actress has made a number of appearances with Leonard in some films and TV shows, including the 2015 film, Fool Me Once, Mr. Hollywood, The Unforgettable Woman (2021), For Better For Trouble (2021), and Grey Seasons. In some of their works, they appeared as love interests. More so, they have made some red carpet appearances. Their chemistry on set and on the red carpet is undeniable.
This was not the first time that there would be claims that the two were dating; in 2017, the rumor emerged but Peggy came out to deny it, saying their relationship was strictly business. To the least claim that Peggy and the actor were dating by Jules, the actress responded by sharing laughing emojis. In his usual fashion, Leonard did not make any statement as regards the issue, even though the blogger shared a marriage certificate online, insisting that he has been married since September 2020.
2. Frederick Leonard allegedly dated an unknown Ghanaian movie producer
Before making the claims that Frederick Leonard was in a relationship with Peggy, Cutie Jules had made another more damaging allegation against the actor in 2020. The controversial blogger took to her Instagram to allege that the actor was linked to a Ghanaian actress and movie producer.
She claimed that the actor and movie producer were introduced to each other by a woman she identified as Aunty Uche, aka mama Matthew. In a short while, the relationship blossomed and the actress who was previously married to a top footballer was quick to tell all those who cared to listen that she had found her man. Jules alleged that there was the potential that the two were going to settle down together and the alleged actress was already preparing that she would get married.
However, all the dreams of the Ghanaian producer came to an end after she allegedly discovered that all the Nigerian actor was after, was her money. Jules claimed that he came up with a project or something else that he made his said lover pay for. She concluded that he did not love her but only wanted her money, so she thanked God that the relationship ended. A more damning allegation against the actor made by the blogger was tagging him a hardcore gigolo. This was another allegation that Frederick did not bother to make any statement about.
It is important to note that although many platforms have erroneously reported that the controversial blogger was the woman he dated, she made it clear that it was another woman from Ghana and not herself.
3. It was claimed that he married Kay Samuel
Another woman that was linked to the hunky actor is actress, Kay Samuel back in 2016. The two have appeared in a number of films together, which was the first reason why many came to believe that they were an item.
At almost the same time, photos of the pair started flying on social media as they were seen in wedding attires. This got fans to believe that they secretly got married. Interestingly, it turned out that the two were only in a film together and the pictures were taken from there. Even though she still makes it to the list of the women that were rumored to have dated the actor, there's nothing more to link them together since the pictures.
4. Lotachukwu is also named among the women Frederick Leonard dated
Most of the women linked to the hunk are those with whom he has appeared in movies or productions. This is also the case with Lotachukwu who was born Ugwu Lotachukwu Jacinta Obianuju Amelia in 1989.
Also a model and once into pageantry, she started her career as an actress in 2011, but it was until 2015 when she appeared in the TV show, Jenifa's Diary that she gained fame. She has also appeared in a couple of music videos even as she doubles as a film director.
Lota and Leonard have appeared in a good number of productions together, some of which they appeared as each other's love interests. Some of the appearances they made can be seen in productions like In Void, In Every Way, The Royal Hibiscus, and Don't Call Me Back, among several others. Thanks to all these appearances, there have been claims that the relationship between them might be more than just on-screen. Off-screen, Frederick and Lota are said to be close friends, even though they have probably never dated in the past. Nonetheless, the actress continues to get tongues wagging as she shares photos of the actor on her social media where she once described him as her boo.
5. He was rumored to have dated Chioma Akpotha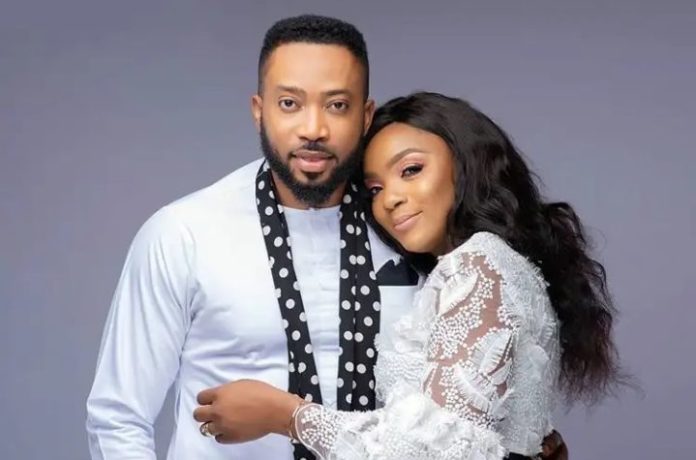 One of the most shocking rumors relating to the love life of the actor is the claim that he had something to do with one of the most talented and respected names in the industry, Chioma Akpotha. The exact time that the alleged relationship started was never made clear, but like others, this was fuelled by some of the films in which the two appeared together where they also played love interests.
Born on 12 March 1980, Chioma Chukwuka, as she is better known, is an actress, movie producer, and director. She started acting professionally in 2000 and since then, she has made appearances in close to a hundred films and TV shows. She has also won some accolades, including the Africa Movie Academy Award and Afro Hollywood award.
The rumor that Chioma and Leonard once dated has best been described as laughable by followers of the happenings in Nollywood. This is because the actress has been happily married to her husband, Franklin Akpotha since 2006, and they are blessed with two wonderful kids. In addition to this, she remains one of the few actresses in the industry that have remained almost without any scandal to their names. Hence, many believe that it is unlikely that the two have ever had anything beyond a professional relationship in the past.
In his predictable manner, the actor has not wasted any time to come out to deny the claims, neither has the veteran actress.
He Is Now Seen As One Of The Most Eligible Bachelors In Nollywood
Inasmuch as the controversial blogger, Cutie Jules, claimed that the actor is already married, there is nothing to suggest that he has ever walked down the aisle. More so, he revealed that he is still single and is taking his time to find a wife for himself. With that said, it is clear that he is still a bachelor. More than that, Leonard is considered one of the most eligible bachelors in Nollywood.
As indicated, the actor is in no rush to get married, even though many believe he should be married by now. He is placed in this category because of his age and all he has been able to achieve in his professional life. A graduate of Biochemistry, Fredrick Leonard who was born in Anambra State, Nigeria, has put more than 20 years in Nollywood. He made his debut in 2001. However, it was until 2008 that he caught the attention of many and made his real break when he got a role in the film, Indian Doctor. Since then, he has continued recording more achievements with many films to his name.
More than just having a career as an actor, Fredrick Leonard has evolved into becoming a movie producer. He has also won some important awards from his career, including the Golden Icons Academy Movie Awards in 2014, City Movie Awards, and Zulu African Film Academy Awards both in 2016. Considering all the aforementioned achievements, the conventional expectation is that the actor should have been married by now, but he made it known that he cannot be lured into any relationship or marriage.
Others in Nollywood who join Leonard to make the list of the most eligible bachelors in Nollywood are Bryan Okwara who also doubles as a model and Mr. Nigeria in 2007, Jim Iyke, Uti Nwachukwu, Femi Jacobs, and Osita Iheme, among others.