KK Dixon is neither Ja Morant's girlfriend nor wife. Dixon and Morant were once involved in a relationship in which they welcomed a daughter by the name of Kaari. During the course of their highly publicized relationship, the closeness between them and the fact that they share a child made people assume that they were married. They actually broke up sometime in 2021 or 2022.
Moreover, Ja Morant and his ex-girlfriend Dixon have been through a lot together. The most notable thing about their relationship apart from their daughter is the fact that KK Dixon almost died during the process of carrying his child. Since the pair broke up, Ja has been linked with a few women, but he has never made it official, nor has he denied the insinuations folks are making about his love life either.
Who is Ja Morant's Girlfriend Now?
Ja Morant's girlfriend has not been made known to the public. After Ja Morant broke up with his well-known girlfriend, KK Dixon, he has been rumored and linked to be in some romantic relationship with other women, though he has not confirmed or denied that he is actually involved with anyone of them officially.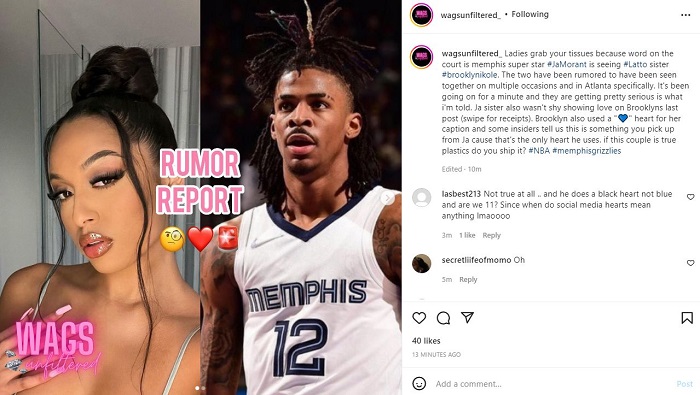 He is believed or rumored to be in a relationship with Jahonna Leia – who is currently  42 years old and has a 19 year-old son, Amari Bailey, who currently plays college basketball for the UCLA Bruins in the Pac-12 Conference in the United States of America.
He has also been rumored to be in a relationship with Brooklyn Nikole, who posted a video on her Instagram handle wearing the same black Balenciaga sweater as he did at a game just a few days earlier while tagging him. Some folks believe that she was wearing the same shirt the basketball star wore a few days earlier and just wanted the world to know that they were seeing each other.
Is Ja Morant's Girlfriend Drake's Ex?
It's hard to ascertain if Ja Morant has a girlfriend and if the said girlfriend has been with Drake in the past because Ja Morant's relationship status is shrouded in mystery and ambiguity at present.
His widely known ex-girlfriend, KK Dixon, is not known to have dated Drake, or at least not up to date. The lady in question that has dated Drake for a while is Johanna Leia, who he has been linked to having some relationship with, as noticed by online sleuths and fans.
Ja Morant has been seen to be liking a lot of pictures posted by the Reality Television star and model. Johanna Leia, and this culminated in some fans noticing that they were following each other on Instagram.  A lot of Ja Morant's fans have also noticed that they have seen Johanna Leia a couple of times watching his games, and word on the streets has it that he even flew her out to watch him play in Denver, Colorado. These are some of the things that fans have noticed that made them conclude that both Ja and Johanna were an item.
The rumors have been further fueled by the fact that Ja Morant and Johanna Leia have never publicly addressed the issue – they have never confirmed that they were dating, nor have they denied the rumor. Whatever it is that they seem to have going on will become clearer with time.
Is Ja Morant Married?
Ja Morant's relationship status at present is a bit confusing. Still, the one and only information that is clear about his relationship status is that he is currently not married at all. He is an up-and-coming young basketball star just making his mark in the sport, and his daughter and basketball seem to be the center of his life right now.
Some people probably believe that he is married to KK Dixon – the mother of his daughter, Kaari Jaidyn Morant, who was born on August 7, 2019, and is currently 4 years old, simply because she is the only girl that he has officially shown to be in a relationship with. However, he has since ended his relationship with KK Dixon, and they seem to be co-parenting their daughter.
There are some rumors out there though that since he didn't officially cut off his relationship with KK Dixon and since both of them have refused to give reasons why they split up in the first place, there is a possibility that they might resume their relationship in the future and that it could lead to marriage in the future. For now, he is not married and could possibly be in a relationship either with his ex-girlfriend or a new romantic partner.
KK Dixon and Ja Morant Dated For Almost 5 Years
Ja Morant and KK Dixon were said to have met while they were both in college and somehow, they began a relationship shortly after they met. At this point, Ja Morant was a popular college basketball player, and their relationship began sometime in 2017. They did not reveal their relationship to the world until a year after meeting in 2018.
As their relationship progressed and grew, the pair were regularly seen at social functions together, and she was always at some of his basketball games. In 2019, they announced that they were having a baby, and things went on normally for the pair until things took a turn for the worse for KK Dixon. At about 31 weeks after she became pregnant, she suffered a medical condition called Preeclampsia, which she had never heard about.
Her diagnosed condition caused her to suffer convulsive seizures, and things got so bad for her that she had to be wheeled into an emergency operation to bring out her baby, and she almost died as a result of her condition. She thereafter opened an Instagram account that regularly had pictures and videos of her baby's father and showed their life as the months went by.
Sometime in 2011, some fans noticed that Ja Morant and KK Dixon were no longer following each other on their Instagram handles, and this began to raise a few highbrows. Soon enough, folks began to notice further that both of them were not posting pictures about their life together any longer, but they were rather posting pictures of their individual lives and times with their daughter.
By 2022, it seemed like Ja Morant and KK Dixon were all about their personal lives, and the only person that linked them together or offered proof that they ever dated was their daughter's pictures that were seen in their individual post. The official reason why these much-loved pair are no longer together is still not known to date.
Is Ja Morant Gay?
From all information available about him presently, we can tell you that Ja Morant is straight and not gay or bi-sexual. All his past and present relationships have shown that Ja Morant is very interested in the opposite sex.
For reference purposes, he had dated KK Dixon for a long time in the past and even went on to have a daughter with her during the course of their relationship. Ja Morant is also currently being linked with some other ladies at present – though some of them are just possibly flirty exchanges on social media and may not mean that they are romantically involved, and all these do not suggest that he is gay at all.