Lee Asher is not married, so he doesn't have a wife yet. He is not married to Luke Barton, but their closeness has led to several speculations about their sexuality and the nature of their relationship. The two are very close friends and business partners who run the popular "The Asher House" RV drive show where they promote the adoption of rescue dogs in the United States.
This noble cause of dog rescue, which started in 2018, quickly brought them a lot of attention, especially in the media, and they even appeared on Ellen DeGeneres Show in April 2019. This media attention soon began to lead to speculations that Lee Asher and his friend were gay. However, it was untrue, as Lee Asher and Luke Barton are only friends.
Is Lee Asher in a Relationship?
According to the information available, Lee Asher is currently not in a relationship. Even from the interviews granted, Lee hasn't confirmed that he is dating anyone presently. However, it is possible that the famous dog rescuer is in a relationship but has chosen to shield his partner from the brouhaha that comes with being a public figure.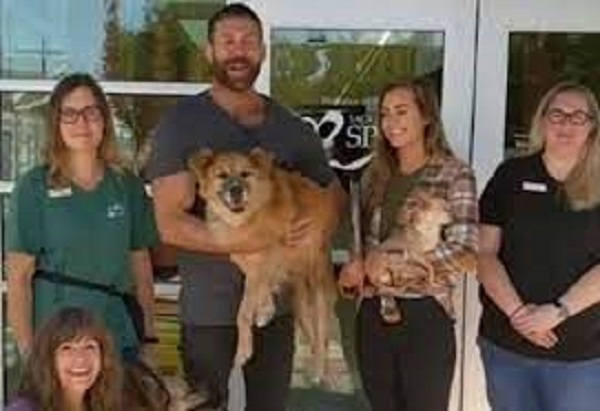 Even though we are unsure about who Lee Asher is presently dating, we know for a fact that he had previously dated a lady by the name of Sydney Febrache. Lee Asher's relationship with Sydney started around 2016.
His relationship with the Indiana native Febrache lasted for a while. It goes without saying that Febrache was also a dog lover, and they even adopted some rescue dogs together while their relationship lasted.
Lee and Febrache bought a van together and lived on the road for a while. It appears that Febrache was really into the living on the road thing, as she lived on the road by herself for a while after her breakup with Lee Asher in April 2018. Febrache owns a beloved golden retriever she named Ella.
Is Lee Asher Gay?
Lee Asher is not gay. He is straight. Asides from the fact that he has dated women in the past, which should have been a dead giveaway. Some of his fans and followers have asked him point blank on social media if he is gay, and he has responded in a frank manner that there is nothing wrong with being gay, but he likes WOMEN, so he isn't gay.
This now brings to the fore the question of why people assumed he was gay in the first place, and two things come to mind here.
Lee Asher is actually good-looking with a healthy dose of sex appeal, and he is also good with animals. This is one of the erroneous stereotypes people have about gay people. Lee Asher's close relationship with Luke Barton is also another reason why people assumed that they might actually be in a gay relationship.
Lee Asher and Luke Barton Work Together to Rescue Animals
Luke Barton, like Lee Asher, has a soft spot for dogs. Barton works as a dog photographer, and even though they were friends, they didn't become close until 2018. The duo soon began to brainstorm business ideas to work on. Not long after, they both decided to quit their individual jobs and join forces to promote the adoption of rescue dogs which they were both passionate about.
To raise funds for their start-up mission, the incredible duo raised some money through Kickstarter, which they used to buy and outfit an RV they named – The Asher House. They then put their newly outfitted RV on the road alongside their several dogs. Their campaign mission was to raise awareness and sensitize people about adopting rescue dogs and ensure that at least one rescue dog is adopted in every state in the United States.
Their campaign lasted for several months in different states in the United States. They worked with the local animal shelters in dispelling several erroneous notions about shelter animals. They also assisted the local animal shelters in hosting various events in a bid to persuade people to adopt rescue dogs.
Asher and Barton gave their all to ensure the success of their campaign and sometimes spent their personal funds to facilitate some adoptions. They also documented and shared their journey and activities on social media for better exposure.
The easy camaraderie between them must have fuelled the dating and gay rumors surrounding them, but their relationship was never of that sort. Asides from this, the duo also set up a company that produces cannabis-derived supplements for dogs.
Is Lee Asher Married?
Lee Asher is not married to anyone at the moment. He isn't married to Luke Barton, who is his friend and business partner, and neither is he married to anyone else. This does not rule out the fact that he has had some relationships in the past. From what we know, none of these relationships led him down the aisle.
Does Lee Asher Have a Wife?
From the information available in the public space, Lee Asher doesn't have a wife yet. With his build and looks, it's only natural for fans to wonder if he is taken. The 6 foot 5 inches tall hulk of a man with a chiseled body seems to be dedicating all his free time to his dogs and puppies.
After resigning from his 9 to 5 job in a finance company, Lee appears to be living in the reality of his lifelong dream of establishing a haven for animals to feel loved and protected free of charge, especially after the passing of his Pitbull Stella.
Lee Asher Has Done Other Animal-Rescue Related Projects On His Own
Lee Asher has also grown the brand -The Asher House into a household name over the years. They now run a nonprofit animal sanctuary in Estacada, Oregon. He launched the nonprofit sanctuary after discovering a large parcel of land that was perfect for the cause towards the end of 2020.
To get funds to run the sanctuary, he launched a Patreon account where the members who give to the sanctuary get exclusive access to photos, videos, and a "behind the scenes" look at Lee and the pups. All the funds realized go directly into the upkeep and maintenance of the animals in the sanctuary.
Moreover, on February 13, 2022, the first episode of his Animal Planet Discovery + series- "My Pack Life," was aired. The television series – "My Pack Life" follows the story of Lee Asher and his pack(dogs).
Asher has close to 20 rescue dogs, ranging in size and breed. From Chihuahua Butters to Pomeranian and several others. The television series is a 30-minute documentary that is presently in its first season. My Pack Life airs on Animal Planet on Sundays at 17:00.
Lee is the main actor, cinematographer, and producer of the series. His aim is to build The Asher House Sanctuary into a modern-day Noah's Ark, which he can use to provide a safe haven for all kinds of animals. Most people believe that Lee Asher has succeeded in his animal rescue mission due to his love for animals, and his passion always shines through.