Acting, modelling, and video vixen, there is seemingly nothing that Natalie Martinez is yet to venture into in showbiz. This gorgeous bombshell first shot to fame as the face of a national clothing campaign. These days, Martinez is one of the Latinos making waves in Hollywood.
She has appeared in several movies and TV series and has endeared herself to audiences with some breathtaking performances. However, her origin and background details seem to be a bit of a puzzle to many but we have all the answers here.
Natalie Martinez Is Of Cuban Ancestry
Natalie Martinez was born on the 12th of July in 1984. While she was born in Cutler Ridge, Miami, Florida, in the United States, Martinez is originally of Cuban descent. Her father's name is Manuel Martinez while her mother's name is Odalys Nunez. The actress also has at least one brother and a sister. Martinez grew up in Miami and attended St. Brendan High School, receiving her diploma in 2002.
While growing up, Martinez was naturally endowed with the sort of beauty that most people can only wish for. Her observant mom noticed this and urged her to go into the modelling industry. The young lady initially resisted but her mom would have none of it and 'forced' her to enter into a national contest for the face of a clothing line launched by superstar – J.LO.
Martinez went on to defeat 6,000 other girls to emerge as the face of the campaign. The campaign was quite successful and she thereafter landed other lucrative modelling gigs. Martinez eventually moved to Los Angeles to pursue her career. Her 5 feet 7 inches height and weight of around 61 kg gave her the physical advantage to thrive in the beauty industry. These traits are further accentuated by her hair colour which is black and her dark brown eyes.
With body measurements of 35 inches for bust, waist – 25 inches and hips – 35 inches, the Miami native boasts of an alluring figure which would make most go green with envy. Martinez maintains her figure through activities such as boxing, MMA, hiking, and yoga. However, her spell in the modelling sphere didn't last long but it served its purpose by launching her to the spotlight. She subsequently transitioned into a Hollywood star.
With an Extensive Filmography, She Has Been A Hugely Successful Actress
Natalie Martinez made her screen debut in 2006 in a TV series titled, Fashion House. The series revolved around two designers who are locked in a battle of wills while Martinez played the role of Michelle Miller, a housewife who decides to pursue her design dreams after discovering that her husband has been unfaithful. Fashion House ran all throughout 2006 and the Miami native featured in 55 episodes of the short-lived show.
Since this humble debut, Martinez has gone on to grace several movies and TV shows. On the big screen, she has appeared in movies such as Keep Watching, The Land, Message from the King, Self/Less, Broken City, The Baytown Outlaws, End of Watch, and Death Race.
Natalie Martinez Is Best Known For Playing Case In The 2008 Film Death Race
Death Race is an American action/thriller film about a bunch of prisoners who are given the choice of engaging in a dangerous car race in exchange for their freedom. The movie featured A-listers such as Jason Statham and Tyrese Gibson while Martinez played the role of Case, a woman who is in prison for killing her abusive husband.
Her role as Gabby in End of Watch placed her side by side with more A-listers like Jake Gyllenhaal, Anna Kendrick, and Michael Peña. The film was a critical and box office success with a gross of $57.6 million against a budget of $7 million.
Broken City, on the other hand, was met with mixed reviews upon its release in 2013. The box office performance was a mere gross of $34 million against its $35-$56 million budget despite top stars like Mark Wahlberg and Russell Crowe playing major roles. Natalie Martinez played the role of Natalie Barrow, an aspiring actress, and Billy Taggart (Mark Wahlberg)'s girlfriend.
Saints & Sinners Is Her Biggest Role On Television So Far
On the small screen, Natalie Martinez has appeared on TV shows such as Saints & Sinners, Sons of Tucson, Detroit 1-8-7, CSI:NY, Under the Dome, Matador, Kingdom, From Dusk till Dawn: The Series, APB, The Crossing, Into the Dark and The I-Land.
Saints & Sinners, a telenovela, is based on the 2000 soap opera La Calle de las Novias. Natalie's role in the modern-day Romeo and Juliet story is not a leading one but she appeared in 62 episodes as Pilar Martin in 2007. Asides Fashion House and Saints & Sinners, her other major small-screen appearances can be found in Detroit 1-8-7 across 18 episodes as Det. Ariana Sanchez, CSI: NY – 12 episodes as Det. Jamie Lovato, Under the Dome – 14 episodes as Deputy Linda Esquivel, Kingdom – 16 episodes as Alicia Mendez, Secrets and Lies – 10 episodes as Jessica "Jess" Murphy, APB – 12 episodes as Theresa Murphy, and The Crossing – 11 episodes as Reece.
The I-Land is one of her recent roles on TV where she played Chase in 7 episodes and Into the Dark in one episode. In 2020, she bagged two main roles in The Fugitive and The Stand and appeared in one episode of The Twilight Zone. Martinez also has one in the pipelines – Ordinary Joe as Amy.
The gorgeous Martinez has also appeared in several music videos. They include Rain Over Me by Pitbull ft Marc Anthony, We Be Burnin by Sean Paul, Senorita by Justin Timberlake, and Live & Breathe by Self-Scientific.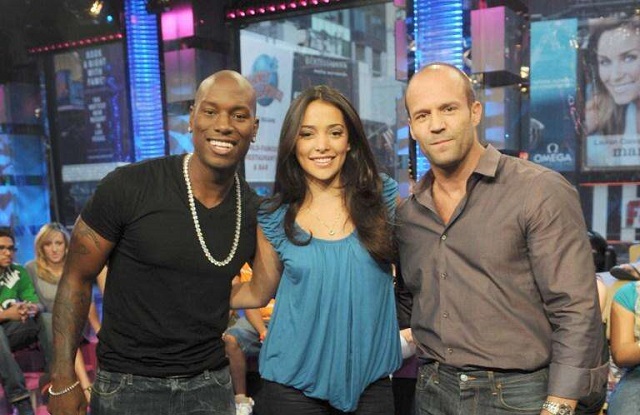 Inside Natalie Martinez's Dating Timeline
The Death Race star is as of the time of this writing, single which is news for her many admirers around the globe. Meanwhile, Natalie Martinez previously dated Danny Masterson and Taylor Kinney in the past.
Kinney is an American model and actor. He has appeared on TV shows such as The Vampire Diaries, Chicago Fire, Chicago P.D., and Chicago Med. He has also featured in several movies including The Other Woman.
Danny Masterson, on the other hand, is a DJ, as well as an actor. He has appeared in movies and TV shows such as Extreme, Met at Work, The Ranch, Urge, Alter Egos, California Solo, The Chicago 8, The Bridge to Nowhere, The Brooklyn Heist, and Dirt Merchant. Masterson also deejays under the name 'Donkey Punch' and specializes in rock, hip-hop, indie, electro, and funk music.
Details of her relationships are not made public which makes it hard to say when they met and why they are no longer together.