The great Walt Disney once said, whatever you do, do it well. Do it so well that when people see you do it, they will want to come back and see it again and even bring others to see what you are doing. This timeless quote perfectly sums up the life of Norm Abram. Abram is an accomplished American carpenter who has authored many books and hosted many TV shows. He is famous for his simple method of instruction in different areas of construction such as home improvement and woodwork. Get to know more about the master carpenter here including his net worth, whether he is alive or late and other interesting facts about him.
Norm Abram Bio (Age)
Norman L. Abram was born on the 3rd of October 1949 in the town of Woonsocket, Rhode Island. He grew up in the New England area and attended Milford high school Massachusetts. After that, he studied mechanical engineering and business administration at the University of Massachusetts Amherst.
Norm Abram fell in love with his craft at an early age. His father was a carpenter and bought him his first tool set (a Handy Andy Tool Set) when he was barely out of his diapers. As he grew older, his father took him to his work sites and he helped out where he could. By the age of 15, Norm Abram was already working as a carpenter for the same company that his dad worked for. He, however, restricted his work time to summer and school vacations so that his studies would not be derailed.
TV Shows
Upon graduating college, Norm Abram joined a large construction firm as a site supervisor. He worked for the company for three years before opening his own general contractor company (Integrated Structures) in 1976.
So how did Abram break into TV? In 1979, he was hired to build a garage as well as a garden shed in the house of PBS producer and director Russell Morash. Morash was impressed with the quality of Abram's work and asked him to join them in remodelling a derelict home for the purposes of a TV show. This was the humble beginning of This Old House; the longest-running home improvement show in America.
Since the inception of the show in 1979, Norm Abram has been a part of the series. The show basically focuses on renovating old houses with the owners contributing their time and efforts. The show has broadcast more than 1000 episodes and has received no less than 17 Emmy Awards. Norm Abram has also hosted a show titled The New Yankee Workshop. The series teaches people how to build wood accessories such as furniture, cabinets, mailboxes, and gazebos. The show ran for 21 years (1989 to 2009) and aired over 250 episodes. It was wrapped up in 2009 so that Abram would have more time for his family.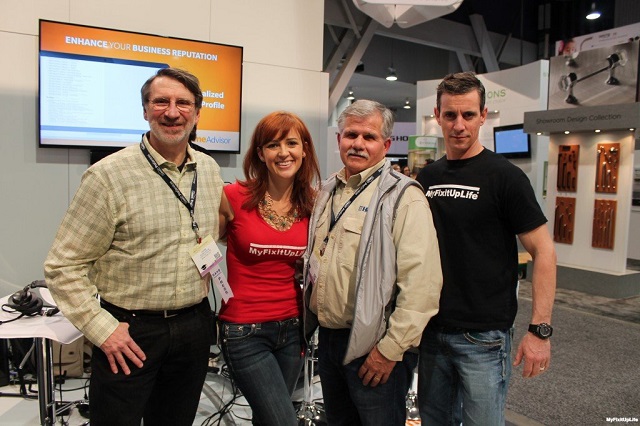 Is He Dead or Alive?
Norm Abram is very much alive. He is an active member of the This Old House team and is in charge of their carpentry. He is also involved in their new initiative titled Generation Next. The program seeks to fill the skills gap in the construction industry by encouraging youths to pursue careers in that direction. Abram and his team believe that even though a college degree is important, skilled jobs such as plumbing and electrician is what built the American economy. As such, it is indispensable.
See Also:  Nick Offerman – Bio Wife – Megan Mullally, Kids, Family, Net Worth, Religion
Net Worth
Norm Abram's net worth is estimated at $2.5 million. He made his fortune from his career on TV namely This Old House and The New Yankee Workshop. Another veritable source of income for Abram is his private construction company. Additionally, Norm Abram is the author of several books on carpentry and woodwork. There is no doubt that he must have earned significant royalties from these books. Some of them are Measure Twice, Cut Once, The New Yankee Workshop, Norm Abram's New House, The New Yankee Workshop Kids Stuff, and The New Yankee Workshop Outdoor Projects.
Other Interesting Facts About Norm Abram
• Abram has been married on two occasions. His first marriage was to a lady named Laura Cone. They divorced in 1996 and Abram is now married to Elise Hauenstein. They got married in 1999.
• Norm Abram has two kids. They include a daughter named Lindsey from his first marriage.
• Abram once received an award from the American Academy of Ophthalmology. The 2009 award was for his efforts in promoting eye safety. He always encourages his viewers to wear their safety goggles first.
• Abram has appeared on many children shows such as Freakazoid! And Where in the World is Carmen Sandiego?
• He and his wife own a 42-feet powerboat named Serenity. They use it to cruise along the New England coastline.
• Abram is famous for wearing flannel shirts and most of them come either in red or blue colours.
• In 2018, he received the Ken Burns Lifetime Achievement Award. The award is given annually to an individual who makes a significant impact on the arts through a project that is relevant to history.