Rita Dominic is married. The award-winning Nollywood actress, producer, model, television personality, and philanthropist is married to Fidelis Anosike. Her husband, whom she wedded in November 2022, is the Chairman of the Board of Directors of Folio Group, the owner of the Daily Times and the Miss Nigeria pageant.
Rita Dominic and Fidelis Anosike Have a Love Story That is Not Clear
The romance between Rita Dominic and Fidelis Anosike is one that seems to capture the interest of a lot of people both within and outside of the entertainment environment. However, details about the relationship, including how, where, and when they met, have all remained mysterious, most especially as the actress is undoubtedly a notoriously private individual.
What has been speculated is that they have been together for several years but decided to keep the relationship as private as possible, with only close friends and a few associates knowing what has been going on.
According to actor Patrick Doyle who revealed that he has had interactions with Fidelis and has also met the actress several times, he says he has come to believe that the two are deeply in love. He added that they deserve to be happy. The broadcaster's post came only a day after the actress shared the photo of her man, getting all to believe that Patrick gave the confirmation that was being awaited.
There Have Been Allegations in the Past That She was Gay
The beautiful actress has not escaped being the butt of unfounded rumors that many celebrities have always suffered. She was once rumored to be a lesbian, a speculation that did not go far. The rumors started after she turned 40 and was still single and without any child.
The rumor, however, did not hold ground because she had never been linked to any woman in the past. More so, she has been in a few relationships with members of the opposite sex who are well known. Some of the men she dated included controversial Nollywood actor Jim Iyke. They dated many years ago when the two were still walking their way up the ladder of Nollywood.
She was also reportedly in a relationship with ex-Nigerian skipper and former Chelsea midfielder John Mikel Obi. When she once revealed in an interview that there was a time she came very close to getting married, but the relationship did not work out, there was speculation that it was to the former Super Eagles player.
The well-celebrated and decorated actress indicated that she has no regrets about not marrying the said lover because there was no way she could have changed an adult that never wanted to be changed.
Other suitable bachelors that the ageless actress has been linked to are Nigerian music stars D'Banj and Banky W and Ghollywood actor and politician John Dumelo.
A Closer Look At Rita Dominic's Husband, Fidelis Anosike
Fidelis Anosike might not be an actor, but he is not a strange face in the media. He is a media mogul who is recognized as the founder of Folio Media Group. The company owns Daily Times Nigeria, having bought it in 2007 when the company went bankrupt, forcing the government to close it down.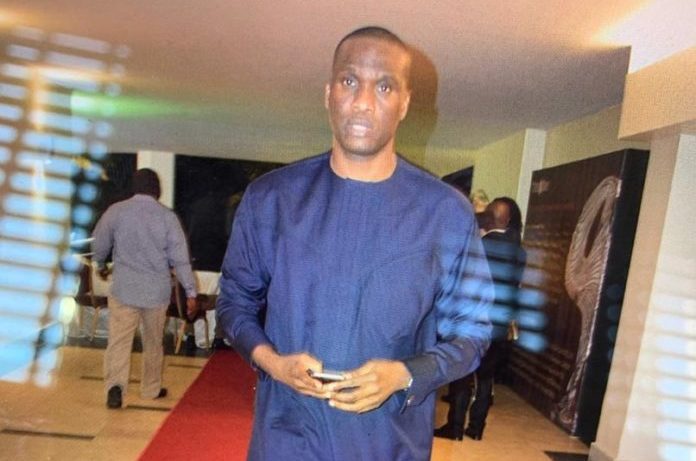 Although his age has not been revealed, it is known that he started Folio communications when he was only 24 years old. That wasn't long after he graduated from The University of Benin, where he obtained a Bachelor of Arts in Creative & Applied Fine Arts. He is also said to have run the OPM Program at Harvard Business School.
Under the belt of his mother company are other smaller companies such as Times Multimedia, 1st October, Miss Nigeria, Creative Africa Xchange (CAX), and the aforementioned newspapers, among others. He was the Chairman and CEO of the company until 2020, when he stepped down from the position.
There are conflicting reports on Fidelis' past, whether he was previously married or not. However, nothing concrete has been revealed.
Rita Dominic and Fidelis Anosike Were Linked For a While Before Getting Engaged
It had been rumored for a long time that Rita Dominic was in a relationship with Fidelis Anosike, who was previously referred to as her mysterious lover. The rumor climaxed in 2019 when it was claimed that the two were getting set to get married, and she had accepted his proposal. Nothing came out of this, and the rumors died off almost as instantly as they first surfaced.
For the next year, there was nothing serious that was heard about the actress and the man rumored to be interested in marrying her until December 2020, when she shared a picture with him on her Instagram, wishing her followers a merry Christmas.
Speculations that the duo had been engaged for a while continued to thrive but were not confirmed by either party until April 2022, when the actress took to her Instagram age to announce it.
He Became Rita Dominic's Husband in 2022
Fidelis Anosike married his beautiful bride in 2022. The pair first had their traditional marriage on 19 April 2022, in Mbaise, Imo State, Rita Dominic's village. Many of her colleagues were in attendance at the event in Rita's late father's compound, including Chidi Mokeme, Ini Edo, and Uche Jombo.
A few months later, in November 2022, the couple jetted off to England for their white wedding. In attendance were many of her colleagues, including actresses Kate Henshaw, Vicky Sogunro, Olivia Waturuocha, and TV presenter Michelle Dede who were on her bridal train.