Rita Edochie is Pete Edochie's sister-in-law as she is married to his younger brother, Tony Edochie. Pete Edochie's wife is Josephine Edochie who has been with him for over 50 years but she lives a private life.
Perhaps the first time you heard the name Rita Edochie, you thought she is probably the wife of veteran Nollywood actor Pete Edochie. This is what most of us thought when she came into the spotlight in the 1990s but there's more to it. One reason many think Pete Edochie is Rita Edochie's husband is that they share the same surname and are both on the same career path. The two actors are veterans in the Nigerian film industry and people probably think that's why they are "married" to each other but that is not so. We explore the lesser-known facts about Rita and Pete Edochie.
Truths About the Relationship Between Rita and Pete Edochie
Contrary to public opinion, Rita Edochie is not the wife of the famous Nollywood actor but his sister in law. She is married to the younger brother of Pete, Tony Edochie. Another reason many people actually think she is married to the veteran actor is probably that not much is known about her husband, Tony.
However, he is said to be a businessman. Tony and Rita have been married for over three decades and are blessed with four children.
Rita maintains a very cordial relationship with her brother-in-law, Pete Edochie, she respects him so much as an elder brother and a mentor.
Who Then Is Mrs Josephine Edochie?
Having established the fact that Pete and Rita Edochie are only in-laws, we would like to state that Pete is married to Josephine Edochie. Josephine and Pete Edochie have been married for over 50 years and their union is blessed with 6 children among whom is the seasoned Nollywood actor, Yul Edochie. They are also blessed with a couple of grandchildren.
Some sources have it that the couple probably met while they were both working at a broadcasting station. Although not much is being mentioned about Josephine on social media, it could partly be attributed to the fact that most people always thought that Pete was married to Rita Edochie and focused the attention on her.
Another reason for her absence from the media space could also be due to the fact that she is quite reserved and hardly gets involved in public affairs. There is very little information on what she does for a living, some sources are of the opinion that she is a trained lawyer and has also worked as a broadcaster, just like her husband (at the onset of his career) but that's pretty much all that is being said about what she does for a living. What we do know about her, however, is that she is the wife of one of the richest, most influential and successful Nollywood actors, as well as the mother of Yul and Linc Edochie, who are also involved in acting and doing a very good job at it.
We do not know when exactly Pete and Josephine tied the knot but sources have it that he got married at the age of 22, which was long before he became famous. Many people would think that he probably got hitched while enjoying his celebrity status, but that is obviously not the case, considering that he landed his first acting role at the age of 33, where he got the lead role in the 1980 TV series, "Things Fall Apart". This role made him so popular and further enhanced his career in the movie industry.
It also earned him recognition in the Nigerian movie industry, as well as an award in the first Africa Movie Academy Award (AMAA).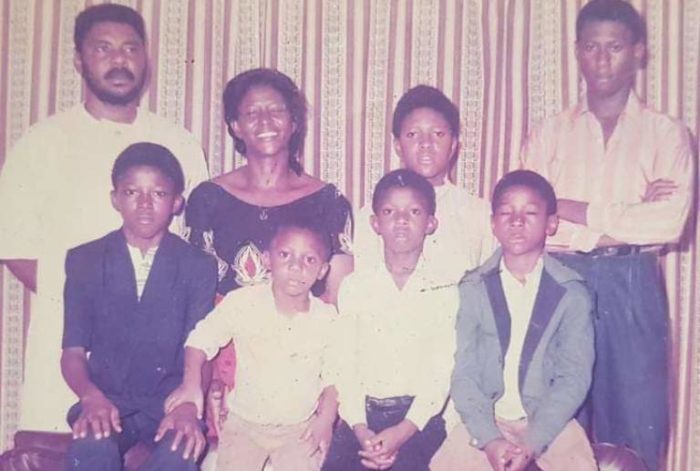 The Veteran Actor Was Once Accused Of Cheating
Pete was once accused of cheating when he made a post, telling men to beat their wives into submission. The accuser took to his Twitter handle to respond to the post. In his response, he claimed that Pete Edochie's wife was his late mother's colleague and he alleged that Pete's marriage was characterized by lots of infidelity and battery, and if only Josephine could open up to tell her horrific stories, we would have a better understanding of who Pete really is and why he keeps dishing out such awkward advice. The Twitter handler with the name @chydec went on to say that Pete was only practising what he preached. The actor never responded to this accusation, however, in one of his interviews, he said he has one of the most successful marriages in Nollywood and has the right to talk about the institution.
His Unpopular Opinions About Women And Marriage
In recent times, Pete Edochie has come under public backlash as a result of some of his utterances regarding women and marriage. A viral video of him dishing out advice to African women on how to handle cheating husbands came up recently. In the video, he advised women to slip in a pack of condoms in their husband's suitcases whenever they suspect he is going out to have an affair. He claimed that the sight of the condoms alone will likely make the cheating husband to develop cold feet and probably rethink his actions.
He went further to say that African women cannot afford to divorce their husbands just because he is cheating, he encouraged them to be creative in handling the issue. In response, a lot of Nigerian youths took to social media to air their views on his opinion. Many of them respectfully attributed his opinion to his age and the school of thought that was in vogue during the times when Pete himself was growing up.
Next on the list of his controversial comments was when he commented on the issue of women undergoing cosmetic surgery to change their bodies. He made mention of them not being "real" and also talked about how he doesn't mind the backlash that could come as a result of his opinions on the matter. He made us understand that he is in fact already used to it.
On another occasion, he was also seen in a video condemning the act of African men kneeling to propose marriage to women. He strongly frowned against it and explained how the mere act of kneeling to propose gives the woman "The Power" or headship in the union. In the video, he mentioned that any man who kneels to propose to a girl is not just an idiot but a bloody fool and a compound buffoon.
He further buttressed his point when he mentioned that we borrowed the kneeling culture from the western world where married women own the house and in a situation where there is a divorce, the woman ends up getting the house to herself. This practice in his opinion is not obtainable in a traditional African setting.
In yet another twist, Pete had also come out to publicly claim that most women are beaten up in their marriages because of feminism. He blamed feminism for the recent increase in domestic and gender-based violence, stating that when women are not submissive to their husbands, it can lead to the husband beating them into submission.