Contrary to the rumors, Ukeme Edo is not Ini Edo's twin sister. Instead, she is the actress's older sister. Over the years, the resemblance between the sisters, especially in their physical features when they show up to red-carpet events together, has had many of Ini Edo's fans think they are twins. 
At first, the two ignored the influx of questions and speculations regarding their relationship. Eventually, however, they put the rumors to rest and revealed that they were sisters, not twins. Take a look at the details of their relationship and the other siblings they have. 
Ukeme and Ini Are Sisters But Not Twins
So, to answer the question outrightly, Ukeme and Ini Edo are not twins. Many people have been living with the idea/illusion for so long that the two are twin sisters all because of their striking resemblance but in reality, they are not. Ukeme Edo is actually Ini's elder sister.
There is not so much information flying around about when she was born, however, the much we know is that she attended Immaculate Conception Secondary School Itak Ikono where she graduated in 1995 before proceeding to further her studies at the University of Uyo. She is an entrepreneur and the CEO of Kemzeal Foods: an online store that deals in crayfish, dry sea fish, and original palm.
There is no information about her personal life, if she is married, has kids, or not, but judging from her social media pages where she bears Ukeme Ekim, she might be a married woman. Although there is no confirmation that she is married, there is also a possibility that she is married and has decided to keep the identity of her man and possibly family off the piercing eyes of the public. Ukeme is visible on Instagram and Facebook as kemzyliving where she showcases her goods with over 5k followers on Instagram.
The Sisters Appear To Be Pretty Close
Ukeme and Ini Edo appear to be very close. They never miss being together, especially on ceremonial occasions like family celebrations or on their birthdays when they celebrate each other on their social media timelines.
Ini Edo once talked about her love for her sister, Ukeme, and for her family as a whole. She proudly stated that after her love for God, the next is for her family. She is seen to regularly post pictures of herself with her family members on Instagram, where she has amassed a huge number of fans following her.
They Both Share Two Siblings
Ukeme and Ini Edo share two other siblings together; a sister who goes by the name, Ify Edo, and a younger brother, Oti Edo. This means that they are only four children from their parents.
The two sisters are quite close to their siblings as well, this can be seen in the way they tag each other on social media and celebrate together as a family.
Ify Joe Mark (Nee Edo)
Ify Joe is the only sister they share together. We are not sure what she does for a living as there is no available information on that. What we do know is that she tied the knots with her sweetheart Joe Mark in 2014 and the brown sugar princess was all out sharing in her joy, as well as her other siblings.
Oti Edo
Their younger brother, Oti Edo, goes by the name edojnr on Instagram with 26k followers, He is also into entertainment, although not as popular as his sister Ini, he is doing well in his niche and gradually gaining popularity.
He is the CEO  of Maximum Disturbance Entertainment. A promising record label that currently has one artiste signed to its platform. He seems to also be into movie production sort of as his Instagram walls are littered with pics from what appears to be a movie location with Rokstudios.
The young CEO is also the brain behind 04 Grill: a Grills and Cocktails outlet in Uyo, Akwa Ibom State. He appears to be single as there are no indications that he is married or has children.
Is Queen Wokoma Ini Edo's Sister?
Ini Edo is definitely one of a few celebrities that have many look-alikes, one of them is Nollywood actress, Queen Wokoma. With the striking resemblance, the two actresses can easily be passed for sisters any day any time but interestingly they are not.
The looks, height, physique, and facial appearance are so much alike, leaving most of their fans awestruck at the wonders of God's creation and at the same time explaining the reason they are most often mistaken to be sisters. The two are not even related in any way, they are nothing beyond colleagues in the industry.
Wokoma is also from the Southern part of Nigeria just like Ini Edo, but she is a Rivers State-born actress. She is a graduate of Public Administration from Abia State Polytechnic, joined the movie industry in 2011, and made her debut in the Blood of Fire and went on to feature in other movies such as Snake Lord, Nurses Cult, Dangerous Mafians and countless more.
She studied English at the University of Calabar, obtained a bachelor's degree, and later earned a scholarship to go read law at the National Open University of Nigeria, AKA NOUN. Wokoma looks up to Ini as a senior colleague in the industry and holds her in very high esteem and this she is vocal about.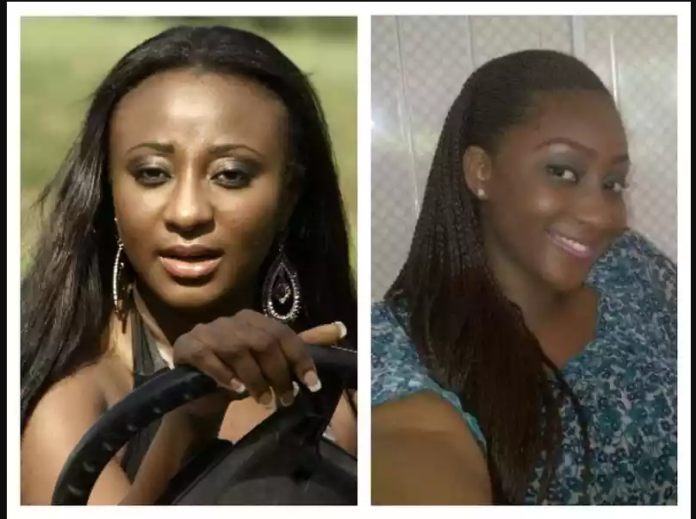 Another person people have also mistaken to be Ini's sister is Esther Urrah. Although a lot of people initially thought that she and Ini Edo were identical twins. We found out that Esther Urrah hails from Otukpo in Benue State while Ini Edo comes from Onna in Akwa Ibom State.
Esther on her own claims she never knew that she and her popular colleague shared a similar facial resemblance until her friends pointed it out to her. From then onwards she wished to be in a movie with Ini Edo.