Isaiah Thomas, despite his shortfall in height, has had a successful career in the NBA where height is considered criteria to excel. Thomas' passion for the game began when he was young and he shined throughout his high school and college days. As a result, he earned several accolades, including being named to the First Team All-Pac-10 and Second-team All-Pac-10 teams.
One interesting thing about the NBA All-Star is the story behind the name given to him at birth. He was actually named after a baller who reigned supreme on the court in the 1980s and early 1990s. Perhaps this rubbed off on him as he grew to become a staple in the NBA as well.
Isaiah Thomas was Named After a Legendary Detroit Pistons Point Guard
The NBA star was born Isaiah Jamar Thomas on the 7th of February 1989 in Tacoma, Washington. His father James Thomas and mother Tina Baldtrip welcomed him into the family at a time when his dad was a huge Los Angeles Lakers fan. The young Thomas' birth further coincided with the 1989 NBA Finals which had the Lakers squaring off against the Pistons for the Larry O'Brien Championship Trophy.
Filled with enthusiasm that his team would win, James Thomas made a bet with one of his friends, pledging that if his team lost the championship to the Pistons, he would name his son after the future Detroit Pistons Hall of Fame point guard.
As suggested by the name he now bears, Isaiah's father lost the bet as Isiah Thomas didn't fail to deliver as the Lakers' nemesis. The Pistons ended up sweeping Lakers which prompted the name for the new baby who had just joined James Thomas' family.
It was later, however, understood that James was already warming up to the name and didn't have any issue transferring it to his son. On the other hand, Isaiah's mother agreed with the decision only if the spelling was the same as the Biblical version. This explains why Isaiah Thomas' name is not exactly spelled like that of the retired Pistons legend.
Apart from his real name, Isaiah garnered several nicknames when growing up. He was called "Bighead" or simply "Head" by his father. His mother, on the other hand, preferred to call him Zeke, the same nickname Isiah Thomas famously had.
Young Isaiah Ended Up Following the Footsteps of Isiah
Born to a basketball enthusiast while sharing his name with a legend in the game, young Isaiah had the right background to blaze his own trail in basketball and he made the most of it. He played the game through his high school days at Curtis Senior High School before he moved to South Kent School in Connecticut from where he graduated in 2008.
Isaiah later enrolled at the University of Washington, happily signing up with the college basketball team where he put up excellent games for three years. He enjoyed a stellar college basketball career with the Washington Huskies as he was named Pac-10 Freshman of the Year, First Team All-Pac-10 twice, and second-team All-Pac-10 among other awards. He would later proceed to declare for the 2011 NBA Draft, forgoing his final year in college.
Isaiah Thomas was selected 60th overall in the draft by California based NBA franchise, Sacramento Kings. His promising professional career immediately kicked off and he has gone on to win different recognitions, including being named NBA All-Star in two consecutive years, 2016 and 2017.
Other teams he has played for so far in his career include the Phoenix Suns (2014–2015), Boston Celtics (2015–2017), Cleveland Cavaliers (2017-2018), Los Angeles Lakers (2018), Denver Nuggets (2018-2019), Washington Wizards (2019-2020). Thanks to his successful career in the NBA, his net worth as of 2020 is estimated at $100 million.
The Thomas Family Suffered a Tragedy in 2017
Isaiah Thomas's father James was first married to a nurse named Tina Baldtrip, the mother of Isaiah. The couple later parted ways, giving room for James to marry a second wife, LaNita. Chyna LaNita Marie, who was born on May 2, 1991, was a product of this union.
Chyna was a graduate of Tacoma School of Arts, Washington. She earned a living as a mail handler at Federal Express (FedEx) before meeting her untimely death in a car accident on April 15, 2017. The wreck occurred around 5 a.m. on southbound Interstate 5 near South 288th Street. She was aged twenty-two.
The tragedy left the entire Thomas family seriously devasted but somehow they have managed to get past the ugly occurrence. In fact, the crash happened a day before Isaiah's team, the Boston Celtics, played the Chicago Bulls in the first round of the playoffs. Nothing could, however, stop him from making an appearance. He went on to score 33 points in the game which they lost, although they ended up winning the series.
Isaiah Thomas Married His High School Sweetheart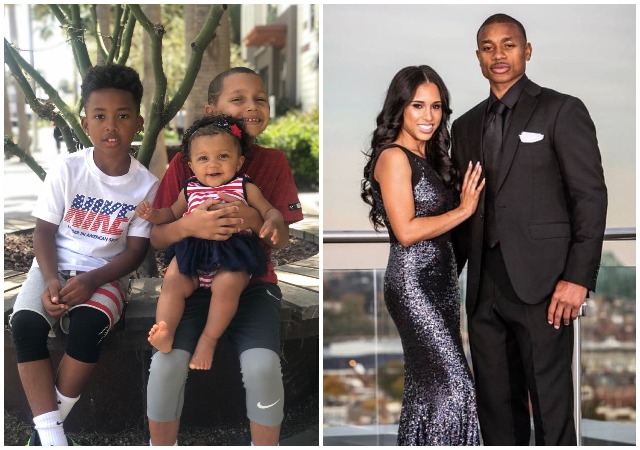 Isaiah Thomas is not just good with the ball, he is also a loving husband and doting father to his family which has grown since he married his high school sweetheart, Kayla Wallace. He wedded the lovely Miss Wallace sometime in August 2016 in a ceremony graced by their loved ones and fellow athletes, including Floyd Mayweather.
Kayla and Isaiah's union has brought forth two adorable children; son Jaiden and daughter Journey Thomas. They had their son before their nuptials. The former Celtics star also has another son named James Thomas, a product of his past relationship James' mother is not known to the public. The happy family resides in his home in Tacoma, Washington.
Isaiah Thomas always has great things to say about his wife and children on social media. He is a proud father who cherishes every moment he spends with his family. His sons were famously seen with their dad during a press conference in 2016 where James told everyone that his father is "the greatest basketball player."
While Isaiah makes a living on the court, Kayla Wallace is a certified teacher. There is, however, little or no information available about her exploits. There is also very little that is known about her family other than that she was raised by a soldier father and shares a close bond with her mother and sister.