Isaiah Thomas despite his shortfall in height has had a successful career in the NBA, however, his career suffered a hiccup following a hip injury. The NBA All-Star was named after of the legendary retired point guard of the Detroit Pistons, Isiah Lord Thomas III aka Isiah Thomas who reigned on courts in the 1980s through to 1994.
Thomas' passion for the hoop game began when he was young and he shined throughout his high school days. As a result, he earned several awards nominations some of which are First Team All- Pac ten, Second-team All-Pac ten and the Associated Press honourable mention All-American.
Isaiah Thomas' Bio (Age)
The amazing NBA point guard was born as Isaiah Jamar Thomas on the 7th February 1989 in Tacoma, Washington. The young Isaiah had his high school education at Curtis Senior High School before he moved to South Kent School, in Connecticut from where he graduated in 2008.
He enrolled in the University of Washington happily signing up with the college basketball team where he put up excellent games for three years. He enjoyed a stellar college basketball career with the Washington Huskies, as he was twice named Pac-ten Freshman of the year, twice First Team All- Pac ten and second-team All-Pac ten among other awards before proceeding to declare for his NBA draft in 2011 foregoing his final year at college.
He was the 60th overall pick of round two and was selected by California based NBA franchise, Sacramento Kings. His promising professional career kicked off and he has gone on to win recognitions such as NBA All-Star in two consecutive years 2016 and 2017.
His three seasons with the Kings made "Big Head" as he was referred to one of popular point guard players in the NBA. He racked up a triple-double score in March 2014. His feat that season earned him an average of about six assists and over 20 points.
By July 2014, he was taken by the Phoenix Suns where he became the fourth point guard to score back to back 23 points each in two games before he was brought down by an injury that kept him out of action till December 2014. After his come back, he recorded an impressive 27 points in the game against the Portland Trail Blazers on January 2015 that gave his team victory, I.T, (aka Isaiah Thomas) booked a spot on that year's NBA Skill Challenge list as the shortest man to ever feature.
I.T's skills and shine endeared him to many fans, unfortunately, his shine was wanned by a notorious hip injury he sustained whilst playing for the Celtics. As a result, he was traded to the Cleveland Cavaliers in exchange for Kyrie Irving. Thomas had a brief stay at the Cavaliers as he soon was sold off to the Los Angeles Lakers, later to Denver Nuggets and now then the Washington Wizards. He signed on for a year with Wizards on 10th July 2019.
Aside from playing basketball, Isaiah Thomas hosts a yearly high school basketball talent tournament tagged
Zeke-End
in his home town Tacoma where he also invites fellow accomplished NBA stars to grace the occasion. The tournament was set up sometime in August 2013.
Net Worth
The talented Tacoma born has made a fortune thanks to his successful career in the NBA. His net worth has been estimated at $12 million, much of which have come from his salary in the NBA, as well as endorsement deals. His basic salary with the Wizards is estimated to be $2.3 million with a cap hit of $1.6 million.
Isaiah Thomas's Sister and Dad
Zeke or King Fourth as he is fondly called by his mum and fans once had a grown-up sister whose name was Chyna LaNita Marie. His half-sister Chyna was born on May 2, 1991, by Isaiah father's second wife LaNita Thomas.
The late Chyna was a graduate of Tacoma School of Arts, Washington and earned her living as a mail handler at Federal Express (FedEx) before she met her untimely death in a car accident, on April 15, 2017, along Washington Federal road by 5 a.m at the age of twenty-two years (22 years).
The incidence left the entire family seriously devasted but somehow the family has managed to get past the ugly occurrence.
Isaiah Thomas's father James Thomas was first married to a nurse named Tina Baldtrip, the mother of Isaiah Thomas before they separated then he married his second wife LaNita. James Thomas was a die-hard basketball fan who worked partly as an inspector for Boeing. His love for basketball led him into betting with a friend of his, during the 1989 NBA final games. A bet he lost leading to the naming of his son after the Detroit Piston twelve-time NBA All-star, Isiah Lord Thomas III born in 1961.
See Also: Kemba Walker – Biography, Height, Salary, Other NBA Career Facts
Meet Isaiah Thomas' Wife and Kids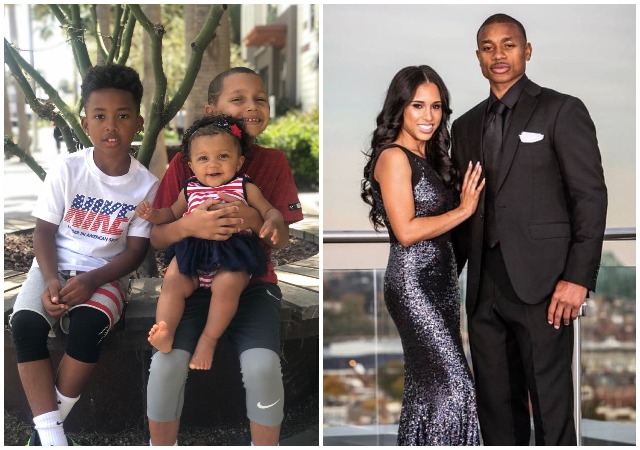 The wonderful athlete is a family man. He wedded the lovely Kayla Wallace sometime in August 2016 in a ceremony graced by their loved ones and fellow athletes including Floyd Mayweather. Their union has brought forth two adorable children a son Jaiden and a daughter named Journey Thomas born on the 10th of October 2018. The former Celtics star also has another son James Thomas (a product of his past relationship). The happy family resides in his home in Tacoma, Washington.
Height and Weight
The Washington Wizards No. 4 player has a short stature for a point guard standing at a height of 5 feet 9 inches (1.75 m) complimented by a weight of 84 kilograms. His wingspan is 1.87 m and his slightly uplifted shoulders help him strike home his points.