As far as journalists of African origin go, Isha Sesay is one of the most famous on the continent – and by extension, the world. The Sierra Leonean and British journalist has had a successful career since she joined the industry in 1998. In that time, she has worked for a host of major media outlets, including the BBC and famously, CNN.
For aspiring journalists, particularly of similar origins, Isha Sesay's story is inspiring. There is still a lot for her to accomplish as a journalist. In the meantime, however, here is an in-depth look at how Isha got to where she is today, starting with her childhood years in Sierra Leone.
Isha Sesay: A British Sierra Leonian Born in France
The beautiful anchor was born in France on the 6th of January, 1976, to Sierra Leonian parents. Her parents returned to their home country when Sesay was a child, so she spent her early years in Sierra Leone.
Dr. Kadi Sesay, her mother, taught at Fourah Bay College, Freetown before she was appointed an advisor to the government of Valentine Strasser in 1992. Her father worked as a legal advisor to the Sierra Leone Produce Marketing Board (SLPMB) before his death in 1988.
Isha Isatu Sesay is the second of the three children born to her parents; she has an older sister and a younger brother. She was a student at the Fourah Bay College School, a private school in Freetown, until 1992 when she moved to the UK to complete her studies.
After her A 'levels, she got admission into Trinity College, Cambridge, to study English. Isha originally wanted to be an actress, but she changed her mind and decided to go for journalism, thus during her final year in college, she began sending applications to media groups and organizations.
Isha Sesay Started Her Career at BBC as an Intern
One of her many applications pulled through, and after her graduation, she began working at BBC as a researcher for the talk show, Kilroy, initially as an unpaid intern. Seeing her potentials, the BBC hired her on a full-time basis. In 1998, she moved to BBC Scotland where she began working behind the camera. A few months after, she earned a promotion and became an announcer on BBC Choice.
During her time at the BBC, Isha did a lot of side work for other outlets. She presented a variety of programs for TWI and her future star-making news organization, CNN.
A Brief Stint at Sky UK
After building the foundations of her career at BBC, Isha Sesay joined Sky Network in 2002. She spent three fruitful years at the media outlet, covering a range of subjects, from politics to sports. Isha anchored the Good Morning Sports Fans show on Sky Sports News for three years.
The show afforded her a chance to meet high profile celebrities like Ellen MacArthur, Michael Watson, and others. She also had the privilege of traveling with the Arsenal football team for an exhibition match held at Reebok Stadium in support of the Nwankwo Kanu's Heart Foundation.
While at Sky, Ishay also worked for ITN, hosting the ITV Morning News program. During this time, she also worked as a newsreader for GMTV's breakfast program.
Isha Sesay's Star-Making Career at CNN
In 2005, Isha began her career with CNN International headquarters, Atlanta, Georgia. She worked as an anchor and a correspondent. She covered the 2007 Nigeria's Presidential elections, interviewing both the then outgoing president, Olusegun Obasanjo, and the then newly elected president, Umaru Yar'Adua. Later that same year, she traveled to South Africa to cover the launching of the Global Elders.
Sesay became the host of the first edition of International Desk (a weekday news program) which launched in 2009. In 2011, she swapped roles with Michael Holmes and began hosting of BackStory. The following year, the show started to air only on weekends, and she became the anchor of a new show – CNN NewsCenter.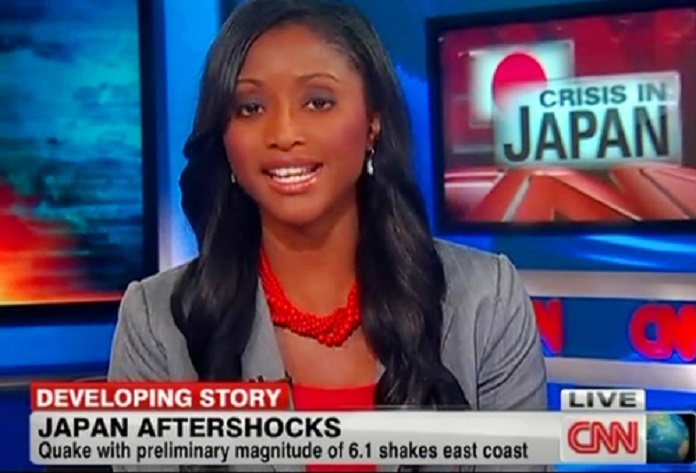 While working at CNN International, Isha Sesay also hosted the 360 Bulletin on CNN owned channel, Anderson Cooper 360° and co-anchored Evening Express, on another CNN owned channel, HLN.
She Covered a Lot of Major Africa-Centered Stories for CNN
Being an anchor for CNN on major shows like International Desk and BackStory, Isha improved her popularity significantly. However, it was her coverage of major African events as a reporter that proved to be the lightning rod for her fame. During this time, she covered stories like the World Cup in Johannesburg, Zimbabwe's controversial 2008 election, and kidnapping of a British toddler, Margaret Hill in the Niger Delta. Others include the election of Ellen Johnson-Sirleaf, the fall of Tripoli and Egypt protests.
But, beyond the events and interviews with major African political and social players, her coverage of the Chibok girls kidnapping spurred several movements across the world. Her coverage brought much-needed insight into the story, mainly to news watchers around the globe.
She Has Been A Freelance Journalist Since 2018
After working with CNN for 13 years, Sesay in August 2018 resigned citing Trump-centered coverage as the reason for her resignation. She also stated that she would love to champion a girl child education project in Africa and embark on other personal endeavors.
Before quitting CNN, she launched an NGO called W.E. Can lead in 2014. The NGO is aimed at giving educational support to the girl child. Although the program is open for girls all over Africa, it has mostly featured Nigerian girls.
The NGO's program tackles issues like financial literacy, critical thinking, and good health practices. It also offers leadership training for young girls via its Young Leader development program. Since its establishment in 2014, the NGO has recorded over 600 participants in its programs, most of whom are between the ages of 12 and 18.
As a freelance journalist, she has worked with organizations like War Child USA and CAF. She was a guest speaker on BBC's Africa today, Women Deliver conference, and Brilliant minds. Isha Sesay has also written a book, Beneath the Tamarind Tree, covering the abduction of Chibok girls.
Isha Sesay Has Made A Lot of Money as a Journalist
Thirteen years at CNN, one of the highest-paying media outlets in the world is more than enough to put Isha Sesay on a higher tax bracket than most. Combined with other endeavors like her book, speaking and hosting roles in international conferences, she has amassed a net worth estimated between $1 and $5 million.
The exact figure of the journalist's net worth is yet to be determined. This is due to the irregularity of her earnings since quitting CNN. However, we do know that she is a millionaire, and switching from her acting pursuits for journalism has been financially rewarding.
Read About: Rachel Maddow Salary, Net Worth, Gay or Lesbian, Who Is The Girlfriend or Wife?
What We Know About Isha Sesay's Personal Life
There is plenty we know about the British Sierra Leonian journalist's professional life. We also know a lot about her philanthropic efforts to empower women in the African continent. However, when it comes to her personal life, there is limited information.
So far, all we know is that she was married to Leif Coorlim, a CNN staffer in August 2013. Presumably, they met when she worked at the media outlet. They began an affair that led to an engagement in January 2013 and a wedding in August – later that year.
Isha Sesay and Leif were a married couple for five years until 2018. The journalist revealed in an article published in What We Seee in August 2018 that she and her husband were no longer together. During their five-year marriage, they shared no children.
Since that announcement, Isha has shared very little information about her personal life, including the cause of the divorce or her new partner. For now, the international journalist is considered single.