Plus-size modeling is fast becoming the hottest trend in today's modeling industry. Finally, the world is coming to terms that being slim isn't the only acceptable terms for beauty. Bold and beautiful curves are now seen on the runways of notable fashion shows and among the collections of top fashion designers. Famous British model, Iskra Lawrence is one person that comes to mind when the subject is broached – even though the voluptuous European beauty has refused to be referred to as 'plus-sized'. This article is all about her.
Iskra has millions of followers on Instagram and is a top model for Aerie, an American lingerie retail company which builds all its launching campaigns around her in a bid to promote healthy body image for girls. The model kicks against Photo-shopping or any kind of image enhancement by software or surgery as she promotes authenticity and realness. The #AerieReal campaign refuses to remove any body blemishes, tattoos or cellulite on every advertisement.
Aside from modeling, Iskra manages an online magazine Runway Riot which is aimed at protecting the image of ladies on the big side against the fashion industry stereotypes. The multi-talented model is also a tutor of body imaging in the UNH Body Project – a mentorship program for women with body image issues and eating disorders. It focuses on getting compulsory self-care, body confidence, and nutrition in schools and colleges.
Lawrence inspires young girls and women from around the world; she gets hundreds of emails and comments globally from girls who have benefited from her fitness and nutritional classes. Iskra follows a strict fitness diary and goes with a motto: Everything in Moderation. The model shares her food diary online on stylecaster.com.
An ardent teetotaler, Iskra revealed she does a lot of squats to stay fit and pointed out how she hates the term Plus Size for its negative connotation as it dents the self-image of females in that category. The curvy, talented, and inspirational personality is definitely someone you will like to meet.
Iskra Lawrence Bio and Age
Iskra Arabella Lawrence was born on September 11, 1990, in Wolverhampton, a city in the West Midlands of England. Her name Iskra which meant, 'Spark' in Russian and Polish suggests that she has an Eastern Europe ancestry.
She has a British father named Doug Lawrence and an Irish mother whose name is not given. She schooled at Malvern St. James, an independent girls school and Bromsgrove School, an independent public school, in Worcestershire. From there she proceeded to the National Youth Theatre at the age of 15. She later learned how to swim and competed at the national level when she was 15 years old. 
She signed a contract with ELLE fashion magazine at the age of 13, however, the contract was revoked when she was 16 as she suddenly began to put on weight around the hips and her self-esteem took a nose dive sending the young model into a bout with eating disorders and body dysmorphia.
Determined to make her mark in the industry and carve out a niche for herself and her type, young Iskra continued to distribute her pictures to agents and was spotted by American Eagle Outfitters (American Eagle) in 2017 who employed her services as one of the top models for the New American Jean which portrayed raw un-retouched images of their models for cosmetic retail giants, L'Oreal Paris.
The voluptuous model was also named brand ambassador for National Eating Disorders Association (NEDA) and was helped to pioneer the NEDA Inspires Award. She refuses to allow any type of enhancements on Instagram images and is very vocal in her criticism of people who promote the weight stigma aimed at individuals. Iskra featured in 2017 Straight Curve documentary as was a presenter on the show Ending the Pursuit of Perfection the same year.
She was named among BBC World's 100 Women and was picked as one of the World Association of Girls Guides and Scouts Great Girl Leaders in 2017. Moreso, she gained more recognition as the brand ambassador of the Persona Collection Campaign in 2018 for a plus-sized women clothing brand Marina Rinaldi as well as L'Oreal Princes Trust Ambassador.
Furthermore, she was the creator, producer, and host of The Mirror Challenge with Iskra, a Facebook web series from the stable of Clevver Media.
Does She Have A Boyfriend or Husband?
Iskra Lawrence is not married yet. Her love life and relationship has been under the radar for past few years, but since of 2017, the model has gone public about who she is hooked up with. National Eating Disorders Association (NEDA) brand ambassador was found to be dating a British professional football player, Andre Wisdom.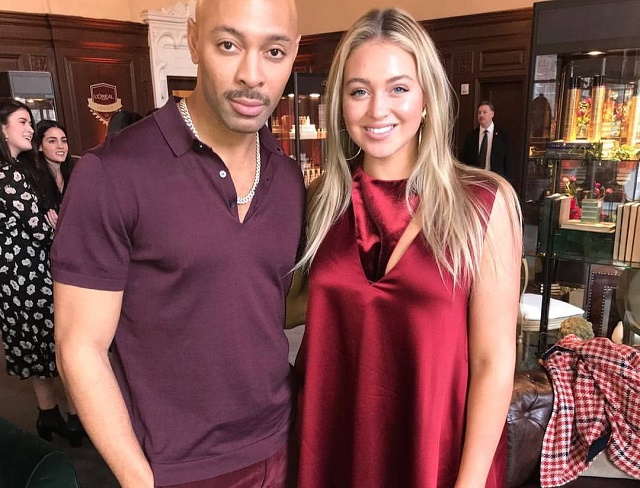 Wisdom plays as a defender for English Premiership football club, Derby County. Lawrence posted a picture on Instagram in which she was seen hanging out with Wisdom. It is however not known if the couple will be taking it to the next level yet as they rarely share each other's pictures on their social media handles.
Weight and Other Body Measurements
The curvaceous model, has a very lovely voluptuous body shape, weighing about 88 kilograms (194 lb) and she is equally blessed with a good height to go with her body build, she stands at 5 feet 9 inches (1.75 m) tall and her other body measurements are indicated; 38 inches breast, with 34 D cup, her waist is reported to be 29 inches and her hips are said to measure 44 inches while her shoe size is 9 (US) and her dress is sized 14 (US).