Iva Colter is the wife of Mike Colter, the American actor. The couple exchanged marriage vows in 2016 after dating for ten years and are now parent to two beautiful daughters. Iva has been associated with the American media services providing company, Netflix Inc. since 2014, as she is currently occupying a directorial position in the company.
Iva Colter gained fame following her marriage to the American actor and has also faced some marital challenges as a result of their racial backgrounds. Nevertheless, she and her husband are enjoying a happy union that has produced two adorable daughters. Mike Colter's wife has also achieved a wonderful career on her own. Here's all about her.
Iva Colter and Mike Colter Met At Rutgers University in New Jersey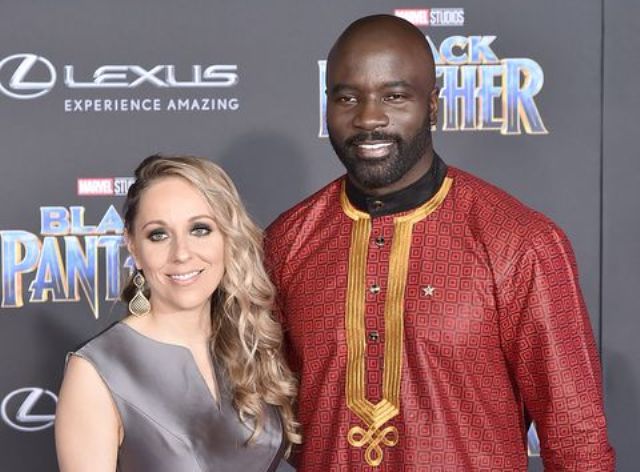 Iva Colter met her husband Mike Colter during her college days at Rutgers University in New Jersey. Then, Mike was pursuing his postgraduate degree at the university precisely, a masters degree in acting – he had his Bachelor of Arts degree from Benedict College, University of South Carolina, Columbia.
On her own part, Iva was at the university to study for a Ph.D. in Comparative Literature. It was love at first sight for Mike. according to the actor, when he set eyes on Iva, it hit him like a bolt of lightning and he completely forgot every bad thing. In his mind, he already knew that no boundaries, racial segregation, or skin color will be capable of stopping that love.
She Officially Became Mike Colter's Wife in 2016
Mike Colter's feeling about Iva was obviously reciprocated as the couple began dating immediately. The lovebirds were together for all of ten years before taking the next step and if truth be told, that is an awfully long time for an interracial relationship to survive without the security of marriage.
Though the details of their wedding was never made public, the couple exchanged marriage vows in 2016; the ceremony was a private one with few people in attendance. Their union has faced some challenges as it has been criticized by people who still uphold racial segregation ideology.
That notwithstanding, the lovely couple is enjoying a nuptial bliss as their love grows stronger each day. They are blessed with two beautiful daughters, Naiella and her sister who arrived in October 2018. Iva says Mike is a hands-on dad who doesn't miss an opportunity to cuddle his kids. Currently, she resides in Los Angeles together with her husband and children.
Meet Iva Colter's Husband, Mike Colter
Mike is the youngest of five children born to Freddie Marion and Eddie Lee Sr. His date of birth is captured as the 26th of August 1976, and being born in Columbia, South Carolina makes him an American citizen, but he is of African descent.
Mike went to Calhoun County High School, and spent a year at Benedict College, before transferring to the University of South Carolina, where he received a BA in theater in 1999. He went further to obtain an MFA degree in acting from the Rutgers University Mason Gross School of the Arts.
Iva Colter's husband has achieved a successful career in acting and has appeared in numerous movies and series including Brooklyn Lobster, The Following, Agent X, Halo: Nightfall, Luke Cage, The Defenders, The Good Fight, among others. He has also played voice roles in several video games such as Halo: The Master Chief Collection, Halo 5: Guardians, and others.
The Couple Has Proved That They Are Stronger Than Stereotype
But while the interracial couple seems to be happy in their relationship, the same could not be said for others who keep prodding them. In fact, in a television poll titled Luke Cage's Got A White Wife — Mad Or Nah? it became glaring that people didn't really support their union as 21% of the audience actually voted against the couple; this is sad but true.
On the part of the couple, they were saddened that in spite of the modern age, there is still such negativism about interracial unions; however, they didn't let all the negativity get them down.
When Mike was a guest on The Wendy Williams Show, many members of the audience even stopped clapping when a photo of Iva Colter appeared on the screen. In a later interview when he was faced with questions about the incident on The Wendy Williams Show, the African American actor used the opportunity to air his views saying that he loves his African sisters, but people always go with a choice.
He advised that people shouldn't feel restricted in their love lives because of race, gender, or anything else, for that matter. The actor just couldn't understand how we can still be having this type of conversation in 2016. According to Mike, People need to understand that when it is about being with somebody long term, it goes beyond skin color, it is only loved that's gonna make it work.
https://www.instagram.com/p/BiuWwIal_hi/?utm_source=ig_embed
Mike Colter's Wife has Worked In Several Companies Since Graduation
Since her graduation from the university, Iva Colte has been associated with many companies. She professionally kicked-off her career in the consultancy sector where she spent six years working as a management staff. This includes Ares Management that gave her the prestigious position of the Assistant Vice Chairman of Recruiting for two years.
Later in 2014, she joined the American media services providing company, Netflix Inc. which was established in 1997 by Reed Hastings and Marc Randolph in Scotts Valley, California.
Colter was initially recruited in the managerial position but as a result of her work performance and great skills, she rose through the ranks to occupy a directorial position in the Talent Acquisition sector, overseeing the recruitment strategies and processes as well as pinpointing human resources for the media services providing company.
Despite being married to a celebrated actor who is very much active on various social media platforms, Iva Colter loves to maintain her privacy and doesn't have a presence on any social media platform.
She Spent Time Working As A Lecturer At Her Alma Mater
Colter has acquired impressive academic achievements, having earned a Master's degree in Gender and Culture from the Central European University and further obtained a doctor of Philosophy from the State University of New Jersey situated in Brunswick.
Armed with such impressive academic qualifications, Iva Colter has lectured at her alma mater as a Professor in the English department, which she did before becoming an Executive at Netflix.