Jaba Kenyatta is the second son of President Uhuru Kenyatta of Kenya and his wife, Margaret Kenyatta. The young man, who is also called Muhoho, achieved all his academic qualifications in foreign countries before returning back to his home country to establish his clothing line called Nomadic. The fashion company has been doing quite well and the fashionista has bagged a prestigious award for his effort in the industry.
Jaba was never active in the Kenyan political scene but has recently started appearing alongside his father and other political bigwigs in the country. This has raised a lot of eyebrows, breeding so many questions that are still begging for answers.
Profile Summary Of Jaba Kenyatta
Full Name: Jaba Muhoho Kenyatta
Age: 27 Years Old
Nationality: Kenya
Education: N/A
Parents: Uhuru Kenyatta and Margaret Kenyatta
Height: N/A
Occupation: Fashion Designer
Years Active: N/A
Net Worth: N/A
Jaba Kenyatta's Is A Member of The First Family Of Kenya
Jaba Kenyatta's full name at birth is Jaba Muhoho Kenyatta. He was named after his dad's younger brother, Muhoho Kenyatta, a politician since 1963 and the chief executive officer of Brookside Dairy Limited – one of Kenya's top dairy processing companies. As already mentioned, Jaba's dad is a politician, serving as the fourth President of Kenya. His mum is the current first lady of the country, Margaret Kenyatta.
Jaba Kenyatta is not the only child of the first family of Kenya as he shared his childhood with two siblings – brother Jomo Kenyata (named after their grandfather) and sister Ngina Kenyatta (named after their grandmother). Jaba's position in the family is that of the last born and he is the second son of the president. Though his exact date of birth never made it to the public arena, it is common knowledge that president Uhuru had his last child in 1996. This puts Jaba in his mid-twenties as of 2021. The Kenyatta family is obviously a close-knit one with more than enough love radiating from father to mother and to the children.
Jaba Kenyatta's academic background is not known but going by what we could sieve from kept records, the current president of Kenya sent all his children to foreign countries for their education. Little wonder they find speaking their native Kiswahili very difficult. Jaba for one was on a tour of Nandi County when he experienced some difficulty with giving his vote of thanks simply because it was written in Kiswahili. As reading the formal speech presented to him was out of the question, the president's son had no choice but to leverage his mobile phone just to read out the speech.
Jaba embarked on the tour in the company of DP William Ruto who was on a campaign trail to Nandi County and the residents of the district expected better from a member of the first family of Kenya. Thus, Jaba Kenyatta's inability to communicate with the people in their native tongue left them in shock and many reacted by taking to social media to attack him.
It would appear that the children of Uhuru and Margaret Kenyatta live very private lives. None of them seem to have a presence on social media platforms and even the Instagram account under Jaba's name has no single post.
Muhoho Kenyatta as a Fashion Designer
Everybody knows that the family trade of the Kenyattas is politics – from Jomo to Uhuru, the Kenyattas have managed to take center stage in the country's political setting. Thus, because of his family's career history, Kenyans naturally expected Jaba Kenyatta to tow a similar line. However, the youngster prefers to forge his own path in life and has managed to establish himself in the highly competitive fashion industry.
Jaba is quite gifted when it comes to fashion designing and the youngster's design collection is nothing short of a standout. We can say that having a fashion-winning mother like Margaret Kenyatta may have something to do with Jaba's choice of career path but the young man is obviously doing exploits on his own. Mo, as family and friends call him, co-founded the Nomadic Fashion brand.
Jaba Kenyatta Supports the Use Of Local Material In Fashion
Being someone who displays a deep passion for Kenyan local materials, the fashionista's first design which was a pair of trousers was made from khanga material. What's more, the president's son actually self-modeled the khanga-processed pants which he believes so much in. According to a speech by Jaba Kenyatta, he trusts that the design will continue to receive attention from the people, and true to his belief, Jaba sold 100 khanga trousers just in one day. These astronomical sales occurred during the youngster's first exhibition, fetching him KSh2,000 on each of the pants.
Many people view Mo in the light of a shy and unassuming personality but he sure knows how to push his brand. He was at a Sonu and Sanjeev Sharma organized fashion show when the fashion boss disclosed that he is widening his portfolio by diversifying into harems and shorts. At the "Just Like That" show, Nomadic showcased its full range of beautiful designs, this includes trousers, shorts, and harems. All the ten Nomadic outfits displayed by his models at the show were self-designed by Jaba Kenyatta himself which is a testament to how talented he is.
While the designs of his brand are unisex, Jaba said he will soon start exploring khanga dresses for ladies. From what is obvious, he is just determined to write his name in gold in the world of business. His brand is not restricted to Kenya as it has touched major cities in other African countries. You can rock Nomadic to a club and still look fine, it may not be long before Uhuru and Margaret Kenyatta will be spotted at public events wearing Nomadic.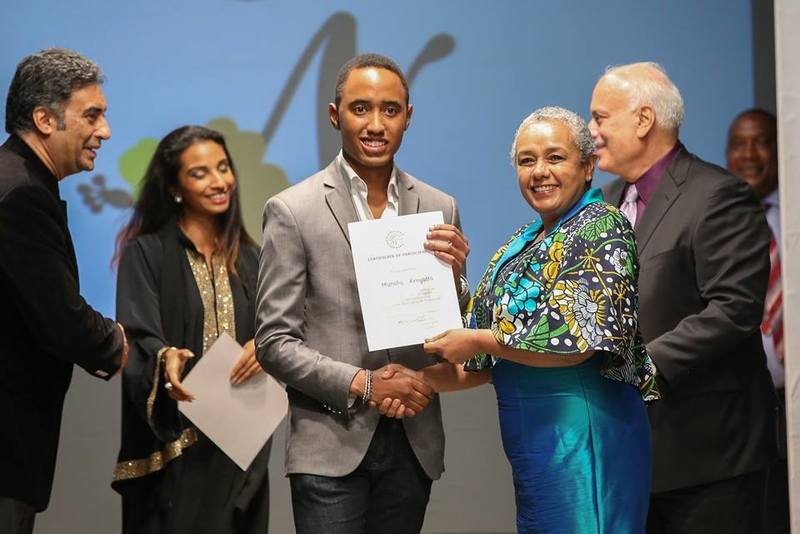 He Bagged A Prestigious Award At the Nairobi Expo
Jaba Kentatta's hard work and dedication in the fashion industry have not gone unnoticed. At the November 2014 Nairobi Expo, he was named winner of the year's Showcase Designer award in the category of Emerging Designer. To cap it all, this prestigious award was presented to the fashion boss by his very own fashion-winning mother, Margaret Kenyatta, who is admired by many for her meticulous nature.
This award may be the first for Jaba but it is definitely not the last as the young fashionista is set to do exploits in the industry. The second son of Uhuru Kenyatta has proved his mettle and has been listed among those designers to look out for in the coming years.
Muhoho Kenyatta May Be Planning TV Debut
Judging from the group of celebs he recently hosted at the Kenyan State House in Nairobi, the second son of President Uhuru Kenyatta may well be hinting at a big television show. Among the celebrities he has met in recent times include Elizabeth Hurley – the popular British entertainer who was featured in The Royals television series as Queen Helena, but the details of their discussion weren't made known to the public.
He also hosted a good number of entertainers and television personalities such as Aisha Noor, also known as Truphena from Real Househelps of Kawangware, Abel Mutua, DJ Euphorique, Willy Paul, NTV's Tracy Wanjiru, Philip Karanja, and many more. Though the details of their discussions were also kept under wraps, Willy Paul gave an insight, saying they converged at the statehouse to exchange ideas.
Even with their discussions being kept under wraps, sources have indicated that Jaba Kenyatta is hatching a TV debut but the role he is going to play in the show still remains a secret. Thus, it is too early to say whether he is going to be working with the crew behind the camera or take an active on-screen role, but time as they say will tell.
Uhuru Is Rumored To Be Grooming Jaba Kenyatta For The Presidency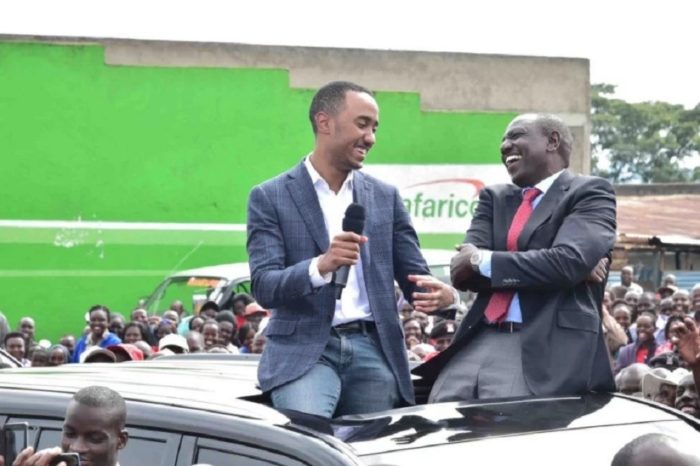 Since Jaba Kenyatta has been spotted accompanying his father to most of his presidential functions, lots of speculations have circulated. The big question on the mouth of Kenyans is whether Uhuru Kenyatta is grooming Jaba to take over the Kenyan seat of power and continue the family's strong grip on national politics.
This trend is not only evident among the Kenyattas but also among other political bigwigs of the East African country. Someone like Raila Odinga groomed both his son and daughter to take over his Parliamentary seat all to no avail. Kalonzo Musyoka attempted to nominate his son Kennedy Musyoka to the East African Legislative Assembly but met with political headwinds. Deputy President William Ruto has been parading his son Nick Ruto at his political rallies which in the Kenyan political parlance means "Watch out for this heir."
With this trend blatantly obvious among the political heavyweights of the country, citizens of Kenya were quick to read meaning into Jaba Kenyatta's sudden appearance on the Kenya political scene. They immediately took it to mean that the president's second son may be warming up to a future elective position. Jaba's emergence got a lot of political observers reassessing this age-old trend of dangling scions of families of political heavyweights at public rallies. This triggered a serious debate on whether the citizens of Kenya are aware of this act of grooming the country's next generation of successors from their long-serving political dynasties even prior to the country's next presidential re-run.
According to the political observers, what is currently happening in Kenya is a form of 'political socialization' where the country's voting public becomes accustomed to these sons and daughters being in the limelight for long. This is conducted in such a way that whenever any official government appointment becomes available, the people hardly get surprised when one of the long paraded heirs comes up to fill it. The introduction of Jaba Kenyatta at the Nandi political rally by his father's deputy was what triggered all these debates and they may not be far from the truth.
Jaba Kenyatta is Heavily Involved in Philanthropy
Being a member of the first family of Kenya means that Jaba Kenyatta gets involved in the family's philanthropic projects from time to time. He has shown great support to several of Margaret Kenyatta's charitable causes.
Though he has been doing charity in collaboration with his family members, Jaba embarked on a solo charity course in December 2015 when the fashionista paid a visit to the Maternity Wing and Children's Cancer Ward of Kenyatta National Hospital. Reports said that Jaba's presence at the health facility was targeted at giving the patients hope. He went to wish the ailing kids and their mothers a Merry Christmas and a quick recovery.
Jaba did not go to the hospital empty-handed. The maternity wing got gifts of infant formula and baby diapers while the pediatric unit received an assortment of toys. The hospital itself got a couple of refrigerators. Jaba made a cash donation of Kshs. 1 million which was used to take care of the medical bills of poor children at the health center.
Jaba Is Reportedly Dating Firyal Nur Al Hossain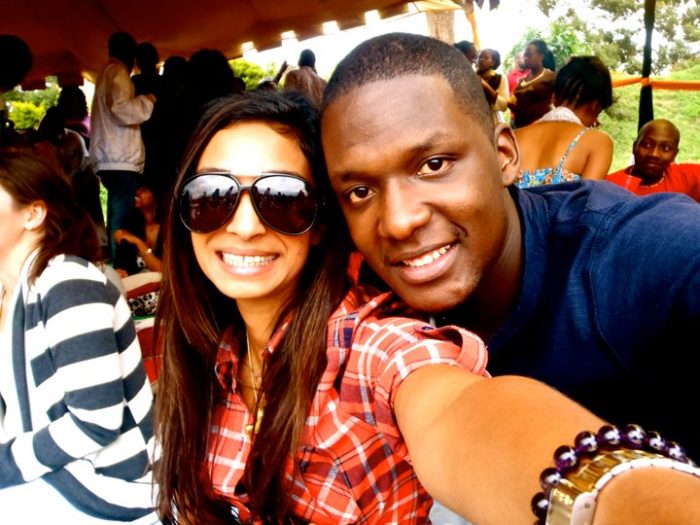 When he visited Kenyatta National Hospital, Jaba Kenyatta did not go alone. The son of the president actually appeared with a female friend whose identity sent the hyperactive Kenyan rumor mill into overdrive.
The lady's presence beside Jaba was like a call to action for all the media outlets in the country and soon, Nairobi News came up with the details of the lay's identity. Her name was revealed to be Firyal Nur Al Hossain and far from being just Jaba's colleague in the fashion industry, the female designer has done well for herself as the clothing label known as Nur clothing was founded by her. Just like Jaba, Firyal also comes from a privileged background as the daughter of Amina Mohammed, Kenya's Foreign Affairs and International Trade's Cabinet Secretary.
Naturally, people wanted to find out if Firyal and Jaba were involved in a romantic relationship after she was confirmed to be his female companion to KNH, especially as they have so much in common. Besides, the duo has attended high-end fashion events together where their designs were showcased alongside each other. However, after they were severally spotted in public together, people just had to conclude that they were in fact an item.
Jaba Kenyatta and His Ladylove Seem To Have Embraced the Reckless Life
Jaba Kenyatta recently trended in the public space after he allegedly lavished more than KSh1 million at one of the country's popular nightclubs. According to Heads Up, he was in the company of Firyal Nur Al Hossain, Nick Ruto (Deputy President William Ruto's son), and Junior (the son of opposition leader Raila Odinga). The beneficiaries of the said money were mainly waitresses that came from the floor to collect it from Jaba. Uhuru Kenyatta's son was drinking some expensive Moet et Chandon with his group and they had more than 50 bottles. According to sources, most of the drinks ended up being poured out on the ground.
Muhoho's handlers were thrown into a frenzy as they rallied round to stop the less than palatable photos of the president's son and his friends from being published. A senior security official took it upon himself to make several calls to media houses across the country in a bid to halt the publication of the photos.
It must be noted that this controversial incident is not Jaba Kenyatta's first time going out of line. He was previously caught on camera in a compromising position with the daughter of a popular senior politician.