It may not be easy to ascertain the individual with the best job in the world. However, if there is one person who can make a good case for that title, it is Jack Maxwell. Maxwell started out as a professional actor before going on to become the host of the TV series, Booze Traveller. The hit show basically involves Maxwell traveling the world in order to sample alcoholic beverages from different cultures! Doesn't you just wish that you had Maxwell's job? Find out more about the TV personality here including his bio, personal life as well as love life.
Jack Maxwell Biography
Jack Maxwell was born on the 25th of December 1963 in Boston, Massachusetts. The TV personality spent his formative years in Boston and completed his education there. As a child, Maxwell was entrepreneurial-minded and started a business as a shoe shiner in the neighborhood pubs. This job provided him with an extra source of income while exposing him to the magical socializing effect of alcohol. The gig also exposed Maxwell to boozy tales and he ended up learning his best lessons, stories and light-hearted jokes in the barrooms. After completing his education, the comely-looking Maxwell delved into the movie industry and initially worked as a crew member.
He later made his acting debut in an episode of the TV series, The Watcher, in 1995. After The Watcher, Maxwell went on to feature in over a dozen movies and TV series including For Which He Stands, Shot It, Just Add Love, Oceans of Dreams, Pacific Hills, Beverly Hills 90210, Four Jokers, Sonic Impact, The Pharaoh, Engaging Peter, Walking the Walk, Cattle Call, Lost, House, Without a Trace, 24, Irene in Time, Reconciliation, Born to Ride, and Live for the Day. The Boston native also received several accolades in the course of his acting career. They include best leading actor at the 2012 Pan Pacific Film Festival, Emerald Star Award and Golden Halo Award from the Southern California Council of Motion Picture.
What to Know About His Marriage to His Wife Susan Shaughnessy
The charming and gravelly-voiced Maxwell is very much off the market as he is married to the beautiful Susan Shaughnessy. There is a paucity of information with regards to the couple's love story, it is however known that they got married while in their 20s. The couple now has two children together but their names are not yet available. Maxwell's wife maintains a low public profile and has yet to appear on his shows. The couple are nevertheless enjoying a blissful union.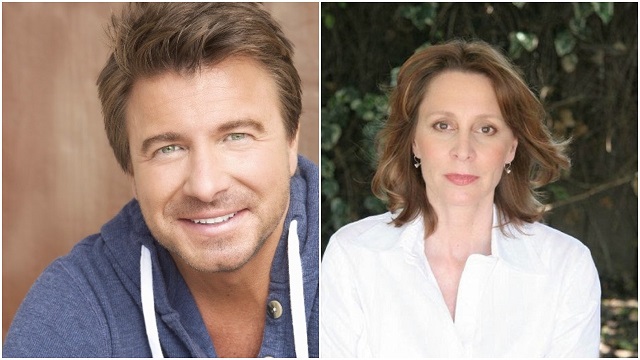 Personal Life
There is a paucity of information with regard to Maxwell's family background. It is however known that he has a mom, a grandmom, a sister, and a stepbrother. Jack Maxwell is quite close to his family members and often spends important festivities with them. The TV host also frequently posts about them on his social media handles. For instance, on mother's day 2018, he posted a picture of his mom and sister on Instagram and described them as one of the great joys in his life. Maxwell's family proved to be a vital support system when he was diagnosed with cancer back in 2016.
The media personality had been experiencing symptoms of fatigue and decided to check it out when it wouldn't cease. He later found out that he had non-Hodgkin's lymphoma, cancer that affects the white blood cells. Maxwell underwent biopsy, as well as chemotherapy, in order to defeat the disease. The TV host later revealed that he was able to cope with his diagnosis due to the positive outlook that his mom and grandma instilled in him.
What is Jack Maxwell's Net Worth?
Jack Maxwell has a fortune estimated at $5 million. This no doubt stems from his work as the host of the Travel Channel series, Booze Traveller. The show basically involves Maxwell traveling the world and sampling the alcoholic beverages that different cultures have to offer. At each stop, the Boston native connects with the locals, immerses himself in local activities and even participates in the alcohol-making process. Booze Traveller is not just about drinking but rather looks at people, places, and cultures through the lens of their drinks. Booze Traveller debuted in 2014 and has seen Maxwell travel all over the world. In the course of the show, Maxwell has drunk camel milk vodka in Mongolia, a marijuana/hash/milkshake combo in Nepal, Amarula in South Africa, arak in Armenia, raki in Turkey, and moonshine in Tennessee. The TV host also immersed himself in a beer bath in Austria.