Jackie Sandler is an American celebrity, whose fame started as a model who gained international recognition for her modeling works with big clothing brands. However, her fame into the mainstream entertainment scene was thanks to her marriage to celebrated actor and comedian, Adam Sandler. By the time they met, Jacqueline Samantha Titone's career as a model had already reached its peak while as an actress, she was only starting and hoping for what would be her first major break.
Since her marriage, the model has met with more fame than her career afforded her in time past thanks to the help of her husband and has put all the media glare to good use by being good at what she does.
Jackie Sandler Was Mostly Raised By Her Mother
Born Jackie Samantha Titone, on September 24, 1974, in Coral Springs, Florida, USA, the model was raised by her parents, Lila and Joseph Titone. She is of Italian descent and was raised by her mother after her parents' marriage came to an end way back when she was still very little. She was raised alongside her siblings, including Alexandra Titone and Chris Titone.
A young Jackie Sandler had her early education at the Majorly Stoneman Douglas High School, the same school known to have been attended by other stars like actor writer and producer Chris Marrs Piliero; musician and songwriter Ian Grushka; and actor and producer Jarrett Grushka.
Having kick-started her modeling career from way back in high school, Jackie Sandler moved to Brazil after school to further establish herself in her chosen field. She has notably worked with big companies in the fashion world and has even worked internationally. She soon moved on to the big screens when she was introduced to the world of movies in 1999 by her close friend, actor, director, and screenwriter Rob Schneider.
Jackie Began Her Acting Career in 1999
Her first appearance was as Sally in Deuce Bigalow: Male Gigolo (1999) alongside Rob, William Forsythe, and a host of others. Following her excellent portrayal of Sally, she attracted the attention of other directors, among whom was Adam Sandler, who Rob had spoken to on Jackie's behalf. Sandler cast her in the movie, Big Daddy, in the same year, where she played the role of a waitress and music assistant.
Other movies she has had a part in over the years include Little Nicky (2000), Eight Crazy Nights (2002), Duplex (2003), and more. Her acting prowess received significant attention when she starred as herself in VH1: All Access: Celebrity Weddings sometime after her marriage to Adam Sandler.
She Was A Struggling Actress When She Met Adam
Jackie Sandler met the man who would later become her husband, actor, comedian, screenwriter, and film producer Adam Sandler, on the set of 'Big Daddy' in 1999. At the time, she was already known as a model, but as an actress, she was still shuffling and looking for minor roles. She was playing the role of a waitress in the 1999 film through which she met Adam.
It did not take them too long before the two began dating. What became interesting was that only a year after meeting, the actress, who was born and raised a Christian, converted to Judaism, which is the religion of Adam Sandler. By this time, it was clear that they were serious about taking things further. True to this, the couple got engaged not long afterward.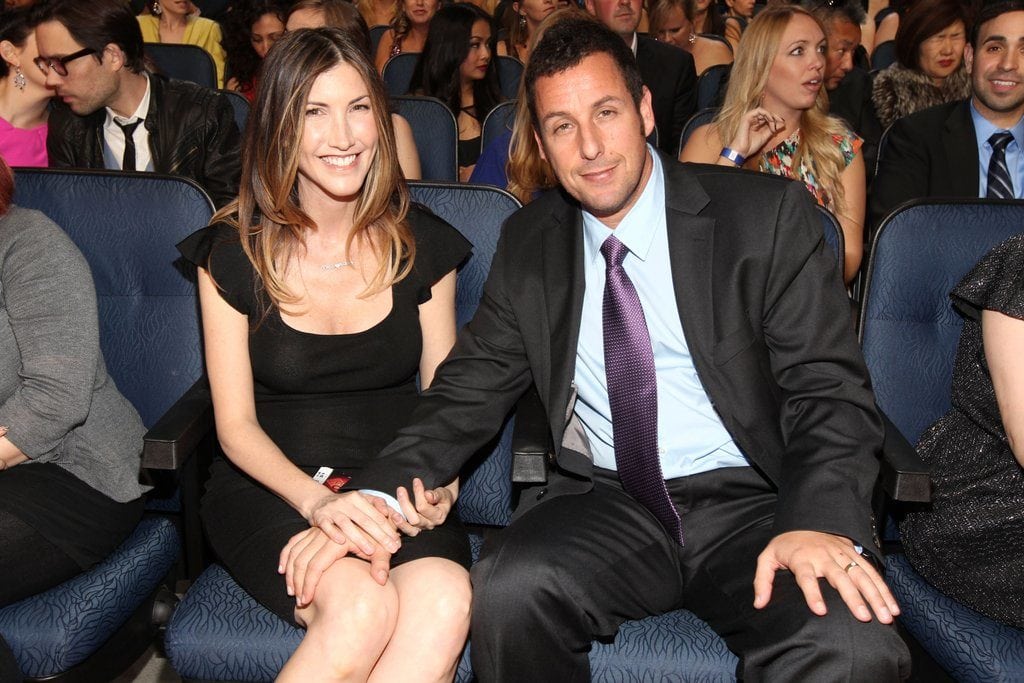 On June 22, 2003, Adam Sandler and Jacqueline Samantha Titone tied the knot at Dick Clark's oceanfront, Malibu estate. The publicity-shy star's wedding, as expected was a lavish traditional Jewish ceremony, which was attended by many other movie stars, including Rob Schneider, Jennifer Aniston, and Rodney Dangerfield. The best man at the event was the couple's bulldog dressed in Adam's tuxedo.
Their love life has been touted as an example to many in the entertainment world, where marriages are known not to last. The marriage has also seen to the birth of two daughters, first of which is Sadie Madison Sandler, born on the 6th of May, 2006, in Los Angeles. The second, Sunny Madeline Sandler, was born on the 2nd of November, 2008.
Phenomenal actor, comedian, and musician Adam Sandler was born on the 9th of September 1966 and has been putting smiles on the faces of his teeming fans since his career took off in the '80s. He is seen as one of the biggest actors in Hollywood, with Forbes magazine naming him the 4th world's highest-paid actor in 2017 with a net worth of $50.5 million. He is known for many works, including Punch-Drunk Love, The Wedding Singer, and many others.
Adam and Jackie Sandler Both Helped Each Other's Career
At the time they met, Adam had already attained a good height in his career; he was already a successful actor and had hosted the Saturday Night Live, among other things. By and large, he could be described as a success, but the support and balance his wife has given him since they got married has helped him to become even more successful.
Thanks to his overwhelming success, Adam is known to always help friends and people close to him by featuring them in his films and giving them the necessary platforms to attain greater heights. The case is not different with his wife.
As stated, Jackie had not reached that kind of success and fame she enjoys today when she first met her husband. However, he made sure to help his wife, who already had the talent by giving her more roles in films. They appeared in many productions together, including Grown Ups and Grown Ups 2, which also featured many of Adam's friends, Little Nicky, Eight Crazy Nights, The Benchwarmers, I Now Pronounce You Chuck and Larry, Grown Ups 2, Veruca in Just Go With It, The Ridiculous 6, The Week Of — and Murder Mystery, among many others.
The Sandlers Are Now Both Successful, But Who Is More?
Though a greater percentage of her fame has come from her marriage to Adam Sandler, Jackie has appeared in a good number of movies and has not done badly either. While she is only a model and actress, her husband is a comedian, an actor, screenwriter, film producer, and much more. Adam has close to a hundred films and TV shows to his name while Jackie has less than 50.
Jackie Sandler is said to independently have a net worth of $5 million accrued from her endeavors as a model and an actress. While this is significant, it still falls below the $420 million estimated net worth of Adam Sandler in 2020.
At the end of the day, the success of the comedy power couple is gradually being watered down to their kids, Sadie and Sunny, who are also being introduced to acting. Both kids appeared with their parents in several films, including one of Adam's very successful films, Blended.