In the world of entertainment, fame can catch up with you in any form that best suits your desires and of course skill set. Some through their hard work, others through their personal life but whatever the means, one is expected to manage the pressure that comes with it as well. In the case of Jackie Sandler, an American model, and actress, her popularity shot up to the roofs when she got married to renowned star actor Adam Sandler.
Since her marriage, the model has met with more fame than her career afforded her in time past and has put all the media glare to good use by being really good at what she does. Read on for more details on her background and life before fame.
Jackie Sandler – Biography (Age)
Born with the birth name Jackie Samantha Titone, on September 24, 1974, in Coral Springs, Florida, USA, the model was raised by her parents, Lila and Joseph Titone. She is of Italian descent and was raised by her mother after her parents' marriage came to an end way back when she was still very little.
A young Jackie Sandler had her early education at the Majorly Stoneman Douglas High School, the same school known to have been attended by other stars like actor writer and producer Chris Marrs Piliero; musician and songwriter Ian Grushka; and actor and producer Jarrett Grushka.
Having kickstarted her modeling career from way back in high school, Jackie Sandler moved to Brazil after school to further establish her modeling career. She has notably worked with big companies in the fashion world and has even worked internationally. She soon moved on to the big screens when she was introduced to the world of movies in 1999 by her close friend, actor, director, and screenwriter Rob Schneider. Her first appearance was as Sally in Deuce Bigalow: Male Gigolo (1999) alongside Rob, William Forsythe and a host of others.
Following her excellent portrayal of Sally, she attracted the attention of other directors among whom was Adam Sandler who Rob had spoken to on Jackie's behalf. Sandler cast her in the movie Big Daddy in the same year where she played the role of a waitress and music assistant. Other movies she has had a part in over the years include Little Nicky (2000), Eight Crazy Nights (2002), Duplex (2003) and more.
Her acting prowess received significant attention when she starred as herself in VH1: All Access: Celebrity Weddings sometime after her marriage to Adam Sandler.
Facts about Adam Sandler's Wife
Marriage and Children
Jackie Sandler met actor, comedian, screenwriter, and film producer Adam Sandler on the set of 'Big Daddy' in 1999, but they officially started dating in the year 2001 and were married by 2003 on the 22nd day of June precisely. Having been born and raised a Christian, Jackie didn't waste any time in converting to Judaism which is the religion of Adam Sandler. Their wedding as expected was a lavish traditional Jewish ceremony held in Malibu.
Their love life has been touted as an example to many in the entertainment world where marriages are known not to last. The marriage has also seen to the birth of two daughters first of which is Sadie Madison Sandler, born on the 6th of May, 2006 in Los Angeles and the second Sunny Madeline Sandler, born on the 2nd of November, 2008.
See Also: Diane Plese – Bio, Net Worth and Facts About Robert Herjavec's Ex-wife
Jackie Sandler's Husband – Adam Sandler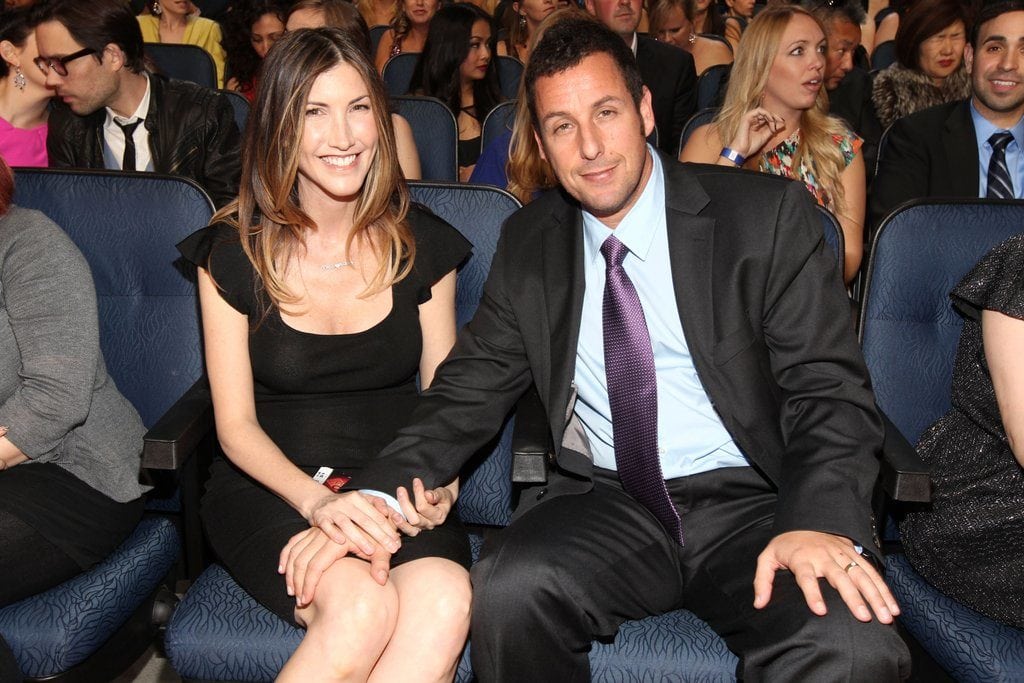 Phenomenal actor, comedian, and musician Adam Sandler was born on the 9th of September 1966 and has been putting smiles on the faces of his teeming fans since his career took off in the '80s. He is seen as one of the biggest actors in Hollywood with Forbes magazine naming him the 4th world's highest paid actor in 2017 with a net worth of $50.5 million. He is known by many works such as Punch-Drunk Love, The Wedding Singer, and many others.
Net Worth
Though a greater percentage of her fame has come from her marriage to Adam Sandler, Jackie has appeared in a good number of movies and has not done badly either. Jackie Sandler is said to independently have a net worth of $5 million accrued from her endeavors as a model and an actress.
Height
Standing tall and pretty which is the trademark of models, Jackie Sandler measures 5 feet 6 inches in height with a balanced body weight of 53kg.