A superstar from his childhood days and a very talented artist, Jaden Smith need not blow his trumpet so far as entertainment is concerned. He is an actor, dancer, and rapper who has exuded so much confidence, justified by his impeccable talent which has made him stand out among his counterparts. Jaden Smith is not only known as the son of renowned actor Will Smith, there are other lesser-known facts about the versatile actor. The quest to unfold these seemingly hidden facts have led to several speculations about the actor including rumors on his sexuality.
Although young Smith started out on a path that seemed less intricate, he took complicating and more challenging paths as he grew older, creating an enigmatic aura around his persona. To further dwell on these developments, it is important to answer some of the most frequently asked questions.
Who Is Jaden Smith?
He was born Jaden Christopher Syre Smith on July 8, 1998, to his parents; Jada Pinkett Smith and Will Smith in Malibu, California. Jaden was homeschooled by his parents but before then, he attended New Village Leadership Academy.
He began acting as early as six years when he started making appearances on his family's All of Us in 2003. Three years later, he made his big break on the screens with the movie The Pursuit of Happyness (2006) where he starred as his father's son. Jaden's remarkable performance in the movie earned him some attention from producers, and in 2008, he made an appearance in the movie The Day the Earth Stood Still.
Jaden Smith landed another big role in 2010 in the movie Karate Kid where he starred alongside Jackie Chan. The movie earned a great critical acclaim and won a lot of awards, shooting Smith to high prominence in the industry. Jaden alongside his father Will Smith starred in After Earth (2013) and in 2014, he also starred in The Good Lord Bird, an adaptation of James McBride's novel of the same name.
After that, it seemed as if he had taken a break from movies; but what happened at the time was that the actor dabbled in music during that period. Smith released his first mixtape 'The Cool Cafe' in 2012. Two years later, he released 'Cool Tape Vol 2', a sequel to the first mixtape. The actor and musician also collaborated with Justin Bieber in the track 'Never Say Never' which was also used in 'Karate Kid'. In 2016, Jaden Smith released a single 'Fallen' from his debut studio album 'Syre'. It was followed by another single 'Batman' in 2017. Also in 2017, he made a return with the movie The Get Down.
What Is His Net Worth?
Jaden Smith sits on a comfortable net worth of $8 million by estimation and is the kind of actor who makes little noise about his wealth. Smith may be young but he has attained great financial stability at his age.
For his role in 'Karate Kid', reports had it that the actor was paid a whopping $1 million based on his contract. He was said to have received up to $3 million for his role in the sequel of the movie. Jaden Smith also earned another $2 million in the year 2011 following his very many activities that year.
He also makes a lot of money form his musical endeavours as well as his endorsements deals. Smith became the face of Louis Vuitton in 2016 on a million-dollar deal that greatly added to his assets.
Does Jaden Have A Girlfriend or Is He Gay?
It can be said that the world is justified in perceiving talented actor Jaden Smith as gay, owing to his enigmatic and weird style of fashion. Smith subscribes to the 'flexible-fashion' idea that there is no such thing as 'girl clothes' but just 'clothes'. This notion of his is what inspires the dramatic dressing that sees him in skirts and dresses which he regards as 'ladies clothes'. It was this bravery and boldness that earned him the fashion icon face of Louis Vuitton in 2016.
It doesn't stop there, the public has questioned Smith's sexuality due to his strong affiliation with the LGBT community as well as his embracing of gay roles. It can be recalled that Jaden played a gay role as Marcus "Dizzee" Kipling in the movie 'The Get Down', where he kissed a man. Smith portrayed a great difference between himself and his father who shied away from kissing a man on set, in his 1993 breakthrough movie Six Degrees of Separation.
These and more are reasons for the widespread speculations about Jaden Smith's sexuality. But then, the actor has neither confirmed nor refuted the notion. He instead shows off his girlfriend (who is female) Odessa Adlon, comfortably to the world. He also dated another female, Sarah Synder, a model. Smith and Synder who started dating in 2015, called it quits in 2017 over some vague reasons.
Meet His Family Members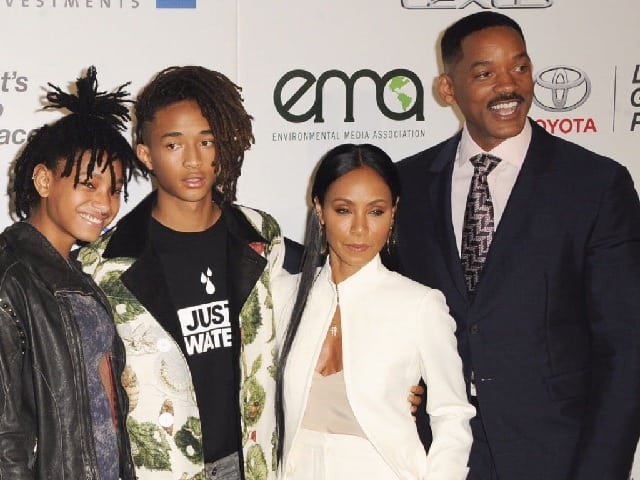 It was surely a matter of heredity for the actor whose parents are renowned movie personalities in Hollywood. Will Smith who has starred in notable movies like Men in Black, Ali, Collateral, Independence Day, and tons of others, has had an ever-blossoming career in the very competitive movie industry. Jada Pinkett as well is a notable figure in Hollywood with epic movies like Set it Off, The Human Contract, Magic Mike XXL, and others.
See Also: Who Is Neel Sethi? His Parents, Age, Family, Net Worth, Bio, Ethnicity
Jaden, alongside his older stepbrother and his younger sister Willow, were taught by their parents the act of modesty and charity. According to their parents, they ensure their kids live a normal life like every other ordinary kid despite their fame. From childhood, Jaden and his siblings were taught to engage in charity works that include helping out in orphanages or foster homes.
Is Jaden Smith Dead?
For a celebrity as prominent as Jaden Smith, death hoaxes are expected. In 2016, the actor was rumoured to have committed suicide. The rumours were fuelled by a viral video said to have shown him saying his last goodbyes to his father. But it turned out to be a hoax.