Having spent close to a decade as a journalist, Jadiann Thompson has tapped into the honeycomb of success. She initially started out as a teacher but subsequently pursued a career in journalism. She has also worked as an anchor, director and content developer. For her excellence in her job, she holds three Emmy Awards. This article tells more about this amazing person, her biography and 5 interesting facts you didn't know about her. So read on…
Jadiann Thompson's Biography
Despite having attained fame, there is a sparse of information regarding the journalist birth details. Sources say that she was born on the 22nd of March but the precise year she came to be is yet to be revealed. However, if we were to make guesses, we would definitely say that she looks way younger than any woman running into her thirty's.
Apart from the fact that Jadiann Thompson is an alumnus of the University of Arkansas, there are no other details pertaining to her education. She holds a bachelor's degree in Broadcast Journalism from the school.
Upon graduation from college, Jadiann took a job at Gredos San Diego and ESL in trilingual school as an English teacher, taking classes in the mornings and she also taught specialized English in the evenings. She worked with the schools for a while before deciding to practice what she trained in college for. Then, she accepted an offer from Mark III Media and worked with the team for two years as an anchor, reporter, and assistant news director.
She started to work with KPHO: A Meredith Corporation as their Multimedia Journalist and Anchor. Working with Meredith exposed Jadiann to a lot of field works and investigations. She was the one that unraveled the secrets involved with the Joe Arpaio and Jodi Arias trial. She was also a frontier journalist who told the world about Arizona's largest wildfire state in history.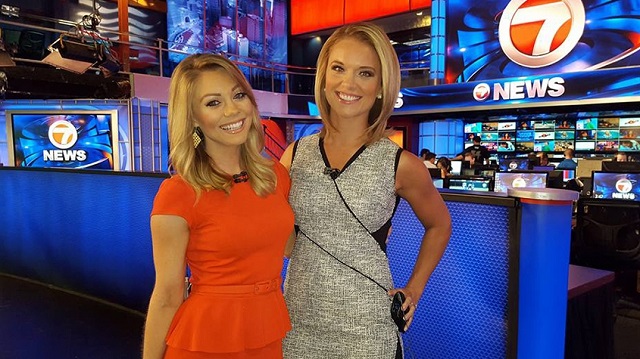 On getting to KSHB, Jadiann worked mostly in-house as an editor, content developer, and social media manager. She also occupied the position of the weekday evening anchor during her days at the station. Under anchor Jadiann Thompson, Weekday Evening became the highest-rated evening newscast show.
Subsequently, Jadiann picked up a job with WHDH-TV joining them sometime in June 2015. There, she works as a weekday anchor and a member of the news team. She is currently with them and is making waves on 7nbc and 7news.
The journalist holds three Emmy Awards. Her first Emmy award was given to her as the best anchor on Wifi hacking. She bagged her second award holding the position as the best anchor of the year and the last for a story covering the effects of FAA.
5 Interesting Facts You Need To Know About Jadiann Thompson
Apart from the details of Jadianna's career, there are basically more fascinating facts about the journalist. The following will guide you through. So, read on…
1. Salary and Net worth 
In as much as the exact amount of Thompson's net worth is still under review, there is no doubt that she has amassed a reasonable amount of money in her journalism career. From our findings, we discovered that NBC anchors earn an average salary of $50,000. So, we are quite sure that her salary may likely fall within that range or higher than that. Moreso, her net worth will as well be substantial.
2. Ethnicity
Jadianna Thompson was said to have been born somewhere in the United States. That automatically qualifies her rights as a U.S citizen. As per her ethnicity, sources say that she is of a white heritage while others say that she is Caucasian.
3. Married or Single? 
Looking into the journalist personal life, it is quite uncertain to determine if she is currently single or married. She has outrightly not revealed any details of her personal life or have ever been linked to any person in the past. There are also no details on if she is actually straight, gay or bisexual.
See Also: Erielle Reshef Biography: 5 Interesting Facts You Need To Know
That regardless, Thompson often times have taken to her social media platforms talking about dating, marriage life and relationships. In all of her tweets, she has avoided questions pertaining to her personal life. She once posted a picture of a mystery man calling him her date at one of the weddings she attended in Arkansas. She also refers to her colleague, Ryan Schulteis as her work husband.
Nevertheless, until Thompsons reveal the details of her personal life, we have no option than to assume she is currently single.
4. Body Measurements
Jadiann Thompson is one of the few women who are blue-eyed. She has blonde hair color which falls on her shoulders. She is a beautiful woman who from the obvious has an hourglass shape. Apart from these already provided details, other details regarding her body measurements are not yet available.
5. Social Media
The reporter has often times used her social media platforms as a means of disbursing some of her already broadcasted news. She is an avid social media user who is quite active on Twitter, Instagram and Facebook. Jadiann Thompson has over tens of thousands of followers on each of her social media handles.