If you were a fan of the NBC sitcom, My Name is Earl, then you will most definitely know Jaime Pressly. However, if you somehow missed out on the hit comedy show, then introductions are in order. Jaime Pressly is an award-winning Hollywood actress who has featured in several movies and TV series. The North Carolina native is, however, most popular for her role as Joy Turner on the NBC sitcom, My Name is Earl. Pressly's portrayal of the scheming and feisty Turner fetched her numerous accolades and has remained iconic in TV history.
We cannot conclude the talk about Jaime's professional and personal life without touching on her love life which is nothing short of legendary. The actress' long line of ex-boyfriends includes both entertainers and top-notch businessmen. The model cum actress has three children to show for her relationships with different men.
Jaime Pressly Started Out As A Model At The Age Of 13
A better part of the actress's childhood and early teens were spent training as a gymnast which eventually led her into the world of modeling. Jaime first dabbled into showbiz at the age of 13 when she began modeling in her local community. Even within her locality, the young talent landed a steady stream of work.
By the time she clocked 14, Jaime Pressly had made it to the cover of Teen Magazine. In addition, she was made the official spokesmodel for the International Cover Model Search. The model lost interest in acquiring formal academic qualification at the age of 15, and dropping out of school, Jaime traveled to Japan where she landed a modeling contract.
It is an established fact that the legal age for children to get emancipated from their parents and guardians is 18, but obviously, people like Pressly do not follow set protocols as she became legally free from parental guidance at the age of 15. This was because neither of her parents could make the Japan trip; thus the rising talent had to go alone. Eventually, she returned to the United States and continued modeling before delving into acting.
She Made Her Acting Debut On The Set Of Mercenary
It has become the norm for celebs to move from modeling to acting and Jaime Pressly is a typical example. After she made her acting debut on the set of Mercenary where she appeared in a cameo role, the emerging actress went on to act in other productions both on the small screen and big screen.
The third installment of the Poison Ivy series, Poison Ivy: The New Seduction which was a direct-to-DVD film cast her in the starring role of Violet – a vengeful dominatrix in 1997. Following her debut lead role, Jaime made a few TV appearances, followed by guest-roles in the short-lived Push and Mortal Kombat: Conquest. Jamie joined the cast of Jack and Jill airing on the WB Network where she depicted one of the lead characters for a couple of seasons from September 26, 1999, to April 15, 2001.
Her Acting Roles in the Early 2000s
The 2000 indie film Poor White Trash had her on set playing the role of a scheming gold-digger Sandy Lake and she also made appearances in three theatrical releases in 2001. These theatrical gigs were targeted at a teenage audience and recorded varying degrees of success; however, they helped Jaime receive more exposure. She acted the part of a high school cheerleader Priscilla in the parody film Not Another Teen Movie in 2001 while she took on the role of Tricia, the teen wife in the sex comedy Tomcats. Jaime shared the screen with Hollywood greats like David Spade, playing Jill on the set of Joe Dirt.
Jaime Pressly has also made appearances in horror movies; a good example is the indie horror film Demon Island where she starred as a college student trapped in a haunted island in 2002. Jaime is equally good in action thrillers appearing in 2004 Torque as a crazed, motorcycle-riding criminal; there, she starred alongside Ice Cube.
Her Role in My Name Is Earl is the Highlight of Her Acting Career
My Name is Earl is an NBC sitcom that revolves around a small-town thug, Earl, who learns about karma and decides to right his wrongs upon winning a $100,000 lottery. The sitcom featured Jason Lee in the titular role while Pressly played the role of his scheming ex-wife, Joy Turner that was known to be pessimistic, cold-hearted, vain, as well as stubborn. The situational comedy which lasted from 2005 to 2009 turned out to be a huge success with both critics and audiences. Pressly's excellent performance fetched her multiple Golden Globe, Emmy, and SAG award nominations out of which she won the 2007 Primetime Emmy award for outstanding supporting actress in a TV series.
The celebrated actress once described her role on the sitcom as her "greatest release", thanking the creator, Greg Garcia whom she credits with restoring her faith in the business. According to Jaime Pressly, the series came her way at a point in her career when she was already questioning whether acting was the right path for her to continue following. The actress revealed that she was already jaded with living out of a suitcase and coming and going frequently. At that point, Jaime was craving a little normalcy in her life.
She Compared Her Role In Death to the Supermodels to that of Reese Witherspoon in Election
While My Name is Earl was still in its early stages of production, the North Carolina native produced as well as acted in the indie movie Death to the Supermodels. There, she depicted the character of a homicidal magazine editor – a role she has compared to that of Reese Witherspoon in Election. While reviewing the movie, Scott Weinberg of DVDTalk.com referred to Jaime Pressly as a funny woman, describing her like "a juicy talent of the perpetually sneering, eye-rolling, attitude machine known as Jaime Pressly." He recommended that people who are just discovering her rare prowess should check out the actress' other roles in flicks such as Tomcats, Ringmaster, Torque, Joe Dirt, and Not Another Teen Movie.
She Starred as One Half Of an Interracial Couple in A Haunted House 2
A Haunted House 2 is the title of one of her 2014 productions where she worked alongside Marlon Wayans who she had known for a long time, however, the comedy film marked their first time of working together. In the movie, Jaime Pressly starred as a mother of two and one half of an interracial couple.
In her description of her performance with Wayans, Jaime referred to it as a match made in heaven as they were both high energy and liked to do something new every take. According to the North Carolina Native, when you do comedy this way, you get to improve most of the time. She said that it's about trying to one-up each other, and that makes for a really great comedy. Though critics panned the production, it recorded a decent success at the box office.
Apart from the aforementioned, Jaime has recorded notable appearances in other productions like Against the Law, Can't Hardly Wait, Inferno, Making the Rules, 100 Girls, I Love You, Man, Beauty and the Briefcase, Finders Keepers, and many more.
She has enjoyed even greater success on the small screens, appearing in TV series such as I Hate My Teenage Daughter, Raising Hope, Two and a Half Men, and more. Beginning from 2014, the prolific actress began to portray the character of Jill Kendall, a wealthy socialite and alcoholic on the set of the CBS sitcom Mom where her pregnancy was covered up in the plot. Her most recent roles are evident in 2017 Austin Found playing Crystal Clemens. She appeared in The Guest Book's Story Four episode in 2017 as Christy and joined the cast of BoJack Horseman in 2018 playing Sadle in a couple of episodes.
Here is What We Know About Jaime Pressly's Birth Family
Though she has made tremendous wealth in the course of her acting career and now enjoys a life of luxury, that was not always Pressly's story. The prolific actress hails from a middle-class, Christian family. Her father has been identified as James Liston Pressly who earns a living working as a car salesman while her mother is a dance instructor named Brenda Sue (nee Smith).
The actress also has a sister that goes by the name Jessica, as well as a brother, called James Liston Jr. It is important to note that she is the only celebrity in her family as neither her parents nor siblings followed a career path that may lead to the limelight.
She Has An Uncanny Resemblance To Margot Robbie
Jamie Pressly bears a striking resemblance to highflying Australian actress, Margot Robbie. The uncanny resemblance between the two has stirred several online conversations with some referring to them as twins. The North Carolina native has since referred to Margot as a great actress. She has also stated that she loves everything that the Australian actress has done so far.
Is Jaime Pressly Related to Elvis Presley?
Because they share similar surnames, fans and the general public have come to assume Jaime Pressly and legendary musician Elvis Presley have blood ties. However, the answer to whether they are related or not is unequivocally "no". Despite sharing the same surname, there is no relationship between the actress and the late king of rock and roll.
It is a well-known fact that the late Elvis had no siblings except an identical twin brother, Jesse Garon, who was stillborn. The only relatives that the Presley had were his mom, Gladys Love (nee Smith), and his dad, Vernon Elvis Presley. The rock legend later got married to Priscilla Ann (nee Wagner/Beaulieu) in 1967 and the union produced his only child named Lisa Marie.
Jaime Pressly Has A Long Line Of Exes
Jaime is one Hollywood actress who is known for her reputation of going through men with the speed of a tornado. Since she came onto the entertainment scene, the versatile actress has her share of failed relationships and has even dabbled into marriage once.
Mario Lopez
Jaime Pressly's first known relationship was with actor Mario Lopez. The two became an item in 1997 when they shoot a visibly steamy scene together for the movie Journey: Absolution. According to rumors, the romance carried on off the set, ending the next year – in 1998.
Simon Rex
Actor Simon Rex and the North Carolina actress became an item in November 2000. However, their relationship was short-lived, coming to an end in July 2001 after 8 months of intensive dating.
Carson Jones Daly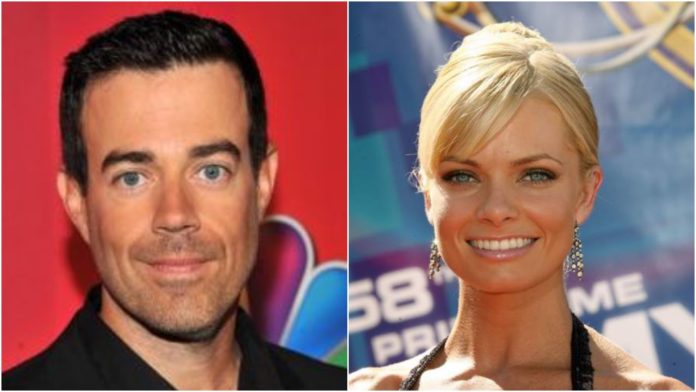 American television host, radio personality, producer, and television personality Carson Jones Daly graced Pressly's love life early in 2002. However, from what we gathered from the records, the couple did not exceed a couple of months together, ending things in March 2002.
Cris Judd
Another of Jaime Pressly's short-lived affairs was with Jennifer Lopez's ex-husband Cris Judd. According to reports, Judd was looking to mend his broken heart after his ex, Jennifer cheated on him with Ben Affleck while they were still together as husband and wife. Thus, on the 14th of September 2002, Judd appeared at the Oscar De La Hoya fight in Las Vegas alongside Jamie. The couple stayed together till January 2003 when they called it quits.
Kid Rock
Robert James Ritchie is an American singer-songwriter, rapper, musician, record producer, and actor who goes by the stage name of Kid Rock. In a career spanning over two decades, Rock's musical style has alternated between hip hop, rock, and country. He is a known multi-instrumentalist and takes the credit for managing his own production on nine of his eleven studio albums. Kid Rock came into Jaime's life In January 2004 and like the others before him, their dalliance ended the same year in April.
Eric Cubiche
Jaime Pressly and Eric Cubiche did not start dating immediately after they met. The duo remained friends for nine long years having met in 1996. Their relationship turned into a blossoming romance in 2004 and before long, the star of My Name Is Earl got pregnant which led to their official engagement in 2006. They were still engaged on the 11th of May 2007 when Pressly gave birth to their son Dezi James in Cedars-Sinai Medical Center at exactly 7:31 a.m.
Even before the birth of her child, the actress gave an interview on The Tonight Show with Jay Leno in February 2007 where she expressed her wish for their child to be bilingual with proficiency in both Spanish and English so as to reflect his father's Cuban heritage. Barely one year after the birth of Dezi James the duo announced their separation in November 2008.
Simran Singh
Next in her line of partners is entertainment lawyer Simran Singh who came on the scene after Cubiche in 2009. The duo became officially engaged in July 2009, tying the matrimonial knot on the 26th of September 2009. Their nuptials which took place on a bluff overlooking the Pacific Ocean at the Dick Clark Estate was well attended by guests including the actress' two-year-old son, Dezi James.
The couple lived together for all of 16 months until the 21st of January 2011 when Jaime filed for a divorce, citing irreconcilable differences as their reason for separation. In her divorce petition, the prolific actress listed their date of separation as December 27, 2010, which is nine days before her DUI arrest in Santa Monica, California. During their time together, the couple shared a $2.25million Los Angeles home. According to some close friends of the actress, the duo got married too fast which didn't help their union at all.
Hamzi Hijazi
Jaime Pressly's latest boyfriend is businessman Hamzi Hijazi, the duo has been dating for a while. The actress announced that she was expecting a set of twins with her boyfriend and the twins, Leo and Lenon (both male) made their entrance on the 16th of October 2017.