Jaire Alexander is a professional American football player. He is a cornerback and plays for the Green Bay Packers where he sports the No.23 jersey. Even though he is playing in his first season in the NFL, he has already established himself as one of the best rookie cornerbacks in the league. Find out more about this charismatic young man here including his parents, family, height, weight, bio etc.
Who Is Jaire Alexander?
Jaire Zakar Alexander was born on the 9th of February 1997 in Philadelphia, Pennsylvania. He, however, grew up in Charlotte, North Carolina. Alexander commenced his football career at West Charlotte High School before transferring to Rocky River High School in Mint Hill, Charlotte. Alexander started out as a wide receiver but his defensive coach at Rocky River, Willie Crite Jr., convinced him that he would be the best, playing as a cornerback. He took the advice and it is one which has paid off. As a high school senior, Alexander registered 30 tackles and four interceptions, adding 68 receptions for 1,123 yards and 18 touchdowns as a wide receiver. He also led his school to a spot in the state playoffs for two consecutive seasons, his junior year (2013) and his senior year (2014).
Alexander had his college education at the University of Louisville in Kentucky where he played football for the Cardinals from 2015 to 2017. As a freshman, he appeared in 12 games, recording 19 tackles (14 solo), one interception and three passes defended. He did even better in his sophomore year, taking part in 13 games and recording 39 tackles (31 solo), 14 passes defended and 5 interceptions. His junior season was hampered by a knee injury and he only took part in 6 games and finished with 19 tackles (13 solo), an interception and five passes defended. Despite the setback he suffered in his junior year, Alexander had already established a reputation as one of the best, if not the best cornerback in college football. As expected, he caught the interest of many NFL teams and sports analysts and as such, he decided to forgo his senior year in college to go professional. Even though he left college a year earlier, he still completed his degree in Criminal Justice.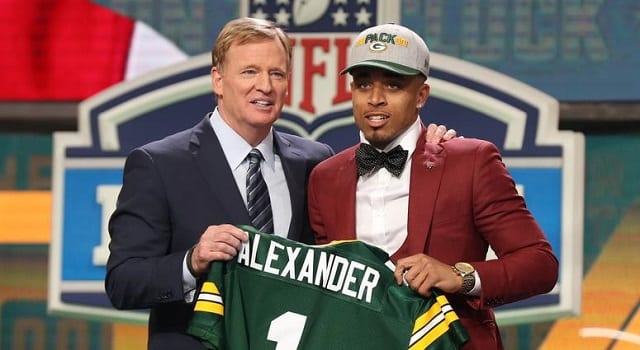 NFL Career
Jaire Alexander entered the NFL 2018 draft and was picked in the first round (18th overall) by the Green Bay Packers, making him the third ever defensive player out of Louisville to be drafted in the 1st round of the NFL draft. The Packers signed him to a four-year contract worth $12,050,734. Even though he has only featured in a few games for the team, Alexander is already proving to be the real deal in the NFL. In four games for the Packers, he recorded 19 tackles (17 solo), 1 pass defended and 1 interception. His first career interception came in week 4 of the NFL 2018 season and was off a pass thrown by a fellow rookie, quarterback Josh Allen of the Buffalo Bills. If there is one thing Alexander is known for, it is his confidence, swagger, trash-talking, and brashness. However, he doesn't just talk the talk but also walks the walk. He backs up his cocky attitude with the solid performances he puts on the field of play.
Height And Weight
Jaire Alexander is 5 feet 10 inches tall and weighs a moderate 196lbs. If there is one thing that has dogged his football career, it is his stature. Many people see him as short and he was overlooked by many colleges because of his size. However, that does not seem to faze him but only motivates him to work harder to be better than anybody else. What Alexander lacks in size, he makes up for with his sheer speed, physicality, and energy. His days as a wide receiver have also paid off as it has given him more ball instincts than the average cornerback. He recognizes the receiver's routes easily and matches them stride for stride, making it difficult for them to complete their passes.
See Also: Lamar Jackson Bio, NFL Draft, Scouting Report and Highlights, Height, Weight
Family And Parents
Not much information exists about Alexander's family but what we do know for sure is that his dad's name is Landis Alexander and that he comes from a tight-knit family consisting of his dad, mom, siblings, and grandparents who have supported him every step of the way in his football career. They rarely miss his games and he describes them as his biggest support system. One is therefore not surprised by his declaration that the first thing he will do with his NFL paycheck is to buy his parents a house.