Jake Gyllenhaal is an American movie star. He has appeared in several highly acclaimed movies and has won several awards as a result. Some of his most notable movies are The Day After Tomorrow, Proof, Rendition, Southpaw, Nightcrawler, and Brokeback Mountain. In Brokeback Mountain, he plays the role of a gay sheepherder who embarks on a tumultuous 20-year relationship with a fellow herder.
Gyllenhaal commenced his acting career at the age of 11, thanks to his Hollywood roots comprising of a scriptwriter mom and a director dad. Get to know more about him here including his height and net worth.
Age, Early Life, and Rise to Fame
Jacob Benjamin Gyllenhaal was born on the 19th of December 1980 in Los Angeles, California. He had his education at Harvard-Westlake High School and graduated in 1998. He also attended the prestigious Columbia University but dropped out after two years.
Jake Gyllenhaal commenced his acting career as a child with his very first film credit coming in the 1991 comedy, City Slickers. He thereafter successfully auditioned for several other roles. His parents, however, restricted his acting career, probably due to fears about his age and education. As such, he was confined to appearing in only movies directed by his father. They include A Dangerous Woman (1993) and Homegrown (1998).
Jake landed his very first lead role in the 1999 movie, October Sky. In the movie, he played the role of a youngster trying to escape poverty through a scholarship. Gyllenhaal got his breakthrough role two years later in the movie, Donnie Darko. The movie centers on Donnie Darko (played by Gyllenhaal), a mentally disturbed teen whom a rabbit convinces that the world is doomed. Since this breakout role, Gyllenhaal has not looked back; he has featured in several movies and has won many accolades along the way.
His Net Worth
Jake Gyllenhaal has a net worth estimated at $65 million. He made his fortune from his illustrious Hollywood career as well as endorsements deals. For instance, he was a brand ambassador of Calvin Klein's fragrance known as Eternity. Gyllenhaal has won several awards in the course of his career. It includes the 2006 Bafta Award for Best Supporting Actor; this was for his role in Brokeback Mountain.
Jake Gyllenhaal Wife/Girlfriend, Kids, and Sister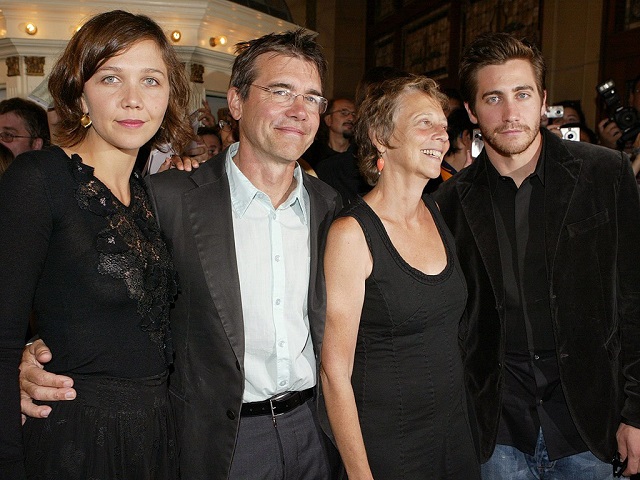 Jake Gyllenhaal hails from Hollywood royalty. His mother's name is Naomi Foner. She is a well-known writer and director. She won the 1999 Golden Globe Award for best original screenplay for the movie, Running On Empty. His father's name is Stephen Roark Gyllenhaal. He is a Hollywood director and a poet. Gyllenhaal's parents divorced in 2009.
The actor also has a sister named Maggie and a half-brother named Luke. Maggie is an accomplished actress and director. She has featured in movies such as Donnie Darko, The Dark Knight, Crazy Heart, and White House Down. Maggie is married to fellow actor, Peter Sarsgaard and they have two children together. Jake and his sister survived a hotel fire in December 2006. It happened at the popular Manka's Inverness lodge in California.
Jake Gyllenhaal has never been married. He has, however, dated some of the most popular names in the showbiz industry. He dated actress Kirsten Dunst from 2002 to 2004 and also dated Legally Blonde star, Reese Witherspoon, between 2007 and 2009. The Rendition star also had a romantic relationship with Oscar winner, Natalie Portman. Gyllenhaal's taste does not just reside in actresses alone. He dated pop star, Taylor Swift from October 2010 to March 2011. He also dated model Alyssa Miller.
Gyllenhaal is currently dating Jeanne Cadieu. Cadieu is a French model, and their relationship reportedly commenced in June 2018. They have not confirmed this relationship but have been spotted together in public.
Jake Gyllenhaal does not have a daughter or any other child for that matter. He has however publicly expressed his desire to be a dad one day. He is also a doting uncle to his sister's two daughters and sees it as 'practice' for when he will have his own children. Additionally, Gyllenhaal is the godfather of Matilda Heath Ledger, the daughter of late actor Heath Ledger and Michelle Williams. Both were his co-stars in the 2005 movie, Brokeback Mountain.
See Also:  Chris Hemsworth Wife, Age, Kids, Brother, Family, Height, Net Worth
Height – How Tall Is He?
One of the most frequently asked questions about Jake Gyllenhaal is his height. The question has puzzled many of his fans over the years. The actor finally decided to put the curious cats out of their misery in 2015. He phoned into the popular podcast, The Mystery Show (hosted by Starlee Kine) and revealed that he is 5 feet 11.5 inches tall. He also appeared on the late night show, Conan, where he was physically measured to confirm same.