The scion of Hollywood royalty, Jake Gyllenhaal has proven he is more than the kid with the proverbial silver spoon. In a career spanning three decades, he has exhibited his indisputable acting chops in several highly-acclaimed movies such as The Day After Tomorrow, Proof, Rendition, Southpaw, Nightcrawler, and Brokeback Mountain. He has also received several accolades including the 2006 BAFTA Award for Best Supporting Actor. This was for his role in Brokeback Mountain.
Off the screens, Jake has held many spellbound with his vibrant love life. Blessed with smoldering good looks that make him the fantasy of many women around the globe, the actor has dated several of his peers. He has also cast his love net beyond the movie industry; all these have made Gyllenhaal one of Hollywood's devoted bachelors. There is however hope that his status may change one day as he is now going steady with a French model.
Meet His Present Girlfriend – Jeanne Cadieu
Gyllenhaal is currently dating French model, Jeanne Cadieu. Cadieu was born on the 8th day of February 1996, which makes her 15 years younger than her beau. She grew up in Paris in a family of four made up of her mother, Julia (a businesswoman), her father, Alain (an engineer), and a sister named Marion.
Jeanne initially studied at the International School of Paris. She later relocated to New York to pursue a career as a model. She is presently signed to IMG and has worked for brands such as Vogue Australia. She has also appeared at several fashion festivals in America and Europe.
Gyllenhaal and Cadieu's Love Story Dates Back to 2018
Gyllenhaal and Cadieu were first linked together in December 2018 and have been going steady since then. The pair are a notoriously private couple and never talk about each other in interviews. They also avoid joint public red carpet appearances. The only evidence of their romance is that they are often spotted hanging out on casual dates in the city of New York.
For instance, the two love birds were spotted heading to the airport in March 2020. They were bundled up in casual winter wear and the actor tried to remain unrecognizable by donning a baseball cap. Also, in October 2019, the pair were spotted on a casual date night in the Big Apple. Gyllenhaal wore a buttoned-down shirt, jeans, and white sneakers while his lady kept it simple in denim jeans, a black sweater, colored sneakers, and a light scarf.
The couple has also made some rare joint public appearances. They attended the Cartier's Clash de Cartier event in April 2019 but took great care to avoid walking the red carpet at the same time. The model also accompanied her boyfriend to the premiere of his movie, Spider-Man: Far From Home, in June 2019. She walked the red carpet with him but they did not tarry for long in front of the cameras.
It Has Been Rumored That The Lovers are Engaged
Gyllenhaal's relationship with Cadieu has inspired several rumors including speculations of an engagement. There is however no fact to support this. It is therefore okay to take the news with a pinch of salt given that the actor is not enthused about marriage.
Jake Gyllenhaal has avoided talking about his love life for the most part. This is because he believes that such intimate details should not be for public consumption. He has however yielded on some occasions.
During a chat with legendary radio host Howard Stern in 2015, the Donnie Darko star revealed that he is a bit scared of marriage. He however made it known that he believes in monogamy as well as the fact that once he meets the right person, he would be open to the idea of remaining with the lady.
Gyllenhaal also used that opportunity to reveal he was unhappy about his bachelor status and wishes to eventually get married someday.
The Actor Desire to Have Kids Someday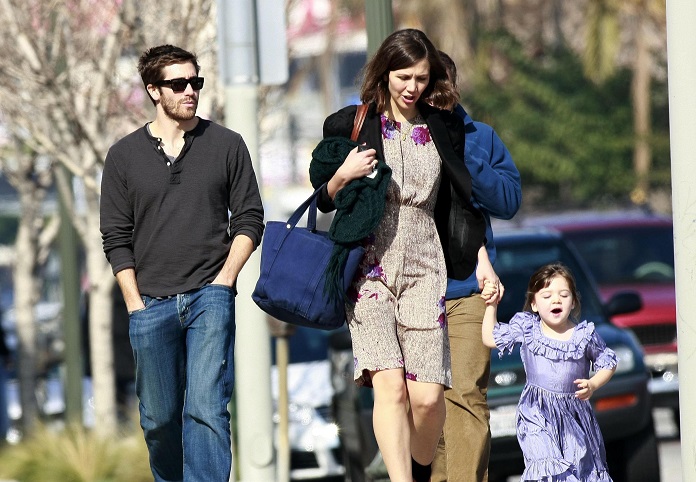 Speaking of kids, Jake Gyllenhaal has made it obvious that he hopes to experience the joys of fatherhood someday. The award-winning actor has never hidden his love for kids and has even stated that the art of making love to make a child is the real deal.
He, therefore, hopes to be a father someday and definitely sees kids in his future. While he waits for the right women to come along, Gyllenhaal is satisfying his taste for fatherhood by being a great uncle as well as godfather.
The Brokeback Mountain star has two nieces thanks to his sister, Maggie. Also an accomplished actress, Maggie is married to fellow actor, Peter Sarsgaard, and they have two children together named Gloria Ray and Ramona. Gyllenhaal is a doting uncle to both girls and sees it as 'practice' for when he will have his own children. Additionally, Gyllenhaal is the godfather of Matilda Heath Ledger. Matilda is the daughter of his very good friend, the late Heath Ledger, and Michelle Williams. Both were his co-stars in the 2005 movie, Brokeback Mountain.
Looking Back at Jake Gyllenhaal's Rich Dating History
As the whole world continues to wait for Jake Gyllenhaal to meet the one, it is only fitting that we take a look at his rich dating history.
Kirsten Dunst 
The actor has dated some of the most popular names in the showbiz industry starting with actress Kirsten Dunst. Dunst is a German-American actress who is famous for works such as Fargo, Melancholia, and All Good Things.
She has also portrayed Spider-Man's love interest in the movie franchise. Dunst and Gyllenhaal were first introduced to each other by his sister, Maggie, in 2002. They dated up until June 2004 when they broke up. Things ended on an amicable note but the couple has ceased to be in touch with each other.
Reese Witherspoon
From 2007 to December 2009, Gyllenhaal had a solid romance with the Legally Blonde star, Reese Witherspoon. During this period, he hung out with her and her two kids, Ava and Deacon, and got to cook for them at her farmhouse outside L.A.
This made the actress quite crazy about him and she stated that she felt lucky and blessed. The couple would later split after two years but their breakup was truly amicable. For instance, in 2016, Gyllenhaal described Reese as one of the smartest and strongest persons he has ever met.
Taylor Swift 
Jake Gyllenhaal's taste does not just reside in actresses alone. He dated pop star, Taylor Swift, from October 2010 to March 2011. The relationship attracted overwhelming media coverage as every public step that the couple took was well documented on the pages of magazines. The couple later broke up and this inspired some of the songs on Taylor's fourth studio album, Red, released in October 2012.
Alyssa Miller
Moving on from Taylor, Jake Gyllenhaal also had a relationship with the popular model, Alyssa Miller. The two met each other at a gym in June 2013 and started a romance that would last several months. They later broke up in January 2014 and it was, ironically, as a result of the gym once more.
Gyllenhaal had to spend several hours in the gym every day in preparation for his role as a boxer in the movie Southpaw. He also had to relocate to L.A. for the filming and all this put great strain on the romance.