One of the most interesting Social Media personalities of the 21st century is the young and popular Jake Paul whose elder brother is the famed Vine star, Logan Paul. Jake has utilized the power of the internet to bring himself to the limelight with a channel named JakePaulProductions that has amassed up to six billion views and about 21.1 million subscribers namely.
His older brother, Logan, introduced him to uploading videos on the internet, and by just following his older brother's footsteps, Jake has earned millions of viewers and subscribers for his contents. He now sits atop a massive digital entertainment empire and has been hailed as a YouTube megastar by the New York Times.
Getting His First Taste of Fame on Vine
This American internet personality, rapper, and actor was born on 17th January 1997 in Ohio, the United States as Jake Joseph Paul. His mom, Pamela Ann Stepnick, is a nurse while his father, Gregory Allan Paul, is a realtor. His only sibling, Logan Alexander Paul, popularly called Logan Paul, is also an internet personality who first became popular on Vine. Jake identifies as English, Jewish, Australian, Hungarian, and German and thus, he has a multiracial heritage.
Jake Paul started his career in the year 2013 when the then-popular video uploading app named 'Vine' was still active. He majorly dealt in outlandish pranks and stunts and this gained him millions of viewers and subscribers. By the time the application was shut down, the teenage Jake already had 5.3 million followers and about a billion video plays on the site. He was also doing advertising for several brands and made a lot of money more than his working-class parents.
Moving over to YouTube
Following the shutting down of Vine, Jake Paul set his sights on YouTube. He informed his befuddled parents that he would skip the last year of high school to focus on his social media career, and promptly moved out to California to do so. Armed with a phone camera and good internet connection, Jake continued doing what he had been doing on Vine, filming himself and his pals engaged in outrageous stunts and pranks, but this time with the opportunity for a longer length. His content proved quite popular with the Generation Z crowd and his fame spread like wildfire.
He kept on making waves with his uploads and attracted the attention of the Disney Channel which invited him to join their TV show, Bizaardvark. Bizaardvark basically revolved around the adventures of a group of teens who had found fame on the internet and were now connected to a professional studio. The series debuted in 2016 and in it, Jake played the role of Dirk Mann, the star of an online show, known as Dare Me Bro, who accepts dares and uploads the videos online. He appeared on the show for two seasons – 2016 and 2017.
Since his departure from Bizzardvark, Jake Paul's profile has continued to rise. He has created a successful talent label, known as Team 10, in an attempt to groom the next generation of social media stars. He has also released a music video titled It's everyday Bro in collaboration with Team 10. The video got about 70 million views at the time but was rated the third most disliked video on YouTube within a month of its upload. Jake, however, couldn't care less as his subscription numbers keep on growing. The high school dropout from Ohio now has not less than 20.1 million subscribers and his videos have been viewed about six billion times.
Some of His Controversial Maneuvers
Being a star, Jake Paul has not evaded controversies and has, in fact, been well embroiled in them. Here are some interesting ones that have trailed the young YouTube celebrity so far. In July 2017, Paul's neighbors in the Beverly Grove neighborhood of Los Angeles filed a petition against him for causing nuisance and disturbing their peace. The lawsuit was later taken up by the company that owned the property that Paul lived in and he was charged a fine of $2.5 million.
Meanwhile, as the whole nuisance issue was going on, a news crew from a local station, KTLA, came to cover the situation. As they were live on air, Jake and his pals came out of their house and started mocking the reporter. Jake climbed onto the roof of the news van as the whole fiasco unfolded. This stunt turned him into a villain and he received criticism from far and wide (Mashable dubbed him the worst person on earth). It also led to Disney firing him from their TV series
Barely a few weeks after the KTLA controversy, Jake Paul uploaded a video titled 'I lost my virginity' to his YouTube channel, sparking outrage among his many subscribers especially the younger ones. The video featured him and his Ex-girlfriend Erika Costell both scantily clad and later fully clothed. What baffled his subscribers the most where his choice of words in the video which was highly inappropriate.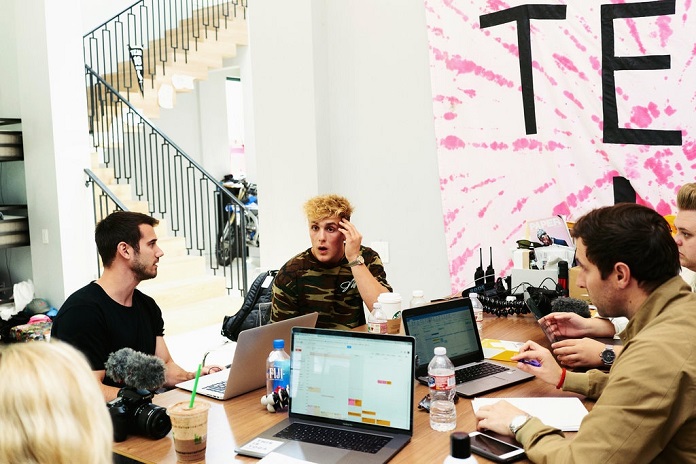 What is His Net Worth?
In a September 2017 interview with the New York times, Jake Paul stated that his personal goal was to be a billionaire and since then, he has gone on to implement plans to achieve that grand ambition. Asides the huge money he makes off his YouTube channel, the Ohio native has kick-started several ventures including a merchandise line known as Fanjoy.co. It features branded t-shirts and sweatshirts and has proved popular amongst his legion of loyal fans known as Jake Paulers.
Jake is also the founder of the social media talent incubator known as Team 10. The team has attracted millions of dollars in investments, from the likes of Vayner Capital, Danhua Capital, and Sound Ventures & A-Grade Investments, and the YouTuber has also launched the financial freedom movement platform in furtherance of this initiative. The platform, which was launched in February 2020, aims at grooming youngsters who want to become social media influencers and charges nearly $20 each month.
All these ventures have helped Jake build up a net worth estimated at between $17 million to $19 million and he is using it to live nicely. The YouTube star is the owner of a $6.9 million mansion located in Calabasas. The three-story house measures 15,000 square feet and features incredibly high ceilings, a temperature-controlled wine closet, eight bedrooms, a home theatre, and sizable pool, etc.
His Fake Marriage to Tana Mongeau
Jake was previously 'married' to a YouTube star named Tana Mongeau. For the benefit of those who may not know her, Mongeau is a native of Las Vegas, Nevada, and was born in the year 1998. She joined YouTube at the age of 15 and has since risen to fame thanks to her Storytime videos and comic clips. Her YouTube channel boasts of about 5.4 million subscribers and nearly a billion views.
Paul and Tana began their romance around April 2019. They later got engaged and tied the knot in a Las Vegas wedding, which cost about $500,000, in July of that same year. It, however, turned out that they failed to register the wedding and as such, it wasn't legally binding. Despite being fully aware of this fact, Jake and Tana carried on as a married couple and she even briefly changed her last name to his. They also shared his Calabasas home together.
This fake marriage lasted for about six months and in January 2020, the couple announced that they were calling it quits. They maintained that they still love each other and were taking a break to focus on their individual lives. The joint statement also made it known that they were no hard feelings involved and asked fans not to bother speculating on what could have gone wrong.
It must be noted that this is not the first time that Jake Paul is getting fake-married. Back in June 2010, he and his team 10 co-member, Erika Costell, got married and posted the video on YouTube. The clip garnered millions of views and the pair continued to release other joint videos including a July 2017 single titled Jerika.
It, however, turned out that the whole thing was as "fake as the WWE" as Jake himself confessed in an NYT interview in September 2017. Following that revelation, he and Erika did commence a romance for real in January 2018. The relationship lasted up until November 2018 before they broke up and went their separate ways.