For new fans of the sports world, specifically basketball, Jalen Rose is mostly recognized for his punditry role on ESPN, co-hosting Get-Up! and NBA Countdown. But that is just one of several activities he has gotten up to since he retired after a 13-year career in the NBA where he played for six teams.
Post-retirement, he also co-founded Jalen Rose Leadership Academy – a tuition-free high school situated in Detroit. Rose is also the founder of the Jalen Rose Foundation, known for providing life-changing offers to youths. It has made Jalen an even more prominent sporting figure and earned him a couple of significant award recognition.
Jalen Rose Joined The NBA As A First-round Pick
As the son of Jimmy Walker, a man who was the No 1 overall draft pick in the 1967 NBA Draft, basketball was already in Jalen Rose's blood. In high school, it did not take long for his talent to become apparent, as he repeatedly delivered high-quality performances at Southwestern High School.
After completing high school, where he was named All-American, he attended the University of Michigan, spending three years. At Michigan, Jalen played alongside a group of players known as the 'Fab Five,' after they reached the NCAA Finals twice in 1992 and 1993. They were Jimmy King, Juwan Howard, Ray Jackson, and Chris Webber.
This achievement happened within the first two years of Jalen Rose's college career, with him as the team's best scorer. His name was on the lips of every recruiter, and by 1994, after scoring over 1700 points, 400 assists, and 400 rebounds, he declared for the NBA Draft. The Denver Nuggets won the battle to sign him and selected him in the first round with the 13th overall pick. Thus, his illustrious journey in the big league took off with the franchise in 1994.
Denver Nuggets (1994–1996)
Jalen Rose spent two seasons playing for the Nuggets. In his rookie season, he played 81 games, starting 37 of them. Even though Rose was a freshman, he impressed his coach enough to become a significant member of the team, averaging 22.2 minutes per game. Unfortunately, his minutes did not translate to a high scoring season for the player, as he averaged 8.2 points per game.
In his second year, his status in the team remained the same. He played 80 games and started 37 again but found improved success at the basket. He averaged 10 points per game and an even better 6.2 assists per game. At the end of the 1996 season, however, the Nuggets traded him to the Indiana Pacers.
Indiana Pacers (1996–2002)
Jalen spent the most years of his basketball career playing for the Pacers. In his first season with the team, he struggled to connect with then-coach Larry Brown. He managed on 66 game appearances, staring only 6 of them. His performance equally dropped, too, with 7.3 points per game.
Although he played more games in the second year, things did not necessarily improve on an individual level. ln over 82 games, he averaged 20.8 minutes per game and 9.4 ppg. However, his contributions helped the Pacers to their first of three consecutive Eastern Conference Finals.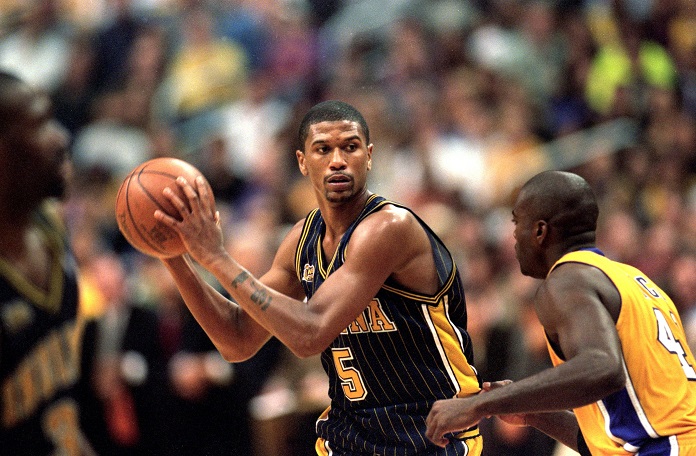 By the 1999/2000 season, Jalen Rose was a high-flying member of the Pacers team. He started all 80 games he played and led the Pacers in scoring with 18.2 points per game. Rose's performance helped the Pacers become Eastern Conference Champions and also won him the NBA Most Improved Player. In the season's playoffs, he averaged 20.8 points per game and led them to NBA Finals, losing to champions, Los Angeles Lakers.
Chicago Bulls (2002–2004)
The Pacers traded Jalen Rose to the Chicago Bulls in the middle of the 2001-02 season. He had played and started 53 games for the team and averaged 18.5 points before the trade. He continued his high-level performance with the Bulls, starting 30 of 30 and averaged 23.8 points per game. It would end up being his best ppg ratio for a team throughout his career.
He spent one full season with the Bulls, in the 2002-03 season, averaging 22.1 points per game from 82 games. He also averaged his highest minutes per game in an NBA season, with 40.9 mpg. After 16 games in the 2003/04 season, the Bulls traded him to the Toronto Raptors.
Toronto Raptors (2004–2006)
Two years at the Raptors saw Jalen play in one full season and two half seasons. In his first half-season in the 2003/04 season, he played and started 50 out of 50 games, averaging 16.2 points. It was not a particularly memorable year for him as his team failed to make the playoffs.
Things did not exactly change throughout his Raptors stint. He started the least number of games since his 1998-99 season with the Pacers, with 81 out of 65, averaging 18.5 points per game. In his second half-season, he was part of the Raptors team when Kobe Bryant had his famous 81 points game.
New York Knicks (2005–06)
After spending more than a decade in the NBA, Jalen Rose's body was in its twilight years when he got traded to the New York Knicks in the 2005-06 mid-season. He managed only 26 games for the team, starting 23 with 12.7 points per game before the Knicks waived him off the roster.
Phoenix Suns (2006–07)
The Phoenix Suns picked him up as a free agent in November, winning a battle for his signature which involved the Detroit Pistons and Miami Heat. He spent one season with the team, playing minimum minutes as his body was unable to cope with the Suns' fast-paced game.
At the end of the Suns' season following elimination from the 2007 NBA Playoffs, Jalen Rose announced his retirement as a player. He had played 923 NBA games over 16 seasons across 13 years, averaging 14.3 points per game. Jalen also played in the Playoffs in six years, with three teams – Denver Nuggets, Indiana Pacers, and Phoenix Suns. He played a total of 59 playoff matches and averaged 14.6 points per game.
Overall, Jalen Rose scored 13,220 points throughout his NBA career, with 3,527 assists and 3,193 rebounds. Aside from his Most Improved Player award, he was also named in the NBA All-Rookie Second Team. Furthermore, in 2013, the Indiana Pacers star was inaugurated into the Detroit High School Hall of Fame and the University of Michigan Basketball Hall of Fame in the year 2017.
He Transitioned To Broadcasting After Retirement
After his retirement from professional basketball in 2007, Rose landed a sports analyst job at ESPN. Before his retirement, he had worked as a Sideline Reporter for the 2006 NBA Playoffs for TNT. He also worked for Fox Sports Net's Best Damn Sports Show Period, hosting the segment, Jammin' With Jalen.
He began his ESPN career as an analyst on SportsCenter. He has also worked as an analyst on various other ESPN shows like First Take and College GameDay. Since 2012, he has been a co-host for NBA Countdown and Get Up!, alongside Michael Beadle and Mike Greenberg since April 2018.
In addition to that, he co-hosts Jalen & Jacoby on ESPN Radio. The program started as a podcast in 2011 before evolving into a YouTube show and a national sports radio show on ESPN later. Aside from his work with ESPN, Jalen Rose's media career has also included a production company.
He founded Three Tier Entertainment in 2007, as a Los Angeles based management and production company. With the company as his vehicle, he develops television and film projects alongside managing actors, screenplay writers, and directors. Under the company, he has produced works like the Fab Five documentary and Jalen Vs. Everybody. As of 2020, he has produced episodes of NBA Countdown, First Take, and Jalen & Jacoby.
Other media works in his credit include appearances in Fresh Off the Boat, Barbershop, and Just Wright. He also wrote and published a book, Got to Give the People What They Want. He released the book in 2015 and it made the New York Times Bestseller list and was named one of Michigan Notable Books in 2016.
Jalen Rose Is Also A Philanthropist
Since 2000, Jalen Rose has taken up Philanthropy as part of his off-court activities. He founded the Jalen Rose Foundation to create life-changing opportunities for youth. His foundation helped them through the development of unique programs and the distribution of grants to other nonprofit organizations.
Eleven years after, he founded the Jalen Rose Leadership Academy. The school is a tuition-free, public charter high school with open enrollment located in Detroit. The Academy caters to more than 400 students between the ninth and twelfth grade, with over 100 percent of its graduates gaining admission to places of higher learning.
Rose has received recognition from different corners for his efforts. The National Civil Rights Museum gave him a Sports Legacy Award in 2016. He also received the Mannie Jackson Basketball Human Spirit Award from Naismith Memorial Basketball Hall of Fame in the same year.
NBA And Broadcasting Career Exploits Have Earned Him A $60 Million Fortune
All of these achievements, from the 13-year NBA career to his thriving broadcasting career has helped Jalen Rose to a massive net worth of $60 million. He earned $102 million in salary in the NBA and makes an additional $3 million per year as a broadcaster for ESPN.
On how he spends his massive net worth, Jalen has given out more than $1.2 million via his foundation. He also has a car collection that includes a 1969 Dodge Charger and a 1964 Cadillac. In real estate, he once owned an estate worth $8.5 million and in 2008, sold a Las Vegas mansion to boxing legend, Mike Tyson, for $1.75 million. At the moment, he lives in a high-valued villa in Orchard Lake, Michigan.
Jalen Rose Is A Married Man With Two Baby Mamas
Despite his exposure as a media personality, Jalen Rose has largely maintained high-level privacy when it comes to his personal life. However, over the years, a few facts have slipped out of the cracks and we have a picture of the former Pacers' family structure.
The former basketball player is a married man, married to Molly Qerim, who also works at ESPN as the host of First Take. The couple dated for about two years before they finally tied the knot on July 20, 2018. They got married in a small ultra-private ceremony in New York before they headed over to Turks and Caicos Island for their honeymoon.
So far, the marriage is yet to produce any children. However, Jalen Rose is a father to three children – two daughters and a son. His first daughter, Mariah Christian Rose, was born on July 14, 2000, out of his relationship with his ex-girlfriend, Mauri Goens. His other two children are Gracie Rose and his only son, LaDarius Rose. The identity of their mother remains unknown.
His Children Are Following In His Footsteps
Or at least two of them have. Mariah, the oldest, is studying Broadcast Journalism at the University of Georgia. She enrolled in 2018 and will graduate in 2022. Since 2018, Mariah has worked as a SPORTalk Content Creator and interned as a production intern at ESPN. She is also a sales ambassador for Orangetheory Fitness.
Proud my daughter won her Championship today! #A5VB pic.twitter.com/wNkJPSxFJE

— Jalen Rose (@JalenRose) January 16, 2017
Jalen Rose's other daughter is following his sporting side. She plays volleyball in the premier junior club, A5 Volleyball. She has won a championship and appears destined for at least a college career in the sport.