Jalen Rose is currently known as the co-host of ESPN sports talk show 'Get Up' but he was a professional basketball player. He played for six teams in the National Basketball Association (NBA) which includes Chicago Bulls, Indiana Pacers, Toronto Raptors, among others. As a prolific shooting guard with the Indiana Pacers, Rose led his team on three consecutive occasions to the Eastern Conference events which include the 2000 NBA finals.
He co-founded Jalen Rose Leadership Academy – a tuition-free high school situated in Detroit. Rose is also the founder of the Jalen Rose Foundation, known for providing life-changing offers to youths. As a result of his uplifting and philanthropic contribution in Detroit, Rose was honoured with the Michiganian of the Year Award. He also clinched the 2016 Mannie Jackson-Basketball's Human Spirit Award by the Naismith Memorial Basketball Hall of Fame.
Jalen Rose Biography (Age)
Jalen Anthony Rose was born in Detroit, Michigan on January 30, 1973. His father Jimmy Walker was a former NBA player who died in July 2007. His name Jalen, given to him by his mother Jeanne Rose, comes from the combination of his father's name, James together with that of his uncle Leonard. Rose has four siblings and he is an American national. He attended Southwestern High School in Detroit before he enrolled in the University of Michigan.
Rose put his career as a basketball player to a start in college where he emerged to be a star following his achievements in the court. He was among the University of Michigan Wolverines 'Fab Five' team alongside Ray Jackson, Chris Webber, Jimmy King and Juan Howard. The team is best known for teaching NCAA Men's Division 1 Basketball Championship in 1992 and 1993.
After graduating from college, Rose was picked by the NBA's Denver Nuggets during the 1994 NBA Draft, as he came out as the 13th overall. After spending two years in the club, the talented basketball player moved to Indiana Pacers where he played from 1996 to 2002. While he was there, he led the team to three consecutive Eastern Conference finals with his excellent display as a shooting guard which landed him NBA Most Improved Player Award.
In 2002, Rose joined Chicago Bulls where he played for two years. Thereafter, he played for other NBA clubs such as Toronto Raptors, New York Knicks and finally ended his career with the Phoenix Suns, where he signed a one-year contract valued at $1.5 million. For the course of his basketball career, Rose was publicly recognized with the Magic John Award which was given to him by Professional Basketball Writers Association.
Furthermore, in 2013, the Indiana Pacers star was inaugurated into the Detroit High School Hall of Fame and also into the University of Michigan Basketball Hall of Fame in the year 2017. After his retirement from professional basketball in 2007, Rose landed a sports analyst job at ESPN. Presently, he works as a co-host of a national sports radio program titled Jalen and Jacoby which is aired on ESPN radio. He has also been the co-host of ESPN sports talk show Get Up alongside Mike Greenberg and Michelle Beadle.
More so, Jalen Rose is best known as the founder of Three Tier Entertainment, a brand management and production company. In order to broaden his horizon, Rose is the author of New York Times Bestseller, Give the People What They Want, which was rated in 2016 as one of Michigan Notable Books.
Jalen Rose Family – His Father, Wife, Girlfriend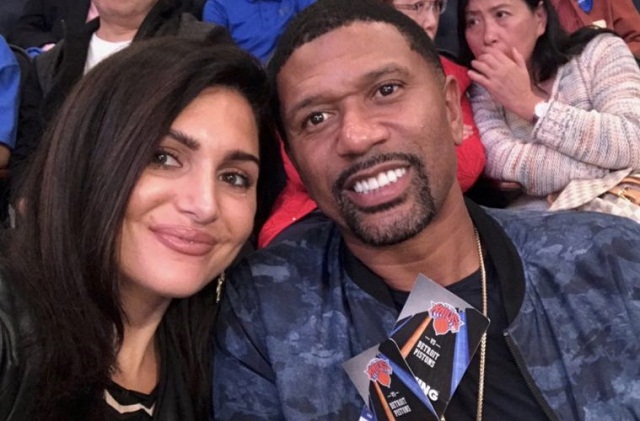 As mentioned earlier, Jaden Rose's father Jimmy Walker was an NBA player who became famous as a No. 1 overall draft pick. He also featured in the 1972 NBA All-Star Game along with Jerry West. Jimmy Walker had a surreal relationship with his son as Rose didn't get the privilege of meeting him in person, they only talked on several occasions over the phone. Sadly, Jimmy Walker died of lung cancer in July 2017.
The gifted basketball player is married to Molly Qerim, who also works at ESPN as the host of First Take. The couple dated for two years before they finally tied the knot on 20th July 2018, in what was reported to be a secret wedding. They have two children, a daughter named Gracie Rose and a son, LaDarius. Meanwhile, the former NBA superstar has previously welcomed a daughter, Maria Christen Rose with his former girlfriend, Maurie Goens.
See Also: Michael Oher Married, Wife, Siblings, Family, Net Worth, Parents
His Height
The former shooting guard stands at a towering height of 6 feet 8 inches (2.7). He is obviously quite a tall man although he is not the tallest man in the world. He further has a body weight of about 90kg (198 lbs) to perfect his impressive height.
Net Worth
Having played for six NBA clubs and also working as a co-host on ESPN, in addition to being an author and the co-founder of a prestigious company, the award-winning basketball player is living a luxury lifestyle thanks to his net worth which is estimated to be $60 million.