Since its establishment in 1978, JAMB has conducted examinations every year to determine candidates who qualify for admission into Nigeria's tertiary institutions using cut-off thresholds. These cut-off marks determine which institution a student can be admitted to. Once the result is out, a candidate will need to check his/her result with their registration number, email, or phone number either on the JAMB portal or via SMS to know if they qualify for admission into their desired tertiary institution.
Ways To Check Your JAMB Result
Upon successfully completing the JAMB UTME exams, candidates who sat for the exams have two ways to check their results upon its release. It can be done via:
The Jamb Result Checker Portal is the portal designed for candidates who have just sat for the UTME to check their results. On the other hand, candidates can also check their results by texting a number and will have their results sent to them as SMS in a matter of seconds.
What Do I Need To Check My Result On The JAMB Portal?
To check your UTME result on the JAMB portal, all you need are;
A computer or phone with internet access.
Your JAMB registration number or e-mail address you used in registering for the exam.
Guide To Checking Your Result On The JAMB Portal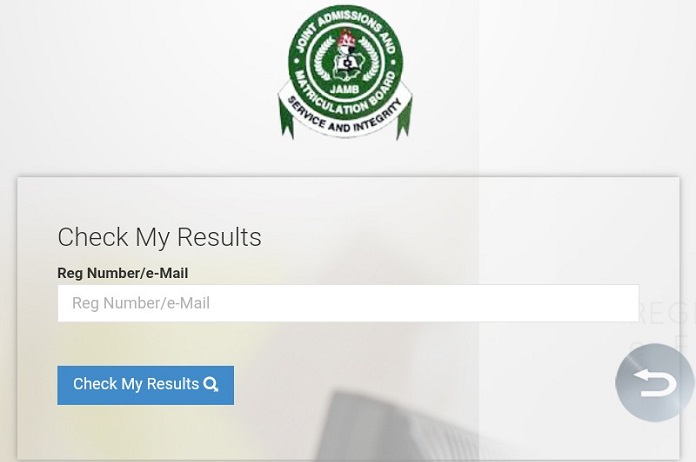 Visit the official JAMB portal with your internet-enabled computer or mobile phone.
Navigate to the check result section; jamb.org.ng/eFacility/ChfeckUTMEResults. The URL is usually activated once results have been officially released.
Enter your JAMB Registration Number or Email Address in the box.
Click on the "Check My Results" button directly under the box where you filled your credentials.
You'll instantly be redirected to a page showing your result.
NOTE: If you get a reply saying "No Results Yet," this may be because JAMB hasn't released your result. Be at rest and check back later as JAMB always releases the results in batches. Also, the 'Check Results Link' is only available when results have been released.
How Much Does Checking Result Through JAMB Portal Cost?
It is completely free to check your JAMB result through the official portal. If anyone asks you for payment, you are likely being scammed!
How Many Times Can I Check My Result For Free On The JAMB Portal?
You can only check your result for free on the JAMB portal five times. If you want to recheck your result after the fifth time, you will be required to purchase the JAMB scratch card.
How To Check Your JAMB Result Via SMS
Checking your JAMB result with SMS is the latest method introduced by the Joint Admission and Matriculation Board. With this method, you don't need to log into the JAMB portal to view your result as it will be sent to you on request via SMS.
What Do I Need To Check My JAMB Result Through SMS?
A mobile phone.
The SIM card phone number you used to register for JAMB.
Airtime at least 50 Naira.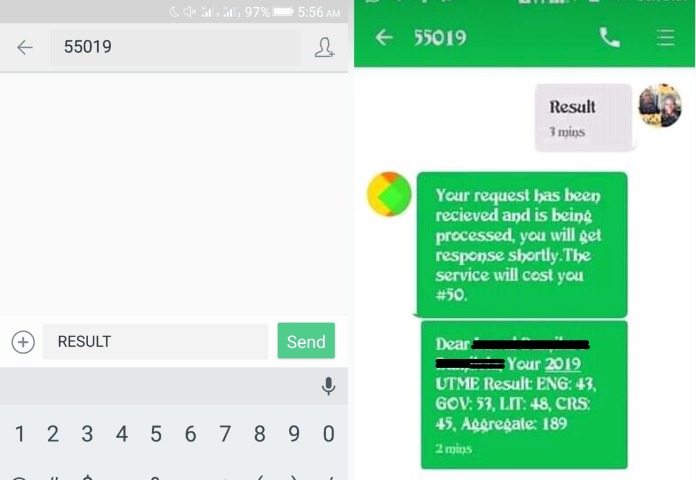 Guide to Checking Your JAMB Result Through SMS
Text RESULT to 55019 through the number you used in registering for the exam.
A sum of 50 Naira is deducted from your account.
After a while, your result is sent via SMS.
Some Replies You Might Get To Your SMS Requests
"Dear Mr/Miss X, your JAMB Result is as follows…(followed by result summary)," this is your JAMB result.
"This phone number was not used for registration," this means you didn't use that number to register for the UTME exam.
"Result Withheld" means your result is being withheld for reasons which could involve fraud.
"Candidate Absent" means you didn't sit for the exam.
How Much Does Checking JAMB Result with SMS Costs?
Unlike checking results on the JAMB portal which is free, checking JAMB result with SMS is not free. For each result check request you make, a sum of 50 Naira is deducted from your airtime balance. This means 6 requests will result in 300 Naira being deducted from your account.
How Many Times Can I Check My JAMB Result Through SMS?
So far, there is no particular number of times you can check your result using SMS. As far as you have airtime on your SIM card; you can request to be shown your result as often as you like.
Other Important Things You Should Know About JAMB Result Checker Portal
Aside from all that has been discussed above, UTME candidates might still be at loss for lack of adequate knowledge on some other issues bothering their exams and results which they have no knowledge of. These have been succinctly discussed below.
How long does it take JAMB to release UTME results?
Once you have sat for the JAMB examination, you may begin to get anxious about when results will be released. However, it should be relieving that after the exams have been completed, the results are officially released by the board within 72 hours (or 3 days). If you check after 3 days and can't find your result, please be patient and check back a few days later.
What is the JAMB Scratch Card used for?
If you need to check your result for the sixth time or more on the JAMB portal for one reason or another, you need a scratch card. These scratch cards (also known as e-PINS) can be bought directly from JAMB or recognized outlets.
How much does the JAMB Scratch Card cost?
JAMB Scratch Cards or e-PINS cost 3,500 Naira. Although, other outlets may sell at lower prices or above this stipulated price.
How many times can the JAMB Scratch Card be used?
A JAMB scratch card can be used five times only, and during these five times, it can be used to perform functions like;
Checking JAMB results.
Printing of JAMB result slip.
Printing of admission letter.
Accessing other JAMB E-facility services.
How to print your original JAMB result with the registration number
Login to your JAMB profile through http://portal.jamb.gov.ng/efacility/Login. Under the list of services (on the left side of the page), click on the "Print Result Slip. " Now click "continue with payment" to make payment via the Remita platform.