James McAvoy, Hollywood actor, and Scotland native, is among the group of actors who never planned to go into the profession initially but were eventually inspired by one thing or the other to build a career in the industry. In the case of McAvoy who made his professional acting debut in the 1995 movie The Near Room, at age 15, his interest in acting came alive after he developed feelings for his co-star named Alana Brady.
The actor was born on the 21st of April 1979, in Glasgow, Scotland, to Elizabeth and James McAvoy Sr., a psychiatric nurse, and builder respectively. His parent's marriage fell apart when he was only seven years old and his mother was saddled with the responsibility of raising him but as a result of ill health, she was forced to send him to live with her parents (James maternal grandparents), Mary and James in Drumchapel, Glasgow. His mom died in 2018 while he has never communicated with his father since he left his mother.
McAvoy was a student at St Thomas Aquinas Secondary, Jordanhill, Glasgow. He also attended the Royal Scottish Academy of Music and Drama from where he graduated in the year 2000.
Net Worth
From the time he made his acting debut at the age of 15, James McAvoy has remained relevant in the film industry as he continuously evolves into a better actor with each role he plays. It is not surprising, therefore, that he has become one of Hollywood director's favorite actors and has consequently, garnered an estimated net worth of $17 million.
Why Did James McAvoy Split From Wife?
James McAvoy met Anne-Marie Duff while filming the television series, Shameless. Anne played the role of Fiona Gallagher, the love interest of Steve McBride (played by James) and somehow, their on-screen romance was translated to real life.
On the 11th of October 2006, James got married to Anne-Marie, who is nine years older than him, in a ceremony held at the 19th century Drumtochty Castle in Aberdeenshire. The wedding had no celebrities in attendance because, according to James, he did not want the day to be about being famous.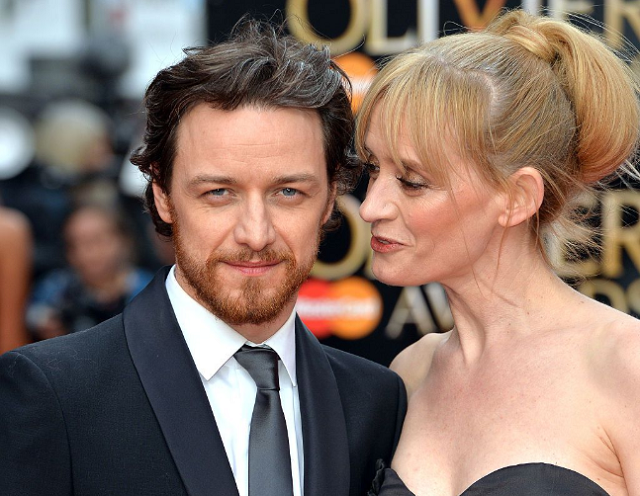 When Anne got pregnant with their first child in 2009, the couple decided not to find out the baby's sex until it was born. Finally, on February 26th, 2010, they welcomed the first addition to their family, a son named Brendan after his paternal grandfather. He was born at St Mary's Hospital, Praed Street, Westminster.
As perfect as the couple's marriage seemed, they had some issues which led them to jointly announce on the 13th of May 2016, that they had decided to get a divorce. The actual reason for this decision remains unknown as the duo who has always been very tight-lipped about their relationship when they were still married, also chose to keep their lips sealed about their reason for parting ways.
Speaking during an interview with Mr. Porter, the actor admitted that things have not been the same since his split from his former wife. He also revealed that while he and Anne-Marie were married, they had a policy which prohibits them from speaking publicly about each other and even though they were now divorced, the policy remains binding.
On the other hand, Anne-Marie also opened up about their split in an interview with the British daily national newspaper, The Times, describing the experience of divorce as profound and difficult. In a bid to escape the scrutiny that comes with being in front of the camera, the actress took a break from the screen after their divorce and focused on stage productions.
Despite not being married any longer, the ex-couple, in an attempt to ensure that their son has a stable life, still share their North London home when not working outside the area.
Girlfriend
In 2016, James started dating Lisa Liberati, a graduate of Philadelphia University whom he met in her native country of Philadelphia during the filming of M. Night Shyamalan's horror movie, Split. While the actor played the role of Kevin Wendell Crumb aka The Horde, Lisa was employed by the filmmaker, Shyamalan, as a personal assistant.
They have been together ever since and were even seen together at John F. Kennedy International Airport in January 2019, as they came back to New York after attending the European premiere of Split which took place in Paris.
See Also: Jason David Frank (MMA and Actor) Net Worth, Brother, Wife, Kids
His Height
The Scottish born actor is 5 feet 7 inches (1.7018) tall and weighs 67 kg (147 lbs). He has a beautiful pair of blue eyes, short brown hair and a well-built body which measures 41-33-14 inches (chest size, waist size, and biceps respectively). He also wears shoe size 10 (US).