Jami Gertz is an American actress and film producer who at the height of her career in the '80s, starred in many movies and TV series such as The Lost Boys, Less Than Zero, Crossroads, Square Pegs and The Facts of Life. Although she has not appeared in many productions since 2014, she still remains a name to remember in Hollywood.
Gertz is married to the billionaire investor, Anthony Ressler and together, they have three children. Additionally, she and her husband are part owners of the NBA side, The Atlanta Hawks. Since purchasing The Hawks, the actress has successfully worked as the face of the organization.
Jami Gertz Loved Acting From When She Was A Child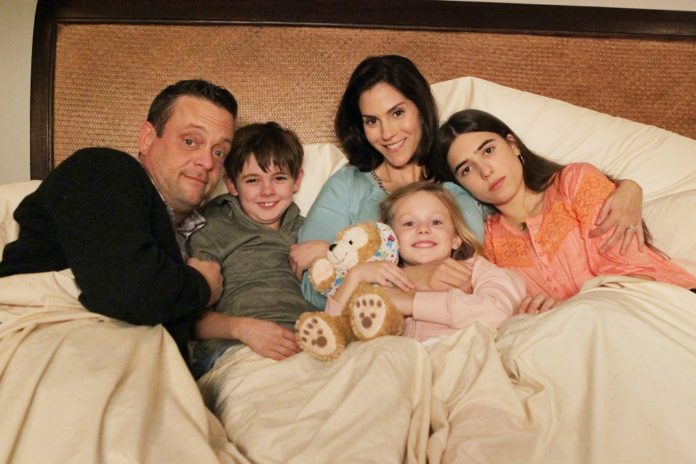 Jami Beth Gertz was born on the 28th of October 1985 in Chicago, Illinois. The Hollywood star grew up in Glenview – specifically, covert road.
Jami Gertz hails from a conservative Jewish family. Her father, Walter Gertz, was a contractor, as well as a builder while her mother's name is Sharyn Gertz. Asides her parents, the actress also has two brothers named Michael and Scott.
As a child, Gertz took part in various school plays. While in the fifth grade, she played Dorothy in her class' reproduction of the Wizard of Oz and made up her mind to become an actress. Jami Gertz completed her high school education at Maine East High School. For college, she studied Drama at New York University.
She Enjoyed A Long And Successful Career As An Actress
Jami Gertz started paving way for her acting career as a child, appearing in sitcoms such as Diff'rent Strokes and The Facts of Life. In a bid to further her career, she entered a talent hunt organized by renowned TV writer and producer, Norman Lear. This was in the early '80s and she won the contest. Consequently, she was cast in the CBS sitcom, Square Pegs. The sitcom ran from 1982 to 1983 and focused on a bunch of awkward teenage girls trying to fit into their high school.
After Square Pegs, Gertz started landing more roles. In 1987, she featured in two of her most enduring movies to date – Less Than Zero (where she starred alongside Robert Downey Jr) and Lost Boys (featuring the likes of Keifer Sutherland). In 1989, she featured in movies such as Listen To Me, Renegades and Silence Like Glass.
1996 was yet another good year for the Chicago native as she featured in the blockbuster, Twister. The movie, which was about a bunch of storm chasers researching tornadoes, made over $50 million at the box office and was the second highest-grossing movie of that year. Since Twister, Gertz has appeared in other movies such as Seven Girlfriends (1999), Lip Service (2001), Keeping Up With The Steins (2006), and Dealin With Idiots (2013). She has also appeared in TV series such as This Is Us, The Neighbours, Difficult People, Modern Family, Ally McBeal, ER, and Family Ties.
The Actress Has Been Married For More Than Three Decades
Jami Gertz is married to billionaire investor and businessman, Tony Ressler. He is the founder of two successful investment firms, Appollo Global Management and Ares Management. Gertz and her husband met in 1987 through her then-publicist who introduced them.
Gertz and her husband tied the knot on the 16th of June, 1989. Unlike many marriages between celebrities or rich individuals, these two have held on and remained together for more than 30 years after their union.
They have been blessed with three children, Oliver Jordan who was born in 1992, Nicholas Simon who was born in 1995, and the youngest of them who was born in 1998, Theo. None of their kids has taken after Jami in the entertainment business.
Before she met her husband, the actress dated a handful of famous individuals, including Chuck Norris, Steven Seagal, and John Cusack. She was also linked to Jason Patric whom she dated from 1985 to 1986 and then in 1987, she started another relationship with Corey Feldman which lasted less than a year. The love life of her husband before the two met is not known.
No, She Did Not Marry For Money
Although the actress has always come across people who believe she married her husband for the money, she revealed that it was nothing but love that pulled her to him and kept her there. At the time they met, he was still building his career and didn't have much in terms of wealth. In fact, the actress was the person who paid for their first home together.
Because she was making more money than the billionaire at the time, she was the person who paid for their first vacation. She was with him when he made his first million, and then the billions started rolling in.
Jami Gertz Lives The Life Of A Billionaire
Jami Gertz got game: How an actress became an NBA team owner https://t.co/Yu243gOkeR pic.twitter.com/ApxaNOLplf

— The Hollywood Reporter (@THR) October 11, 2018
The actress's individual net worth is not available. However, she has contributed immensely to helping her husband build his net worth of an estimated $3 billion as of 2020. This means she also lives the life of a billionaire just like her husband.
Tony Ressler made his fortune from a successful career in banking and investment. He co-founded his first private equity firm named Apollo Global Management in 1990. Currently, he is the founder of Ares Management. Founded in 1997, Ares Management is an investment firm and manages assets surpassing $120 billion. As a testament to their fortune, Gertz and her husband are part owners of the NBA side, The Atlanta Hawks. They purchased The Hawks in 2015.
On her part, the actress has also made a fortune from her career as an actress, having taken part in some interesting and successful productions, as well as from her numerous investments. Nonetheless, the family's fortune is mostly through the business endeavours of Tony Ressler. She founded the Lime Orchard Productions company when she started stepping away from acting in the 2010s.
Gertz and her husband live in Beverly Park, a gated community in Beverly Hills. Their neighbours include actor Mark Wahlberg, as well as a member of the Saudi royal family, Prince Nayef bin Ahmed Al-Saud.
The Most Generous Couple In The World
Jami and her husband have not only been making money, but they have also formed a habit of giving back to society through their Ressler/Gertz Foundation which they formed towards improving arts museums, education, Jewish organizations and temples, as well as health and human services.
In 2012, the billionaire couple gave a total of over $10 million through their foundation. As a result of this, they got to top the list of the most generous celebrities in the world. They were followed on the list by musician Herb Alpert, whose Herb Alpert Foundation gave out over $9 million in charity and then Mel Gibson with a donation of close to $7 million to the AP Reilly Foundation.
The actress and her husband have not stopped giving back by contributing to every cause – from supporting veterans to contributing to health research, and many more.
Jami Gertz Is Blessed With Beauty And A Great Body
While Jami Gertz may not pass for the tallest woman on any given day, she is very much of a beautiful woman whose age has failed to really impact. She has a height of 5 feet 5 inches (165cm) and a complementing body weight of 153 lbs (69kg).
For her other body measurements, she has 37 inches (94cm) bust size, while her waist size is 28 inches (71cm) and her hips measure 38 inches (97cm). Jami wears shoe size 10, dress size 10, and bra size 34C.