The sporting world is largely dominated by men. This is due to the wrong notion that women and sports don't gel. Even when it comes to sports journalism, it is mostly an all-boys affair. However, in recent times, many courageous women have challenged the status quo; both on the field of play and as journalists. One of them is most definitely Jamie Hersch. Hersch is a popular American sports journalist. She has worked for various networks and covers professional baseball and ice hockey. Find out more about her below including her bio and age, net worth and salary, height as well as love life.
Jamie Hersch's Age and Bio
Jamie Hersch was born on the 26th of May 1987 in Champlin, Minnesota. She hails from a family of four. Her father's name is James while her mother's name is Candy. She also has a brother named Jonathan who works in the medical field. Jamie Hersch fell in love with sports when she was just a child. This was due to the influence of her dad and brother who loved football, baseball, and basketball. She herself took part in figure skating and had several friends who were into ice hockey. It must be stated that Hersch did not just stumble into sports journalism. It was a career path that she choose from the onset and worked hard to achieve.
For instance, while studying at Champlin High School, she covered the school's football team and conducted interviews with their fans. Her excellent work gained the attention of the state's high school league and she was requested to cover various tournaments in the state. Jamie Hersch graduated from high school in 2005 and proceeded to the University of Southern California where she continued her impressive ways.
While at USC, she studied religion and broadcast journalism (majoring in sports). She also covered various sports teams from the institution famously known as The Trojans. Additionally, she served as a reporter for the school's TV station known as Annenberg TV.
How She Got into Sports Journalism
Hersch came third in a nationwide student broadcast competition and graduated in 2009. On leaving college, Jamie Hersch joined a local TV station (WKOW-TV) in Madison Wisconsin where she served as a sports anchor and reporter. She spent four years with them and received an award from the Wisconsin Broadcasters Association.
Hersch moved to Fox Sports North in February 2013. She was stationed in her home state of Minnesota and covered the various professional teams in the state such as Minnesota Wild (NHL) and Minnesota Twins (MLB). She also picked up a second gig in September 2015, covering various sports for the Big Ten Network.
Is She Married, Who is Her Husband?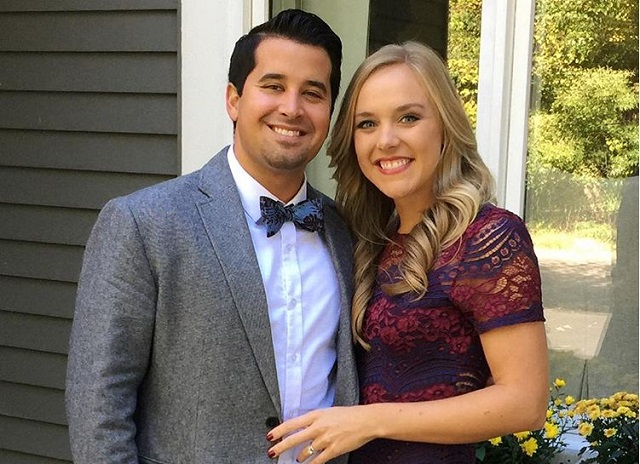 Jamie Hersch is very much off the market. She is married to her college sweetheart named Matt Q. Burkhard. They got engaged in 2011 and tied the knot in June 2012. Burkhard is an alumnus of USC where he studied kinesiology. He works as a senior alliance manager for Flatiron Health. Flatiron Health is a New York-based tech firm. It produces software that assists cancer patients by linking them with needed resources such as oncologists, hospitals, researchers, etc.
Jamie Hersch regularly celebrates her husband, as well as her maiden family, on her social media accounts. She and her husband do not have any kids yet but have plans of having them in the future.
Jamie Hersch's Salary and Net Worth
Jamie Hersch has a net worth estimated at $1 million. With regard to her salary, she has not publicly disclosed that. However, sources estimate put the average salary of a Fox reporter at $60,000 per annum. Hersch is no longer with Fox but currently works for the NHL and the MLB Network. She joined the network in 2015 and covers baseball and ice hockey. She also hosts some programs on the network including On the fly (covering highlights in hockey) and Quick Pitch (covering the day's highlights in baseball). Given the fact that she is not just a reporter but anchors her own show, there is no doubt that her salary will be significantly high.
Height
Jamie Hersch is of average height as she is 5 feet 6 inches tall (1.6m). Her weight is not publicly listed but a mere glance at her will reveal that she has a slim build. One cannot deny the fact that Hersch is quite gorgeous. As such, many would expect that professional athletes ask her out regularly. She has however revealed that they are quite respectful. She also disclosed that the fact that she is married helps to keep them at bay.