The romantic relationships that celebrities have are usually highly scrutinized by the public, which is either made up of their fans or of people who are just simply curious about them. These romantic relationships are usually considered a high profile affair when both of the participants in the relationship are individually popular. This was the case for Jamie Mazur and Alessandra Ambrosio. They were together for almost 10 years before their split, find out what really happened to the lovebirds.
Who Is Alessandra Ambrosio?
Alessandra Corine Maria Ambrosio is a model with Italian and Polish ancestry who was born on the 11th of April, 1981 in Brazil to Lucilda and Luiz Ambrosi, she is the first child of her parents and has only one sibling, Aline, who is her younger sister. The decision to become a model was one she made while she was a child of twelve.
Ambrosio once has plastic surgery to pull back her ears which she has always been insecure about but two years after having the surgery, she suffered extreme complications. These complications have deterred her from having further plastic surgery.
As a model, she has worked with major fashion brands like Gucci, Oscar de la Renta, Christian Dior, Revlon, Louis Vuitton, and many other brands. The model has also graced the front covers of a number of fashion magazines, such as Vogue, Elle, GQ, Harper's Bazaar, and many more. Her career in the fashion industry is not limited to just modeling as in 2004 she released her own collection of swimwear. Ambrosio's biggest achievement in her career as a model has been the work she did with the lingerie fashion line, Victoria's Secret.
Ambrosio's career has not been limited to just the runway and the front pages of magazines, she has appeared in movies and television shows, and has also had her own line of swimwear. She also works with the National Multiple Sclerosis Society and is as an ambassador for the society.
Who Is Jamie Mazur?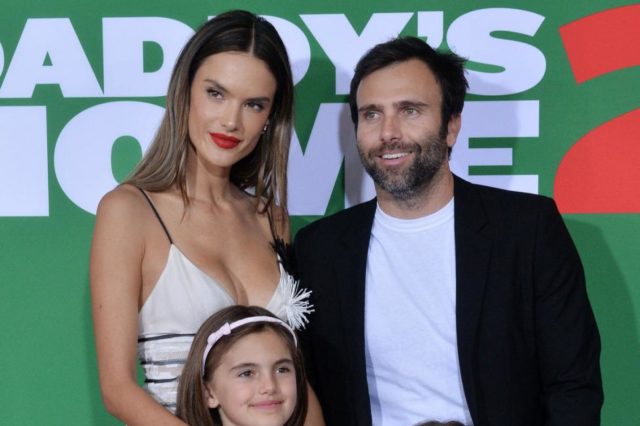 Jamie Mazur is an entrepreneur who is believed to be worth $30 million, he was born in California on the 11th of April, 1981; yes, he shares the same birthday with Ambrosio.
Of the two, he is the lesser known person but the more successful one and this is because of the business he runs. He is the founder of the company Underground Denim and the co-founder of another clothing company, RE/DONE Jeans. There is not a lot of information about him that is known to the public.
Jamie Mazur and Alessandra Ambrosio Split
Jamie Mazur and Alessandra Ambrosio started to date in 2005, how they met is not known, but it can be speculated that they met in the line of work, as one is a model and the other deals in the sale of clothes. The couple got engaged in 2008, three years after their relationship began. Ambrosio and Mazur found a way to keep their relationship under wraps until they got engaged.
The couple maintained this status for ten years and announced their separation in March of 2018, some sources have speculated that the couple actually broke up in December of 2017 but found a way to keep their break up away from the public until the following year.
See Also: What is John Cena's Current Relationship Status With Nikki Bella, Are They Still Together?
It believed that they broke up because one half of the couple (Ambrosio) was not ready to get married. Jamie Mazur and Alessandra Ambrosio had been engaged for ten years and when Ambrosio had been asked in an interview why they weren't married yet, she said that she was not ready, as she was busy with her work as a model and was waiting for when she had the time to plan the perfect wedding. By 2017 when she stopped working with Victoria's Secret, Ambrosio got the time she had asked for, but this was the same year the couple split up.
All of this is just speculations as none of the pair have spoken up yet on why they decided to end their relationship of over a decade.
They have maintained a friendly and cordial relationship and are still co-parents to their children, a daughter named Anja and a son, Noha. Anja was born in 2008, the same year they got engaged while their son was born four years later in 2012; the two children were born in Ambrosio's native country of Brazil.