Fans of the National Football League (NFL) should be familiar with one of the most popular NFL reporters in America, Jane Slater. She works as an on-air host and commentator for the NFL Network. Before clinching the job, the journalist had the wonderful privilege of covering the College Football Bowl Games and College World Series for the ESPN and SEC Networks.
Although interest in the NFL reporter might be growing in recent years, Slater is not new to the industry. She has been a journalist for over 16 years, covering the most important stories in sports. Her longevity comes from a resolution to overcome all adversity since she graduated from college in 2003.
Jane Slater's Grandfather Set Her on the Path to Journalism
The NFL reporter was born in Rowlett, Texas, on the 7th of November 1980. She is the oldest child of her parents and has a younger brother and sister. Jan has always been appreciative of her parents' support and unending affection. She usually expresses her gratitude through her social media posts.
She has also hinted that her grandfather, Ray Shockley, has been her greatest source of inspiration. Although he never acquired a college degree, he was able to become Wolf Brand Chili's President. Also, Slater stated that her grandfather tutored her on the significance of pursuing her dream. According to her, he encouraged her emotionally and financially to acquire higher education.
Speaking of her education, Jane Slater received her basic education from Rowlett High School. She later attended and graduated with a double major in Journalism and Government from the University of Texas.
Her Career Began on Radio Before She Moved to Television
Jane Slater kick-started her career in journalism as a radio personality before becoming a widely recognized sportscaster. She started as a sales executive at KRLD News Radio in August 2003. Jane remained with the radio station for almost a year before landing another job at KYTX CBS19 in August 2004. There, she gained experience in what it takes to thrive as a reporter for two years.
At KYTX CBS19, Jane was a general reporter, and she continued in this role after joining KMGH TV in December 2006. She served as the TV station's reporter for four years before finally landing a sports journalism work at CBS11 situated in Dallas, Texas. At CBS11, Slater worked as a sports anchor and reporter for one year. She started as a reporter in 2009 but began working as an anchor in October 2013.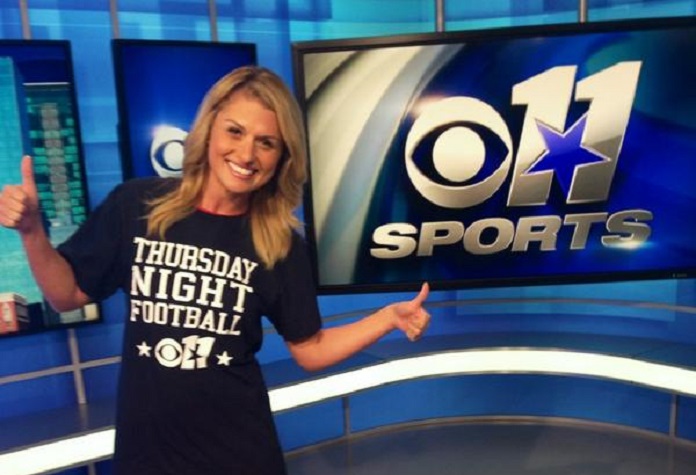 During Jane's time at CBS11, she returned to radio briefly, as the co-host of the radio talk show, Elf and Slater, on KRLD-FM 105.3 in Dallas. She also had side gigs covering various Dallas sports teams as a reporter for WFAA and KTVT.
As a result of her excellent reportage and impeccable work ethics, she drew the attention of one of the biggest sports networks in the world, ESPN. In September 2014, she joined the premier sports media outlet as a studio host and reporter for Longhorn Network.
As such, she covered regional sports with a primary focus on the Texas Longhorns varsity sports teams. As part of her work under the banner of ESPN, she also covered major events like the College World Series and the College Football Bowl Games.
The NFL Network Took Jane Slater to National Television Status in 2016
Working for ESPN under Longhorn Network and SEC Network, Jane Slater's coverage and reporting focused on regional sports. That ended in August 2016 when the quality of her work for the media outlet helped her secure a role as a reporter for the NFL Network.
With the NFL Network, Jane went from being a regional sports reporter to a national figure, covering stories that are relevant to NFL fans around the country. With the NFL media outlet, Jane has worked as an on-air host and commentator. She has also worked on other media platforms of the network.
Her work has been featured on NFL Now, NFL.com, and NFL Networks Inside Training Camp Coverage. Since 2016, she has reported on big stories involving the Dallas Cowboys and other major teams in the NFL.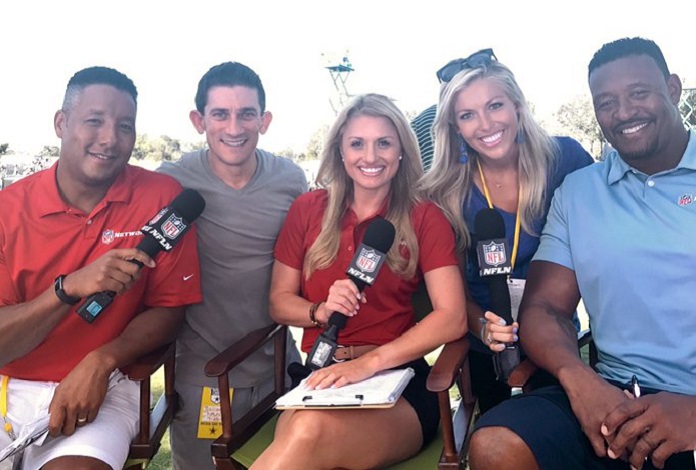 Because she is a reporter based in Dallas, Jane Slater also hosts a podcast titled The Boys & Girl for FOX Sports Radio. She hosts the podcast alongside NFL Network field producer, Bobby Belt. They discuss stories surrounding the Dallas Cowboys and share insider opinions and development of the team.
The Journalist Has Never Been Married
Although Jane Slater is a media personality, she has kept every of her personal life details private and far from the media. One could only get a glimpse into her love life through her Twitter posts, though sometimes they can be confusing. In 2013, the National Football League reporter disclosed on Twitter that she had found her soul mate, without revealing the identity of the person.
Similarly, in 2014, she tweeted about listening to 1980s music with her boyfriend in a car. Still, she did not reveal her boyfriend's identity. Though she occasionally makes vague posts about her love life, one thing that seems clear enough is that the sports journalist is not married.
She attends a yoga session, Vinyasa Classes, almost four to five times a week. She also loves to keep herself busy with the Anita Diamant book entitled The Red Tent.
Fitbit Once Exposed the Infidelity of Her Ex-Boyfriend
In February 2020, when a Peloton Ad sparked controversy on Twitter, it unwittingly gave NFL fans further insight into Jane Slater's love life. In her comment on the controversy, she revealed that she once got a Fitbit for Christmas from an ex-boyfriend.
She loved it a great deal until it helped her discover he was cheating. Their synced data revealed his physical activity levels spiked around 4 am, and he was not getting a regular workout at the time.
An Ex Boyfriend once got me a Fitbit for Christmas. I loved it. We synched up, motivated each other… didn't hate it until he was unaccounted for at 4am and his physical activity levels were spiking on the app 🥴wish the story wasn't real. https://t.co/npRkLJYYz0

— Jane Slater (@SlaterNFL) December 5, 2019
Aside from the cheating ex, the tweet revealed she had dated at least one other person. Those who knew of their relationship bombarded him with texts regarding the cheating allegation, but it turned out it was not him. In a tweet, Jane cleared up the confusion and said they parted ways over bad timing.