We are often admonished not to judge people by appearances and one person that is a good instance of this advice is Janeane Garofalo. Physically, she is petite but mentally she packs a punch with her acerbic wit that has made her a force to be reckoned with in Hollywood.
As an actress, Garofalo has appeared in many movies and TV series, including Reality Bites, Mystery Men, Wet Hot American Summer, 24, and Criminal Minds among others. As a comic, she has supplied her deadpan dry humor to several successful TV shows, including The Larry Sanders Show.
The indefatigable Garofalo is also an outspoken progressive political activist who does not shy away from contributing her two cents to burning issues in her country.
Her First Brush with the Art of Comedy
Janeane Garofalo was born on the 28th of September 1964 in Newton, New Jersey. Her dad, Carmine Garofalo, was a high ranking executive at Exxon while mom, Jane Garofalo, was a secretary in the petrochemical industry.
Janeane grew up in several far-flung places, including New Jersey, California, and Texas. She completed her education at James E. Taylor High School in Katy, Texas in 1982 before proceeding to Providence College, a private Catholic college in Rhode Island. While there, she studied history and American Studies and graduated in 1985.
Garofalo's comic talents began to manifest at a young age and by the time she was in college, she won a comic talent hunt organized by a TV station. After graduating from college, she pursued a career in stand-up comedy, performing at various clubs. It wasn't easy and she had to work various odd jobs (bike messenger, shoe salesperson, etc) just to be able to make ends meet.
Janeane Garofalo's Glory Days on The Ben Stiller Show and The Larry Sanders Show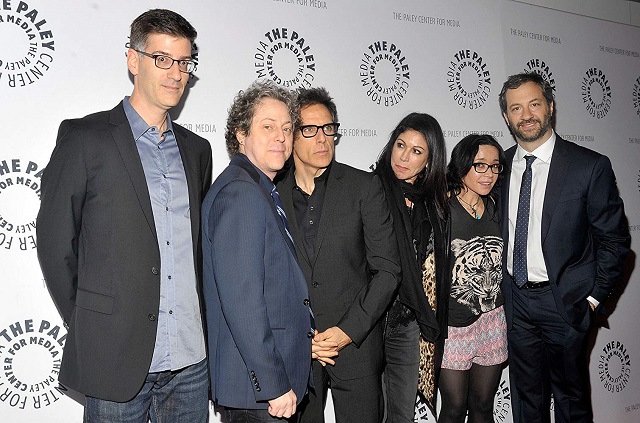 Janeane Garofalo got her well-deserved breakthrough in 1990 following a meeting with comedian and actor, Ben Stiller. The meeting yielded her first TV appearance which was on The Ben Stiller Show in 1992. Despite the fact that the sketch comedy series was short-lived, Garofalo did enough to make a name for herself.
She would later appear on SNL between 1994 and 1995 and after that, she moved to the HBO sitcom, The Larry Sanders Show, which revolved around the quirky ongoings at a fictional late-night talk show, its host, staff, and celebrity guests. The sitcom featured stand-up comic Garry Shandling in the leading role while Garofalo portrayed a talent booker named Paula. Her character was notable for her cynical nature and she went on to appear on the show for five seasons. During this period, she scored some award nominations and also rose to become a household name.
Following the end of The Larry Sanders Show, Janeane Garofalo went on to feature on other comic shows such as Seinfeld, TV Nation, and News Radio. She has also continued touring as a stand-up comic and this has seen her crisscross the length and breadth of America.
A Look At The Movies Garofalo Has Featured In
Away from comedy, Janeane Garofalo is also an accomplished actress who has made waves on both television and in movies as she has featured in no less than 110 projects. The comic's most popular works include Reality Bites, The Matchmaker, Cop Land, Clay Pigeons, Mystery Men, Sweethearts, Clay Pigeons, Dogma, The West Wing, 24, Girlfriends' Guide to Divorce, Inside Amy Schumer, and The Truth About Cats and Dogs.
The Truth About Cats and Dogs is a 1996 rom-com about Abbey, a radio jockey, who decides to send her more beautiful friend, Natalie, on a blind date with a guy that she fancies named Brian. Both ladies end up falling for Brian, and this causes friction, but he and Abbey end up together at the end of the day. The Truth About Cats and Dogs featured Garofalo as Abbey while Uma Thurman portrayed the role of Natalie. The movie was a resounding success, both commercially and critically, and Garofalo was singled out for praise for her confident leading performance.
The Accolades She Has Received As Well As Her Legacy
Janeane Garofalo received two Primetime Emmy nominations in 1996 and 1997 for outstanding supporting actress in a comedy series for her role as Paula in the sitcom, The Larry Sanders Show. She did not win either but that has not stopped her from entrenching herself as an iconic figure in Hollywood.
The comic is often referred to as an icon of Generation X and this is thanks to her role in the cult movie, Reality Bites. The film expertly captured the life and career challenges faced by young people in the 90s and it was a big hit.
Another undeniable part of Garofalo's legacies is her reputation as an outspoken liberal political activist. She actively campaigned against America's eventual invasion of Iraq in 2003, taking part in the Code Pink Anti-War march as well as the Tell Us the Truth Tour.
The Gist Behind Janeane Garofalo 20-Year Marriage That She Knew Nothing About
Janeane Garofalo was married to Big Bang Theory producer Rob Cohen for 20 years without either of them realizing it. Back in 1991, the duo got married at a drive-thru chapel in Las Vegas while they were both drunk. They were dating prior to that 'incident' and broke up shortly after it. They thought the marriage was not legal, since they didn't file the paperwork at the local courthouse, and went their separate ways.
When Cohen was planning to get married to TV producer Jill Leiderman in 2012, his lawyers discovered that he was still legally hitched to Garofalo. Both parties had the marriage annulled in a simple process before a notary public. Garofalo later spoke about the whole event during a reunion for The Ben Stiller Show at the New York Comedy Festival. The actress revealed that she and Cohen believed that the marriage wasn't legal given the fact that they never bothered to go down to the courthouse to sign papers. The opposite however turned out to be the case and it had to be sorted out.
See Also:  Wanda Sykes – Biography, Wife, Kids and Family, Net Worth, Is She Gay?
The True Love of Her Life
For several years, many people have pegged Janeane Garofalo as gay but this is wrong as she identifies as asexual – an individual who has low interest and desire for sexual activity. It is different from celibacy. While the latter is a lifestyle choice, the other is a sexual orientation much like homosexuality or heterosexuality.
Meanwhile, the fact that someone is asexual does not mean that they lack emotional needs. They still need emotional companionship and oftentimes engage in long term partnerships which is the case with Janeane.
The comic star and actress has been in a relationship with a man named Pete Caldes for more than 15 years. Pete is a drummer and plays for a band known as The Gravel Pit. They have dropped about six albums, including Serpent Umbrella, Silver Gorilla, and Crash Land. Going by Garofalo's own admission, she and Peter have been together since 2000 and maintain a sexless relationship. She, therefore, describes their relationship as 'close but not romantic'.