Janeane Garofalo is an American actress and stand-up comedian. Known for her sharp wit, Garofalo has appeared in many movies and shows including Reality Bites, Mystery Men, Wet Hot American Summer, The Larry Sanders Show, 24, Criminal Minds, etc. She is also an outspoken progressive political activist which is ironic given that she was raised in a conservative home. Get to know more about her childhood, husband and net worth.
Janeane Garofalo – Childhood and Bio 
Janeane Garofalo was born on the 28th of September 1964 in Newton, New Jersey. Her dad, Carmine Garofalo was a high ranking executive at Exxon while mom, Jane Garofalo, was a secretary in a petrochemical industry. Garofalo has Irish-Italian origins and hailed from a conservative Roman Catholic home. She grew up in several far-flung places including New Jersey, California, and Texas. She completed her education at James E. Taylor High School in Katy, Texas in 1982 before proceeding to Providence College, a private Catholic college in Rhode Island. While there, she studied history and American Studies and graduated in 1985.
Her comic talents became manifest at a young age and by the time she was in college, she won a comic talent hunt organized by a TV station. On graduating from college, she pursued a career in standup comedy, performing at various clubs. She struggled for years and had to work various odd jobs (bike messenger, shoe salesperson, etc) just to be able to pay her rent.
The comedian got her well-deserved breakthrough in 1990 following a meeting with comedian and actor, Ben Stiller. The meeting yielded her first TV appearance which was The Ben Stiller Show in 1992. Despite the fact that the show was short-lived, Garofalo had already made a name for herself. She went on to appear on SNL between 1994 and 1995. After that, she moved to the HBO sitcom, The Larry Sanders Show where she became a household name, thanks to her character as the short, cynical Paula.
From comedy, Janeane Garofalo diversified her career and started acting (both movies and TV) with tremendous success. Some of her most popular works include Reality Bites, Wet Hot American Summer, The Matchmaker, Cop Land, Clay Pigeons, and Dogma, The West Wing, 24, Girlfriends' Guide to Divorce, Inside Amy Schumer, etc.
Life Achievements
Janeane Garofalo received two Primetime Emmy nominations, in 1996 and 1997, for outstanding supporting actress in a comedy series for her role as Paula in the sitcom, The Larry Sanders Show. Additionally, Garofalo is often referred to as an icon of Generation X, thanks to her role in the cult movie, Reality Bites. The film expertly captured the life and career challenges faced by young people in the 90s and was a big hit.
The comic is also an outspoken liberal political activist. She actively campaigned against America's eventual invasion of Iraq in 2003, taking part in the Code Pink Anti-War march as well as the Tell Us the Truth Tour.
Net Worth
Garofalo's net worth is currently estimated at $10 million. She made the bulk of her income from her work in movies and TV shows as well as her career as a stand-up act; she has performed at numerous venues in America and even beyond. Other sources of income include royalties from her bestselling book, Feel This Book: An Essential Guide to Self-Empowerment, Spiritual Supremacy, and Sexual Satisfaction. The 1999 book, which she co-wrote with long-time friend and collaborator Ben Stiller, ridicules the many self-help books which were common at that time.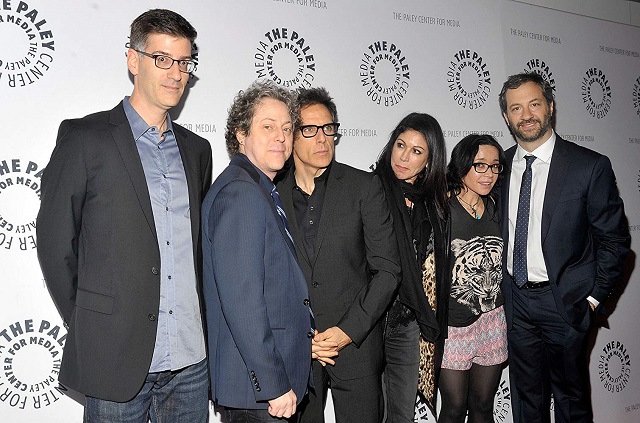 Husband
Janeane Garofalo was married to Big Bang Theory producer, Rob Cohen for 20 years without either of them realizing it! Back in 1991, they got married at a drive-thru chapel in Las Vegas while they were both drunk. They were dating prior to that 'incident' and broke up shortly after it. They thought the marriage was not legal since they didn't file the paperwork at the local courthouse and went their separate ways.
See Also: Wanda Sykes Biography, Wife, Kids and Family, Net Worth, Is She Gay?
When Cohen was planning to get married to another person in 2012, his lawyers discovered that he was still legally hitched to Garofalo. Both parties had the marriage annulled in a simple process before a notary public. Garofalo at present has a longtime boyfriend whom she has dated for more than 15 years. His name is Peter Clades. She, however, describes herself as asexual, meaning that she has low interest and desire for sexual activity. She describes her relationship with Peter Clades as 'close but not romantic'.