The broadcast journalism industry is not for the faint-hearted. It requires persistent hard work and determination. One media personality that has exhibited this in spades is none other than Janelle Hall. A native of Oil City, Pennsylvania, Hall spent her first few years as a journalist grinding it out at various local TV stations in Ohio and Indiana
From that humble beginning, she has risen to become an award-winning anchor for ABC-affiliated station, WTAE, in Pennsylvania. In her capacity, she has brought tragic breaking news items as well as heart-warming human interest stories to the good people of Pennsylvania. This perfect blend of content has turned her into a celebrity as well as a trusted and reliable news source.
Her Days as a Radio DJ and Reporter
The exact year Janelle Hall was born is not available on records. She however celebrates her birthday on the 30th of May every year and is a native of Pittsburgh, Western Pennsylvania, which makes her an American who is of white ethnicity.
Janelle Hall spent her formative years in Oil City and obtained her diploma at Oil City High School. During her high school days, she was quite passionate about two things namely the game of basketball as well as journalism. With regard to the former, she often visited the local YMCA to compete with the boys. She also played for her school and still holds the record for three-pointers and assists.
When it came to journalism, the young Janelle spent most of her summer breaks working for local radio stations such as WFRA-FM and WRJS-FM. One of her most memorable assignments was when she was tasked to interview Olympic gold medallist/WWE wrestler, Kurt Angle. During the interview, it turned out that Hall's recording equipment was not working. Fortunately for her, the gracious Kurt agreed to record the interview over a payphone and she was still able to tape it.
Experiences like this made Janelle Hall fall even more in love with journalism and when the time for college around, she knew what she wanted to study. Hall attended Kent State University where she majored in broadcast news and minored in criminal justice. She also played as a shooting guard for the Amateur Union (AAU) Pittsburgh Bruins, competing in the AAU National Tournament in Florida, and graduated in normal time.
Her Career Odyssey from Cleveland to Pennsylvania
Upon graduating from college, Janelle Hall set her sights on making her mark in the TV broadcast world. She immediately joined PBS 45/49 Ohio as an anchor for their educational program and from thereon, moved to a Cleveland cable station where she anchored a health show.
Having spent quite some time in the state of Ohio, Janelle Hall sought a new environment as well as new challenges. She found this at WJET, an ABC-affiliated in the state of Pennsylvania. While at a WJET, Hall served as a reporter. She subsequently moved to WNDU, South Bend Indiana, where she also worked in a similar role.
In September 2004, Janelle Hall joined WTAE-TV, a virtual channel 4 station that is affiliated to ABC and situated in Pittsburgh. She initially started out as their general assignment reporter but subsequently worked her way up to weekend morning anchor after just two years. In 2012, the Oil City native got another promotion as she was appointed the traffic and breaking news anchor for the station's flagship morning program.
In her nearly-two decades run at WTAE, Janelle Hall has covered a diverse range of issues, some of which have been downright tragic. For instance, on the 4th of April 2009, a heavily-armed man gruesomely murdered three Pittsburgh cops in cold blood. Hall and her team spent several hours bringing the unfolding events to the people as well as providing reassurances.
It has however not been all doom and gloom on the job for Hall. In August 2017, she covered the story of a young girl, Cassie, who had garnered viral attention after singing Miley Cyrus's song, The Climb, during a school recital. The performance even caught the attention of the singer and her team sent off an autographed tee to the girl, all of which was captured by Hall and her team.
Morning show promo day @WTAE!
I feel very blessed to get to wake up everyday & work with… https://t.co/iMuqprsOVV pic.twitter.com/0dcqFbH6uf

— Janelle Hall (@JanelleHallWTAE) August 22, 2016
Some of the Awards that Janell Hall has Received in the Course of her Career.
The Kent State alum received The Indiana Society of Professional Journalists award for Best Investigative Reporting for her undercover investigative report on pirated products like illegal DVDs and CDs sold on the streets. She was also rewarded with the SPJ award for her spot news feature reporting and coverage of minority issues. Hall has also earned a national William Randolph Hearst journalism award for feature writing.
This multiple award-winner meanwhile has a charitable heart. She regularly volunteers for the Big Brothers and Big Sisters program (a community-based mentoring program that matches less-privileged teens with well-educated adult mentors). She is also a member of the St. Anthony Charitable Foundation Board.
The Impact Her Grandfather made on Her
Congratulations to my sister, Brea for launching her brand new blog the @ThinkingBranch!https://t.co/Rtg9AsVLzo pic.twitter.com/kdq39w8dhM

— Janelle Hall (@JanelleHallWTAE) April 19, 2016
Even though details about Janelle Hall's family background are sketchy, it is known that she has a much-beloved younger sister named Brea. Brea is a professional photographer as well as the godmother of Hall's first child, Austin. Another person that Hall dearly loved in her family was her grandfather. Her grandpa was a basketball coach and this influenced her love for the game.
The old man was also a World II veteran who had stoutly refused to share the horrors he encountered in the army. He however relented to sharing his story with his granddaughter, including the time he was nearly shot to death at the battle of Normandy, and she made it into a documentary during her college days. The WWII vet got to watch the documentary and passed away shortly after that.
Finding Love after Divorce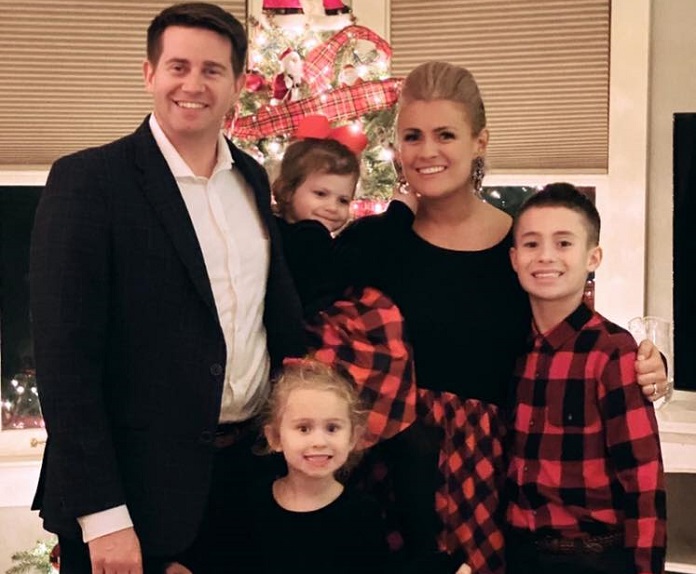 The demands of the broadcast industry often leave its personalities with little or no time for other activities with the result that many of them often end up single. Janelle Hall has however been lucky in this regard as she has been married twice.
The WTAE anchor's first marriage was to her college sweetheart, named Casey Ellis. Ellis is also athletically-inclined and played college baseball for Kent State. He later graduated and became a personal trainer in Pittsburgh. The marriage between Janelle and Ellis lasted for several years and produced a son named Austin joseph. The two sadly couldn't keep up to their marriage vows and called it quits. To date, no one knows the exact reasons behind their separation.
Sometimes, in 2011, Hall tied the knot with John Meyer who was her colleague at WTAE. The couple has remained together to date and share two beautiful daughters together; Addison Elyse (2015) and Ashlyn Breanne (2017). The happy family can often be spotted at several outdoor festivals and local events.