Janelle Hall's contributions as a WTAE reporter is countless. She joined the radio station as a general assignment reporter and has been promoted in the subsequent years because of her hard work and diligence. She has been married twice and is a mother of three. Read on to find out more about Janelle Hall.
Janelle Hall's Biography (Age)
The exact year Janelle Hall was born is not available on records, however, she celebrates her birthday on the 30th of May every year. She is a native of Pittsburgh, Western Pennsylvania which makes her an American who is of white ethnicity. The reporter was born to American parents whose names are still undisclosed and has a sister, Brea, who is doing well as a photographer.
As a student at Oil City High School, Janelle was quite passionate about the game of basketball and often visited YMCA to compete with the boys. In fact, she still holds a record for three-pointers and assists at the school. Well, she developed an interest in the game of basketball after several years of watching her grandad who was a basketball coach. In fact, her granddad also influenced her dad to pursue a career in sports as a referee.
Janelle Hall subsequently proceeded to Kent State University majoring in broadcast news and a minoring in criminal justice. She also played as a shooting guard for Amateur Union (AAU) Pittsburgh Bruins.  While as a college student, Janelle recorded a documentary regarding her grand dad's experience with World World II. He was well involved in the war and was a fighter. After a few months of watching the documentary with his family, he passed on.
Career
Janelle Hall joined WTAE-TV sometime in September 2004. WTAE-TV is a virtual channel 4 station, affiliated to ABC-television station. She began working as a general assignment reporter but was subsequently promoted to weekend morning anchor.
On the morning of April 4, 2009, Hall covered the shooting of three Pittsburgh policemen who were gruesomely murdered by heavily armed men. With the morning team, she often delivered important breaking news as well as traffic reports.
It is interesting to know that Hall's journalism career started with her days at WFRA-FM and WRJS-FM at the age of 16. After that, she also worked as a reporter for WNDU in South Bend, Ind. and WJET. She also served as an anchor for a health show on a Cleveland cable station and also anchored an educational show on PBS 45/49 in Ohio.
The Oil City High school graduate received The Indiana Society of Professional Journalists award for Best Investigative Reporting for her undercover investigative report on pirated products like illegal DVDs and CDs sold on the streets. She was also rewarded with the SPJ awards for her sports news reporting and also earned a national William Randolph Hearst journalism award for feature writing.
Janelle Hall has a charitable heart; she alongside her father, work as volunteers in the Big Brothers and Big Sisters program. She is also a member of the St. Anthony Charitable Foundation Board.
Salary and Net Worth
According to Payscale, the average pay for a reporter is $13.58 per hour and the average pay for a reporter is $40,449 per year. Janelle Hall has covered lots of stories for the few radio stations she has worked with. Though the exact figure of her salary and net worth are not readily available, it is no doubt that her career earnings have sure paid off her bills.
All You Need To Know About Janelle Hall
Marriage and Kids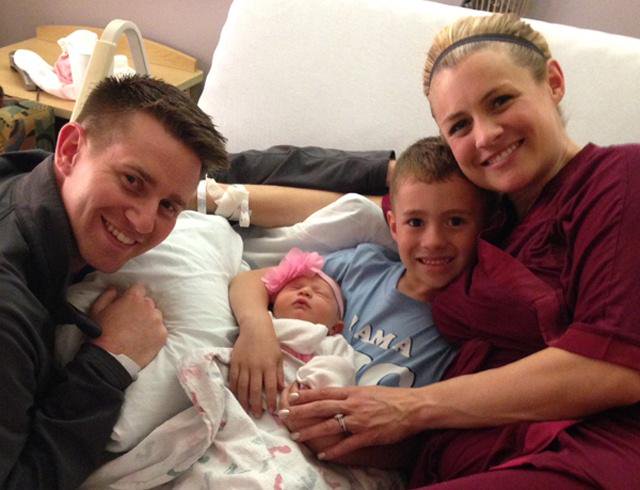 Janelle has been married twice. She was once married to Casey Ellis and had a son, Austin Joseph, with him. The two couldn't keep up to their marriage vows and called it quits. Till date, no one knows the exact reasons behind their separation.
Then, sometime in 2011, Hall tied the knots with John Meyer who was her colleague at WTAE. They share two beautiful daughters together; Addison Elyse (2015) and Ashlyn Breanne (2017).
See Also: Dan Greiner – Bio, Net Worth and Facts About Lori Greiner's Husband
Body Measurements
Talking about her physical appearance, Janelle Hall possesses blonde hair, is fair skinned and has green eyes. She is a fitness addict and she practices yoga. Despite being a mother of three, she has maintained her hot body physique. Other details of her body measurements are not readily available.