Janet Jackson is the last child of the famous first family of Soul, the Jacksons. The talented multi-award winning singer, songwriter, dancer, and record producer is in every right, regarded as one of the greatest female musicians of all time.
Miss Jackson, who is also an actress, a film producer, a philanthropist, and an author, is one of three pop artists to have number 1 albums in each of the last four decades. She is best known for songs like "Nasty", "That's the Way Love Goes", "Rhythm Nation", and "All for You".
Early Life and Career
Janet Jackson was born Janet Damita Jo Jackson to Katherine Esther and Joseph Walter Jackson on May 16, 1966, in Gary, Indiana. Like her older siblings, Jackson was destined for a career in the entertainment industry. She began performing on stage at the young age of 7 alongside her immediate older brother, Randy Jackson, at the family's Las Vegas Strip show.
By 1976, she began her acting career, starring in the family's variety television show called The Jacksons. Her performance got the attention of Hollywood producers, with one casting her to play the role of Penny in the TV comedy series 'Good Times' (1977-79). She went on to appear in the short-lived ABC sitcom 'A New Kind of Family' (1979), before getting a recurring role as Charlene Duprey on the sitcom 'Different Strokes' (1984-85) and then in 'Fame' (1984-85).
During this time, Janet Jackson attended public school in Encino, California where the family had moved to from Indiana because of their children's show business careers. She later switched to Valley Professional School from where she graduated in 1984. Also, by this time, Jackson's father who served as his kids' manager had negotiated a singing contract with A&M Records.
In 1982, she released her self-titled debut album which peaked at No. 63 on the Billboard 200. Two years later, in 1984, Janet Jackson released her sophomore album titled 'Dream Street' which reached No. 147 on the Billboard 200.
By 1986, Jackson broke off business ties with her father and teamed up with producers Jimmy Jam and Terry Lewis who helped her come up with her third but first major successful album called 'Control'. The album sold over ten million copies worldwide and got to the number 1 spot on the Billboard 200. It further earned her three Grammy nominations, six Billboard Awards, and four American Music Awards from twelve nominations.
In September 1989, she released her fourth album, 'Rhythm Nation 1814' which also shot to the number 1 spot on the Billboard 200 but did better than her previous one in sales and awards, selling over 12 million copies worldwide and winning a record fifteen Billboard Awards. She continued to enjoy success with her fifth studio album, 'Janet' which was released in 1993 under the Virgin Records imprint. It debuted at the number one spot on the Billboard 200 chart and sold over 14 million copies worldwide.
That same year, Janet Jackson made her film acting debut in the romantic-drama Poetic Justice alongside rapper Tupac Shakur. In 1995, she released her first compilation album, 'Design of a Decade: 1986–1996' before releasing her sixth full body of work, 'The Velvet Rope' in October 1997 which again debuted at number 1 on the Billboard 200 chart and sold over ten million records worldwide.
In 2000, she appeared in her second film 'Nutty Professor II: The Klumps' before releasing her seventh album, 'All for You' a year later. Janet Jackson has gone ahead to release four more albums, with the latest being 'Unbreakable' in 2015 which became her seventh No. 1 album.
Janet Jackson Net Worth
Janet Jackson has an estimated net worth of $175 million which she made mostly from her foray into the music industry. Jackson was twice the highest-paid recording artist in history, thanks to her two contracts with Virgin Records. She also made a lot of money through her very successful world tours.
Who Are Her Siblings?
Janet Jackson is the last of ten children born to her parents. Her siblings, in order of birth, are Maureen Reillete Jackson (AKA Rebbie), Sigmund Esco Jackson (AKA Jackie), Toriano Jackson (AKA Tito), Jermaine La Jaune Jackson, La Toya Yvonne Jackson, Marlon David Jackson, late Brandon Jackson (died), Michael Jackson(died), and Steven Randall Jackson (AKA Randy).
Read Also: Is Macaulay Culkin Dead Or On Drugs? Net Worth, Brother, Siblings, Wife, Gay
Who Is Her Husband or Did She Divorce?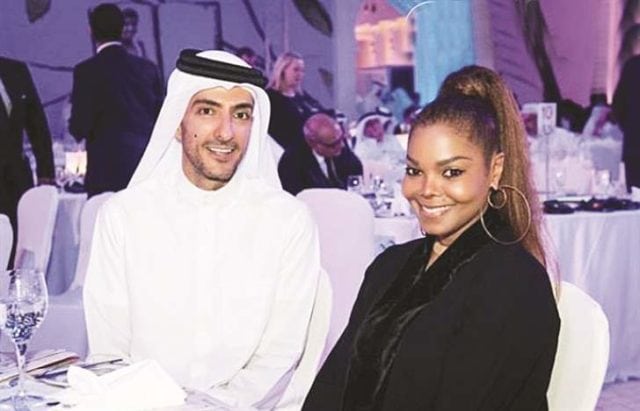 Janet Jackon was first married to Motown Records singer James DeBarge whom she eloped with in 1984. The marriage was however annulled a year later. Her second marriage was to dancer and music director Rene Elizondo Jr. who also served as her manager. Although the two were publicly known to be romantically involved, their marriage was not known to the public until they divorced in 2000.
After a decade-long relationship with rapper Jermaine Dupri, Jackson married Qatari businessman Wissam Al Mana in 2012. The marriage lasted just five years as the couple announced in April 2017 that they were getting a divorce.
Does She Have Any Daughter or Son?
On January 3, 2017, Janet Jackson welcomed a son with her Qatari husband. The boy was named Eissa Al Mana.
There are rumours that Jackson had a daughter when she was eighteen years old with her first husband James DeBarge. The girl, whose name is Tiffany Whyte, has accused Jackson of abandoning, neglecting, and leaving her with DeBarge's mother to bring her up. Neither Janet Jackson or her representatives have chosen to comment about this.
Her Height, Weight and Other Facts
Birth Name: Janet Damita Jo Jackson
Date of Birth: May 16, 1966
Place of Birth: Gary, Indiana, U.S.
Occupation: Singer, Songwriter, Dancer, Actress, Record and Film Producer, Businesswoman, Philanthropist, Author
Height: 5 feet 4 inches (1.63 m)
Weight: 58 kg