Within the Wisconsin district, Janna Ryan is perhaps a popular figure but beyond that, many are unfamiliar with the name. Though Janna has an impressive résumé, she is best recognized as a congressional spouse whose husband Paul Ryan has served in the U.S. House of Representatives no less than seven tenures. An attorney turned a stay-at-home mom, Janna has deep political roots but consciously prefers to remain out of the political limelight. Moreover, Janna shares common interests with her husband which is perhaps one of the secrets to their long-lasting marriage of over two decades. Take a look at her life, family, and career.
Janna Ryan Biography  
Janna Ryan (nee Little) is a native of Oklahoma born in 1969. She is one of the three daughters born to Dan and Prudence Little. Together with her two sisters Dana and Molly, she was raised in Madill. For her academic endeavours, there is a scarcity of information about Janna's elementary studies, but for her tertiary education, she first studied Spanish and graduated summa cum laude from Wellesley College. Janna later proceeded to bag a law degree from George Washington University Law School.
Career
After graduation, Janna Ryan began practicing the legal profession in Washington as a tax attorney and corporate lobbyist across various sectors of the economy including finance, oil, health, and the tobacco industries. Some of her notable clients at the time were big and multi-national firms such as PriceWaterhouseCoopers (PwC), Novartis, The Cigar Association of America, Williams & Jensen, United Parcel Service (UPS), Marathon Oil and many others. Janna had a lucrative legal career until the year 2000 when she married Paul Ryan and relocated to Janesville, Wisconsin.
Marriage to Paul Ryan
It is no news that Janna Ryan is happily married to her heartthrob Paul Ryan. The duo's love journey dates back to the year 1999 when they first crossed paths at Janna's birthday party, thanks to a mutual friend who introduced them. After their first meeting, Janna and Paul soon discovered that they shared common interests and thus established a romantic bond. The couple courted for about a year before deciding to make their relationship official.
Janna and Paul who exchanged marital vows in December 2000 have since expanded their family. Their union has produced three kids, a daughter Elizabeth Anne and two sons – Charles Wilson and Samuel Lowery. A doting wife and mom, Janna Ryan gave up her career and chose instead to be a full-time parent raising her kids.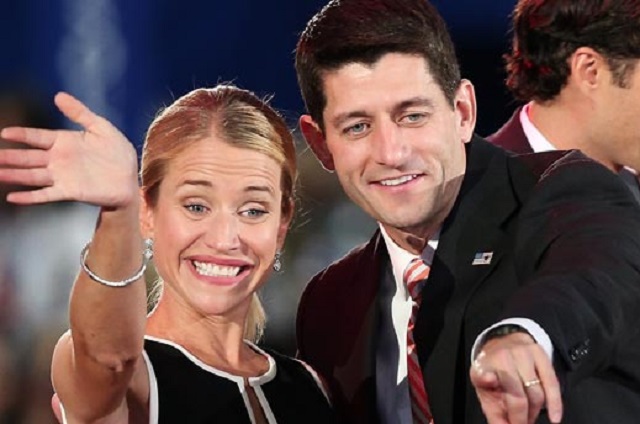 After 20 years of spearheading her family's domestic affairs and supporting her husband's congressional career from behind the scenes, Janna Ryan's parenting workload was reduced. In January 2019, Paul Ryan retired from Congress citing his family as the major reason for the decision. According to Paul, his retirement was necessary in order to set new priorities in life as well as to relieve his wife Janna of the enormous parenting burden she had shouldered over the years.
Net Worth of Paul Ryan's Wife
Besides her career as a tax attorney and corporate lobbyist, it is uncommon knowledge that Janna is a millionaire who inherited a trust fund worth millions of dollars after her mother's death. Janna Ryan's inheritance is reported to have been over $5 million. Despite her financial buoyancy, the stay-at-home mom prefers to remain humble and live an ordinary life.
Other Important Facts About Janna Ryan
Age Difference
Janna Ryan is a year older than her husband Paul Ryan who was born on January 29, 1970. But the couple's bond over the years is yet another proof that love always conquers.
Parents
Janna and her siblings had a decent upbringing as their father Dan was a practicing lawyer in Madill while their mom Prudence was a founding member of the Oklahoma Ethics Commission. Sadly in 2010, Janna Ryan lost her mom to advanced melanoma. Before her death, Prudence had at various times battled with advanced melanoma, breast cancer, and ovarian cancer. It was after her mother's death that Janna inherited the million dollar trust fund.
Political Background
Prior to meeting her husband Paul Ryan, not many are aware that Janna Ryan already had deep political roots. She is from a prominent Democratic family and began promoting liberal causes right from her days at Wellesley College. In fact, she once participated in a march for women's rights at Washington. Janna's grandfather, Reuel Winfred Little is a strong and founding member of the American Party. Again her uncle David Boren was a U.S. senator and later a Democrat governor. Down generational lines, Janna's cousin Daniel David Boren is also a former Democratic congressman. Despite her political background and links, Janna Ryan is a unique congressional spouse who loves to wear her fame lightly.
Hobbies
Besides spending quality time with her kids at home, Janna loves to relax through various fun activities. Growing up in Oklahoma, Janna Ryan picked up a taste for the great outdoors, a common interest she shares with her husband. Paul is an avid bowhunter and catfisher and Janna is known to accompany her husband on his bowhunting trips and tags along on some of his fishing adventures. In fact, it was at Big St. Germain Lake in Wisconsin, which is one of their favorite fishing spots, that Paul proposed to Janna.