Jared Padalecki first became mainstream famous when he starred in the 2000's TV show, Gilmore Girls. In recent years, he has been known exclusively for one thing – Supernatural. The dark fantasy show has been a staple of American television for over 15 years, and along with it, Jared, who plays Sam Winchester, one of the show's two leads.
Supernatural gave Jared's career stability, fame, and wealth, with millions earned from starring in more than 300 episodes of the show. For fans of Jared, these are all things Jared Padelecki deserves for playing one of their favorite characters. We dive into the specifics of it all, starting with his road to the hit show.
Jared Padalecki Gave Up College to Pursue Acting
Jared Padalecki is a native of San Antonio, Texas, United States. He was born on July 19, 1982, into the family of Gerald R. Padalecki, a tax accountant, and Sherri Krammer, an English instructor. Through them, the actor has English, Polish, German, Scottish, and French ancestry.
Padalecki completed his basic education at Madison High School in the year 2000. Similar to his character in the popular show, Jared was academically gifted. He was a candidate for the Presidential Scholars Program in 2000. Also, in 1998, he won the National Forensic League national championship with his partner, Chris Cardenas.
It seemed like life in an academically-driven profession was the path for Jared, and he planned to attend the University of Texas. However, having participated and won Fox Broadcasting's Claim to Fame competition in 1999, he developed a keen interest in acting. In turn, the actor gave up his academic pursuits and moved to Los Angeles County to begin an acting career.
Jared Began Starring in Gilmore Girls Within a Year as an Actor
Claim to Fame not only inspired Jared Padalecki's passion for acting, but it also helped him secure an influential agent who fast-tracked his career in the industry. Unlike many of his peers, he got his first role in 1999, just before high school graduation. He played Matt Nelson in a minor role in the film, A Little Inside.
He made another appearance in the TV movie, Silent Witness, as Sam, before he got cast in his first significant role. Padalecki joined the 2000s hit show, Gilmore Girls as Dean Forester, appearing in a recurring role between 2000 and 2005 across 63 episodes.
During his stint on the Amy Sherman-Palladino show, he made additional appearances in other projects like New York Minute, Flight of the Phoenix, House of Wax, and Young MacGyver. In House of Wax, he starred alongside celebrities like Paris Hilton and Chad Michael Murray. Just after his role in Gilmore Girls came to an end, he began his journey as a celebrity actor when he joined Supernatural as Sam Winchester. He began starring on the show in 2005, alongside co-star and soon to be close friend, Jensen Ackles. In many ways since then, the rest has been history.
While Jared Padalecki's Supernatural role kept him busy between 2005 and 2020/21, he made additional appearances across a few films and TV shows. He made guest star appearances in Kings of Con, and The Hillywood Show. He also played parts in films like Phantom Boy and Friday the 13th. Overall, since his 1999 debut, Jared has recorded more than 22 credits to his name, with eight of them coming in TV shows. His eight TV show, Walker, Texas Ranger, will debut in 2021, with Padalecki as a series lead.
How Supernatural Cemented His Place in TV History
For millions of Supernatural fans spread all over the globe, there are plenty of reasons to love Jared Padalecki. His charm, astuteness, manliness, and a gorgeous mane, makes his character, Sam Winchester, one of the show's beloved characters. But while a lot came for the Sam and Dean bromance, millions stayed for the show's storytelling. Jared and Jensen play two brothers who travel across America, hunting paranormal predators while also fighting demons and angels.
Since its debut in 2005, Supernatural became a pop culture leader catering to different genre fans from drama to action and dark fantasy. The show was an instant hit, with more than 5.6 million viewers in its first episode. Originally planned to span five seasons, the show has spanned 15 seasons, with more than 320 episodes. It also made the list of the longest-running American TV series.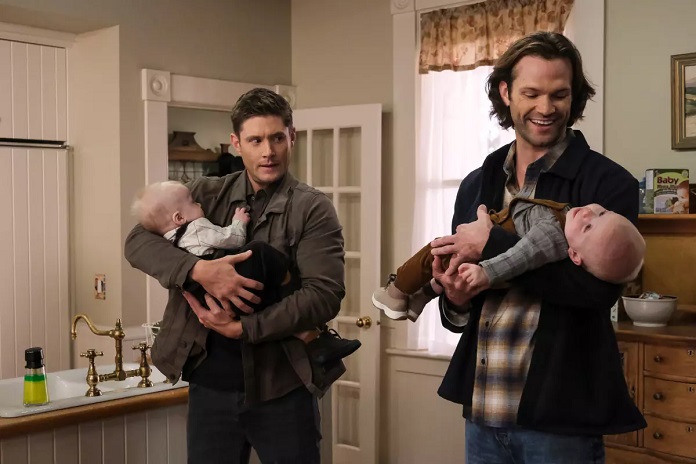 As one of the show's leads, Jared Padalecki's fame rose along with the show's popularity, which has only grown since its debut episode with a large dedicated fanbase spread all over the world, up to faraway Russia. Fanfictions, including erotica (Wincest) and comic books, plus an anime series, have been written about Jared (Sam) and his TV brother, Jensen (Dean).
The popular and positive reception to the show is not limited to fans. Jared's performance on the show has also earned him more than 18 award nominations, from several award organizations. Padalecki has nominations from People's Choice Awards, Russian National Movie Awards, SFX Awards, and Teen Choice Awards.
Ghost-Hunting and Demon Killing Has Also Made Him Wealthy
In the show, Padalecki's character and Dean resort to all sorts of scams like credit card fraud, poker winnings, and pool hustling to make a living and buy equipment for ghost-hunting and demon killing. In real life, he can afford to stay on the right side of the law to carry out his public good thanks to a per-episode salary of $125,000.
Believed to have been earned since the show's 13th season at least, Jared has accrued a net worth of $13 million from starring on the record-breaking show. In addition to his earnings per episode, he also gets paid for appearances at the Supernatural convention and Comic-Con.
What We Know About Jared Padalecki's Personal Life
In addition to his successful acting career, Jared Padalecki is also a happily married man. He is married to Genevieve Cortese, who is also a notable alum of the CW series. Interestingly, the two lovebirds met when Cortese made a brief appearance as Ruby, in the 4th season of Supernatural.
They began a relationship afterward, and in October 2009, he proposed to Cortese. He famously proposed in front of their favorite painting, Joan of Arc, at the Metropolitan Museum of Art. About four months after, the couple tied the knot in a lavish wedding held on February 27, 2010, at Sun Valley, Idaho, the bride's hometown.
Interestingly, both Jared and Jensen are married to women who starred on the show. Jensen married Danneel Harris, who played Sister Jo and the angel Anael on the show.
After two years of marriage, they welcomed their first son, Thomas Colton Padalecki. He was born on March 19, 2012. The following year, they gave birth to their second son, Austin Shepherd Padalecki. Three years later, Cortese gave birth to their third child, a baby girl named Odette Elliott Padalecki. The family lives in Austin, Texas, where Jared owns a 90's-themed bar, Stereotype.
See Also: Who Is Daniel Craig? His Wife, Children, Net Worth, Is He Gay?
He Has Two Successful Siblings
As for Jared Padalecki's extended family, the famous actor has two siblings, an older brother named Jeff and a younger sister, Megan Padalecki. Jeff Padalecki is a certified medical doctor; he graduated from the University of Texas Medical School, Houston, in 2006. He currently works at the Orthopedic Department of Austin Regional Clinic (ARC) Austin, Texas. Jeff is happily married with three kids.
As for Megan, she is an architect who graduated from the University of Texas at Austin. She is also an author of two children's books, Little Moon and Big Mo, both of which were self-published. Megan works as a project manager at Stanton Architecture, and she lives in San Francisco.