Jared Padalecki is a renowned American actor, famously known for his role as Sam Winchester in the television series, Supernatural. Starting his acting career in 1999, the actor rose to the mainstream through his wonderful performance in the 2000 comedy-drama series, Gilmore Girls. He has also played captivating roles in movies such as House of Wax and New York Minute, among others.
Interestingly, his jaw-dropping performances in the Supernatural series has fetched him a good number of awards including two constellation awards, a Teen Choice Award, and a People's Choice Award. In addition to his acting career, Jared Padalecki is happily married to his Supernatural co-star Genevieve Cortese. Learn more about the actor's bio, net worth, family, and other facts below.
Jared Padalecki Bio (Age)
Jared Padalecki is a native of San Antonio, Texas, United States. He was born on 19th July 1982 into the family of Gerald R. Padalecki and Sherri Krammer. His father is a Tax Accountant by profession, while his mother is an instructor, precisely an English Instructor at East Central High School. The American actor is of mixed ethnicity (English, Polish, German, Scottish and French).
Regarding his education, Padalecki completed his basic education at Madison High School in the year 2000. Meanwhile, he developed an interest in becoming a professional actor at the age of 12. Prior to his graduation, he participated in Fox Broadcasting Company's Claim To Fame Competition in 1999, of which he claimed the award. Although Jared planned to attend the University of Texas; he decided to give that up in order to focus on his acting career. Soon after his graduation, he moved to Los Angeles where he eventually got his acting career to a start.
Career
After winning the Claim To Fame Contest, Padalecki went on to attend the Teen Choice Award held in 1999. There, he met an agent who paved way for him in the movie industry. The agent accelerated his pace to stardom as he landed him a minor role in the 1999 movie, A Little Inside. He followed it up with a recurring appearance in Gilmore Girls where he portrayed the character of Dean Forester from 2000 to 2005.
Padalecki has made several appearances on a great number of television series and movies. The highlight of his notable films includes; Gilmore Girls (2000-2005), New York Minute (2004), House of Wax (2005), and Room 401 (2007). Others are Christmas Cottage (2008), Friday the 13th (2009), Phantom Boy (2015), Gilmore Girls: A Year in the Life (2016), and  Supernatural (2005 to present). He also provided a voice for his character's role in the animated series, Supernatural: The Anime Series in 2011.
Jared Padalecki's Net Worth
The talented actor is said to have earned a whopping sum that is between $100,000 and $125,000 as his salary per episode of Supernatural series. It's quite obvious that this has contributed immensely to his net worth, which is estimated to be a huge sum of $5 million.
Family: Brother, Wife, and Kids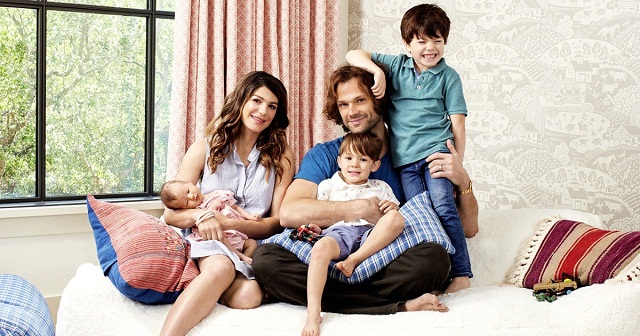 The famous actor has two siblings, an older brother named Jeff and a younger sister, Megan Padalecki. Jeff Padalecki is a certified medical doctor, who graduated from the University of Texas Medical School, Houston in 2006. He currently works at the Orthopedic Department of Austin Regional Clinic (ARC) Austin, Texas. Jeff is happily married with three kids.
In addition to his acting career, Jared Padalecki is also a happily married man. He is married to Genevieve Cortese, who is also among the cast of the TV series, Supernatural. Interestingly, the two lovebirds met when Cortese made a brief appearance as Ruby, in the 4th season of the TV series. Thereafter, in October 2009 he made a marriage proposal to Cortese.
The following year, the couple tied the knot in a lavish wedding held on 27th February 2010, at Sun Valley, Idaho; the bride's hometown. After two years of marriage, they welcomed their first son, Thomas Colton Padalecki. Thomas was born on 19th March 2012 and the following year, their second son, Austin Shepherd Padalecki was born. Three years later, Cortese gave birth to their third child, a baby girl named Odette Elliott Padalecki.
See Also: Who Is Daniel Craig? His Wife, Children, Net Worth, Is He Gay?
Height and Other Interesting Facts
Jared Padalecki is 6 feet 5.5 inches tall, which matches perfectly with his body weight of 100kg.
The American actor won his first Constellation Award in 2008 following the sensational role he played in the series, Supernatural.
He also won the same award in 2013 for the same role.
Alongside Jensen Ackles, Padalecki clinched a People's Choice Award for the Favourite TV Bromance in 2014.