Jasmine is a young woman whose life took a really bad turn after she watched the movie The Natural Born Killers and chose to model her real life after the deadly plans she saw in the movie. She planned and acted the scenes alongside her supposed boyfriend Jeremy Steinke against her unfortunate family who fell prey to her twisted imaginations. Jasmine Richardson has been considered the youngest person ever who has been charged on a three-count murder and homicide. Here is all you should know about her.
Who Is Jasmine Richardson?
Sadly, Jasmine Richardson was twelve when her creepy imaginations began a toil on her, all she ever wanted was to feel free from the grips of her parents because she was asked to stop seeing an older kid who she probably thought she was in love with. You could imagine that she wanted to grow up so fast!
Jasmine was born into the Richardson family sometime in the year 1992, they never knew their bound of joy would cause their demise on earth. Facts about her deceased family are not quite known but we have gathered a few details, her mom who was named Debra; was murdered at 48, her dad; Marc was murdered at 42 while her brother Jacob was just 8 when he was murdered as well.
Her mischief started when she thought she found love with Jeremy Steinke who was 23 years old as of the time they met. Jasmine was an early bird when it came to love and probably her perfect definition of love was based on the butterflies in her stomach, the whirlwind passing by and the whole euphoria that comes with such feelings, she never knew there was much to be attained.
Here's Everything You Need To Know
1. How They Met
Jasmine Richardson met Jeremy Steinke at a rock concert earlier in 2006 when she was just 11. They both had different ideologies in describing themselves. He described himself has a Werewolf who had lived for three hundred years while she described herself as a gothic individual. Jasmine on the other hand always wore heavy and dark makeup with the intentions of making herself look older.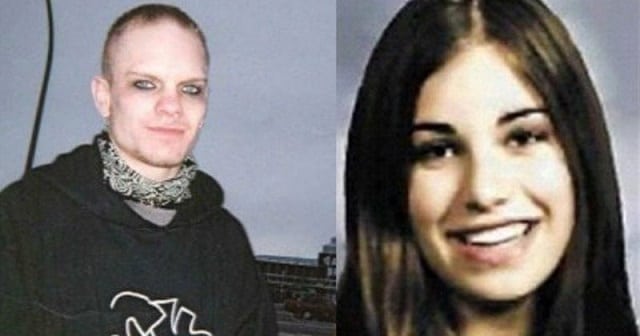 The duo belonged to an online community named VampireFreaks.com; a community that is built to unite acclaimed freaks and vampires. Despite lying about her age, she chose one of the darnedest names on the platform; Runaway Devil which should have actually given a hint to the later event.
2. Her Family's Disapproval
I guess you may be wondering what really made a 12-year-old kill her parents? I could offer a penny for your thoughts. Well, Jasmine's tale unfolded because her parents refused consent for her relationship with Jeremy. We couldn't pinpoint the reasons for this, however, Jasmine's friends had testified, that her parents felt Jeremy was a pedophile although there may be other reasons why they didn't give their consent. In light of this, they probably perceived a wrong aura with the 23-year-old-year-old lad or perhaps were concerned that their baby girl may have been sexually exposed at a tender age?
3. The Plan
On the verge of retaliating her parent's disapproval of their ill-fated relationship, Jasmine drafted an ominous plan with Jeremy Steinke. Her first point of call was sending a mail to her accomplice indicating how they should go about their heinous agenda with full intentions of living with him afterward. Prior to the day the email was sent, records have it that the duo watched the horror movie The Natural Born Killers and decided to act out the scenes of the movie.
See Also: Elisabeth Fritzl Biography, Children, Father – Josef Fritzl, Where Is She Now?
4. The Killings
Jeremy took the lead, having been masked up with his chosen weapon; a knife raged at Debra (Jasmine's Mother) and stabbed her severally before moving towards her husband  Marc (Jasmine's Father) and did same. A screwdriver was found at the scene and conclusions were drawn on the basis that Marc probably tried defending himself. On the other hand, Jasmine executed her part of the plan by sliting her younger brother's throat, poor kid.
5. The Aftermath
The foolhardy couple thought they pulled off their dastardly plan successfully but never knew that the police would catch up on them soon. After their plans seemed successful, they drove off on Jeremy's van to their supposed utopia.
Nevertheless, crimes of this nature hardly go unnoticed for long, you can imagine how foolish they were not to have thought of what would become of the dead bodies decomposing and their unavoidable stench. It wasn't long when one of their neighbor's kids visited their house and beheld the traumatizing sight of the corpse of the Richardson's. The kid alerted his mother who did the proper thing to inform the police.
As the police began their investigations, they initially thought that Jasmine Richardson was held captive by whoever murdered her family members. Little did they know that she was the prime suspect, all fingers pointed at her the more as soon as they read her emails to her lover detailing how they would carry out the killings.
She was later charged in 2006 with three counts of first-degree murder and sentenced to ten years imprisonment as well as spending at least four years in a psychiatric home. Similarly, Jeremy Steinke was sentenced to twenty-five years imprisonment and must be regretting his foolish acts by now.
By 2016, Jasmine was released after which she changed her identity with no one having the records of her new identity.