The United States legislature has seen hundreds of men walk through its institutions as representatives of the people. Some were armed with the passion to help improve the lives of their people while some were inspired by greediness and lust for power. What both groups share, however, is undeniable ambition. One of these men was Jason Chaffetz, who served in the United States House of Representatives from 2009 to 2017.
He was notable for beliefs and political positions such as the opposition against same-sex marriage, climate change, and the Affordable Care Act. He was also known to be a skeptic when it came to vaccinations. Jason currently works with Fox News as a commentator. Here is a quick look through his background and career to this day.
Jason Chaffetz Bio and Ethnicity
Towards the end of his tenure, he became notorious for being a staunch supporter of Donald Trump and a fierce critic of Hillary Clinton. As a Republican, he was one of the party's leading names in promoting the party's agenda, a reputation that has earned him a lucrative role with Fox News. His journey to the United States Congress all began in college; he was born on the 26th of March, 1967.
Jason was born to John A. Chaffetz and Margaret A. Wood in Los Gatos, California. However, his father's job as a businessman meant the family moved quite a bit while he was growing up; Jason was eventually raised in multiple states like California, Arizona, and Colorado. Jason Chaffetz was born to a Jewish father and was raised Jewish although he is currently a Mormon.
For his education, Jason Chaffetz attended a couple of schools as a result of his parents' relocation. He attended high school in California and in Colorado, where he graduated from Middle Park High School and attended Brigham Young University, earning a Bachelor of Arts degree in Communications from BYU College of Fine Arts and Communications. His college years saw many transformations in his beliefs as he converted from Judaism to Mormonism, with his political views shifting from democratic philosophies to Republican's.
After he graduated from college in 1989, he worked for Nu Skin International, a multi-level marketing company as a public relations officer for 10 years; he met former US President, Ronald Reagan while he was with Nu Skin. His meeting with Ronald Reagan solidified his belief in Republican ideals. After serving in the private sector for over a decade, Jason Chaffetz still harbored ambitions of public service and applied to join the United States Secret Service in 2003 but was rejected for poor qualifications. The following year, he helped Jon Huntsman win the race for the Governor of Utah and he was appointed Chief of Staff.
He announced his intentions to run for the 2008 elections in the House of Representatives in 2007 and contested for the Republican ticket alongside Chris Cannon and David Leavitt. On main election night, Chaffetz defeated Democratic candidate Bennion Spencer.
Since he assumed office in 2009, Jason has taken a notable stand on major policies and legislation like the Affordable Care Act. As a representative, his conservative leanings have sparked several controversies, including his denial of Climate Change and the opposition to same-sex marriage.
He also opposes Net Neutrality, Planned Parenthood, and the defunding of National Public Radio. Jason was a vocal critic of President Obama and a staunch supporter of Donald Trump, voting for him in the 2016 election. While he was a congressman, he served in a few committees including Committee on the Judiciary and Committee on Oversight and Government Reform. He is a published author with three books and a regular contributor on Fox News.
His Resignation
Jason Chaffetz announced his resignation from the House of Representatives on April 19, 2017, following the recommendation of surgery by his doctor for an injury he sustained in 2006. He was originally supposed to finish out his term without seeking reelection but the severity of the injury forced him to retire on the 18th of May, 2017.
What Is His Net Worth?
Jason Chaffetz has been able to build a comfortable life through his life in the private sector and his public life as a congressman. Today, he has a net worth of $3 million which is further maintained by a lucrative gig with Fox News. He currently lives with his family in a house reportedly worth $1 million.
Jason Chaffetz's Wife and Family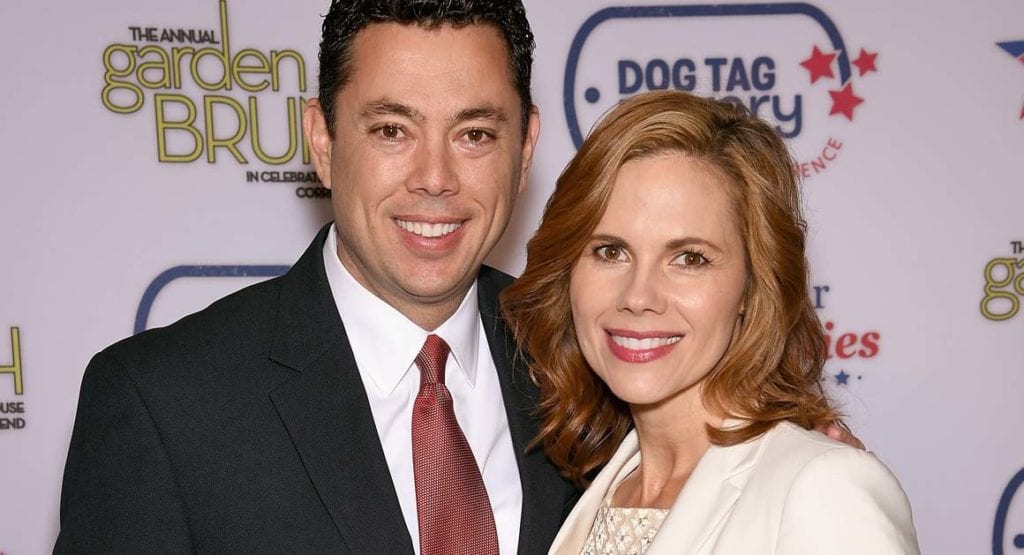 Jason Chaffetz met his wife, Julie Johnson while he was in Brigham Young University. The two of them were students of the school at the time and eventually got married after his graduation in February 1991. Together with their three children – Max, Ellis, and Kate Chaffetz, they live in Alpine in Utah County.
How Tall Is He?
Jason Chaffetz used to play football in college, which he attended on an athletic scholarship. Even though we are yet to confirm his height, it's obvious he pretty tall and fit. Jason has black hair and dark eyes.