Dreams or desires never come true until it is accompanied with passion and action. That was exactly what Jason Genao did in a bid to make his childhood dream of becoming an actor in Hollywood a reality. Today, he has made appearances in a number of films and television shows and has also become popular for his role as Ruby Martinez and Napoleon on the Netflix hit shows On My Block and The Get Down respectively.
Genao has a long way to go if he must become an accomplished actor but judging his performances in the few roles he has played so far, there is no doubt he has all it takes to become a prominent figure in the competitive industry. While time would tell how far he'd go and the height he'd attain, his rise to fame is an inspiring tale, such that emphasizes that anyone can realize their biggest dreams as long as they refuse to give up on it.
The Struggles of Kicking off His Career
The rising Hollywood star was born on the 3rd of July 1996 in New Jersey, United States, into a Dominican-American family. Although there is no information about his parents, it is known that he has two brothers named David and Danny.
On several occasions, the actor has thanked his father and one of his brothers for working hard to provide financial support for his acting school. Growing up in Jersey City, he studied at New Jersey high school but later moved to William L. Dickinson High School from where he graduated.
From the time he was a child, Jason Genao nursed the idea of becoming an actor. But at some point, he stopped aspiring as such because it felt like it was a wild dream that was unrealistic and unreachable. Nonetheless, he would see a movie that reignited the desire in him; it was so strong he could no longer dismiss it.
His Journey to Fame Began In a Cheap Summer Acting Program
Having been inspired by the 1947 French movie La Vie en Rose which he watched, Jason Genao resolved to do something more about his quest. Consequently, as a high school student, he took part in the production of many plays and this made him love acting even more.
School plays weren't enough for Genao so around his junior year of high school, he decided to join a cheap summer acting program to polish his skills. Not long after that, he got a talent manager and began auditioning for roles.
Even though he failed his first audition, Jason had the will to keep pushing. In addition to what he had learned from the summer acting program, he had to search online to learn what is required of him, especially in an audition. According to the actor, he googled "how to audition".
Landing His Breakthrough Role In 2016
Determined to make a mark in the American entertainment industry, to join Hollywood in pursuit of an acting career and not just become an actor but an Academy Award-winning actor; Jason Genao didn't let the failures he encountered to deter him.
From what we gathered, the actor attended about three more auditions before he landed his breakthrough role as Napoleon in The Get Down. He debuted on television in 2016, appearing as William Reeves on the "Forty-One Witnesses" episode of the crime drama TV series, Law & Order: Special Victims Unit. 
It was the same year that he landed the role of Napoleon in the Netflix Original television show The Get Down, which focused mainly on the ever-increasing popularity of hip-hop and disco music among teenagers residing in the Bronx area of New York City in the 1970s. He featured in seven episodes of the show from 2016 to 2017.
Logan and On My Block Are His Most Popular Projects So Far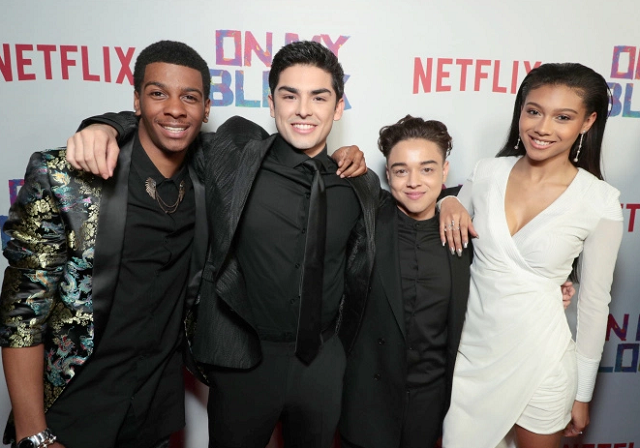 In 2017, Jason portrayed the character of Rictor, leader of the X-23 children, in the superhero film, Logan. The movie focuses on the X-Men character, Wolverine, who must do everything possible to take a group of mutant children to Eden in order to save them from being killed by the Reavers. The critically acclaimed film was a huge commercial success as it was made with a $97 million budget but grossed $619 million worldwide.
The actor once disclosed that he found it hard believing he would be a part of the project. Although his manager helped him make an audition tape and he had earned some clout with his previous projects, he wasn't expecting to be a part of the movie.
In 2018, the talented actor was again, cast in a Netflix series titled On My Block. He plays the role of Ruby Martinez in the very popular series which the Business Insider ranked first in 2018 among 65 other Netflix Original series. As a result of his amazing performance on the two Netflix shows he has appeared in so far, Jason Genao gained a multitude of fans. Also in 2018, Jason portrayed Isaac on the "Heavenly Taco Truck" episode of God Friended Me.
Within a few years of becoming a professional actor, Genao has become one of the young talents in the film industry who are in great demand. It is expected that he would continue to feature in many projects in pursuit of his Oscar-winning dream.
Jason Genao Is Probably Single 
While the handsome actor is not the tallest actor you will find on any day, he has quite an athletic body is attenuated by his well-chiseled face, brown hair, as well as his beautiful pair of brown eyes.
Given that and the fact that he is successful and popular, there is no doubt that a lot of people wouldn't mind having him as a romantic partner. But then, despite his numerous pictures with other female actresses which he flaunts on his Instagram page, he hasn't been linked to anyone romantically.
To the best of our knowledge, the actor is single and more interested in furthering his acting career.
The Actor Is Very Public-Spirited
Jason Genao is a supporter of the charitable organization NOH8 Campaign which promotes LGBT marriage and gender and human equality. He supports the BlackLivesMatters movement and has generally proved himself to be someone that is socially concerned. He also embraces any opportunity he gets to give back to society.
According to the actor, he would have been either a chef or a medical examiner if acting did not work out.