Dreams or desires never come true until it is accompanied with passion and action. That was exactly what Jason Genao did in a bid to make his childhood dream of becoming an actor in Hollywood a reality. Today, he has made appearances in a number of films and television shows and has also become popular for his role as Ruby Martinez and Napoleon on the Netflix hit shows On My Block and The Get Down respectively.
Jason Genao Bio (Age)
The rising Hollywood star was born on the 3rd of July, 1996 in New Jersey, United States, into a Dominican-American family. Although there is no information about his parents, it is known that he has two brothers – David and Danny.
Growing up in Jersey City, he studied at New Jersey high school but later moved to William L. Dickinson High School from where he graduated.
From the time he was a child, Jason Genao nursed the idea of becoming an actor having been inspired by the 1947 French movie La Vie en Rose which he watched. Consequently, as a high school student, he took part in the production of many plays and this made him love acting even more.
Determined to make a mark in the American entertainment industry, he joined Hollywood in pursuit of an acting career and is focused on not just being an actor, but being an Academy Award-winning actor.
Jason Genao debuted on television in 2016, appearing as William Reeves on the "Forty-One Witnesses" episode of the crime drama TV series, Law & Order: Special Victims Unit. 
The same year, he landed the role of Napoleon in the Netflix Original television show The Get Down, which focused mainly on the ever-increasing popularity of hip-hop and disco music among teenagers resident in the Bronx area of New York City in the 1970s. He featured in seven episodes of the show form 2016 to 2017.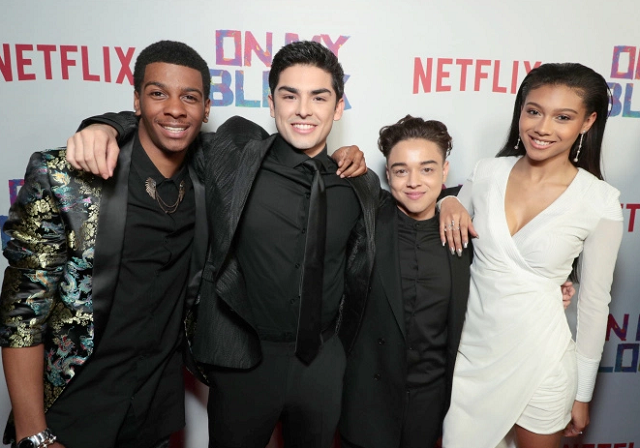 In 2017, Jason portrayed the character of Rictor, leader of the X-23 children, in the superhero film, Logan. The movie focuses on the X-Men character, Wolverine, who must do everything possible to take a group of mutant children to Eden in order to save them from being killed by the Reavers. The critically acclaimed film was a huge commercial success as it was made with a $97 million budget but grossed $619 million worldwide.
In 2018, the talented actor was again, cast in a Netflix series titled On My Block. He appeared in ten episodes, playing the role of Ruby Martinez in the very popular series which the Business Insider ranked first in 2018 among 65 other Netflix Original series. As a result of his amazing performance on the two Netflix shows he has appeared in so far, Jason Genao gained a multitude of fans. Still, in 2018, Jason acted as Isaac on the "Heavenly Taco Truck" episode of God Friended Me.
Within a few years of becoming a professional actor, the super-talented and intelligent Jason Genao has become one of the young talents in the film industry who are in great demand. Genoa continues to be involved in many projects in pursuit of his Oscar-winning dream.
Height and Other Facts About On My Block Star
• The handsome actor is not really on the tall side. He measures 5 feet 2 inches (1.57 meter) in height and weighs 55 kg (121 Ib) with a chest measurement of 36 inches. In addition, Jason Genao's cute athletic body is attenuated by his well-chiselled face, his brown hair as well as his beautiful pair of brown eyes.
• Despite his numerous pictures with other female actresses which he always flaunts on his Instagram page, you might be shocked to know that he has nothing going on with any of them. He is single and is more interested in furthering his acting career.
• According to the actor, he would have been either a chef or a medical examiner if acting did not work out. It's still possible though, that he might leave acting for one of these things as his Instagram bio reads "Actor… for now".
See Also: Thomas McDonell – Bio, Girlfriend or Wife If Married, Movies and TV Shows
• Jason Genao is a supporter of the charitable organization NOH8 Campaign which promotes LGBT marriage and gender and human equality. He is also a lover of Black Panther movies.
• His Twitter handle is @TheJasonGenao while his Instagram page is jason.genao.