Jason Kidd is a highly decorated former American basketball player and a coach. In 19 star-studded seasons in the NBA, he amassed a staggering 17,529 points, 12,091 assists, and 8,725 rebounds. He is the only player in NBA history to reach 15,000 points while exceeding 10,000 assists and 7,000 rebounds. Kidd retired in 2013 and is considered one of the greatest Point guards the NBA has ever seen. Want to know more about this living legend? Come with us…
Age, Ethnicity, and Rise to Fame
Jason Frederick Kidd was born on the 23rd of March, 1973 in Oakland, San Francisco. He has a mixed ethnicity consisting of African-American and Irish Ancestry.
Initially a soccer player, he laid the mark for what would be an impressive career at a young age. He led his high school (St Joseph Notre Dame High School) to consecutive state championships and received several individual honors including the prestigious Naismith Award as the best high school basketball player in the country.
Jason Kidd continued his impressive form at the University of California, Berkeley and received the All-American honor; the first Cal player to be so honored since 1968. After two seasons with the Golden Bears, Kidd declared for the 1994 NBA draft and was picked 2nd overall.
He spent a total of 19 fruitful seasons in the league, playing for the Dallas Mavericks (1994 – 1996, 2008- 2012), Phoenix Suns (1996 – 2001), New Jersey Nets (2001 – 2008), and New York Knicks (2012 – 2013). He won the NBA championship in 2011 with the Dallas Mavericks. In addition, he was selected for the NBA All-Star game on 10 occasions and was named to the NBA First Team 5 times.
Jason Kidd was also an outstanding player for his country, winning a total of five gold medals with the national basketball team. Two of these gold medals came from the Sydney Olympics (2000) and Beijing Olympics (2008). The mercurial point guard called time on his playing career on the 3rd of June 2013. He is now a coach and was inducted into the Naismith Memorial Hall of Fame in 2018.
His Net Worth
Kidd's net worth is currently estimated at $73 million. He amassed his fortune from the hefty contracts he signed during his playing days. He also scored juicy endorsement deals with companies such as PEAK, American Express, Nike, and Gatorade. Since retiring in 2013, Kidd has gone on to become a coach. He has coached teams like the Brooklyn Nets (2013 – 2014) and the Milwaukee Bucks (2014 – 2018).
Jason Kidd Wife, Son, and Parents
Jason Kidd is the product of an interracial marriage. His dad, Steve is African-American while his mom, Anne is Irish-American. His parents are now divorced but remain on amicable terms. Asides his parents, he also has two younger sisters, Denise and Kim.
Jason Kidd has gotten hitched on two occasions. His first marriage was to actress and TV host, Joumana Marie Kidd (nee Samaha) in 1997. Their marriage was marred by several issues including allegations of domestic violence and abuse. In fact, Kidd was actually charged with assaulting his wife in January 2001. He pleaded guilty and was sentenced to 6 months of anger management classes. The couple divorced in 2007. Kidd is presently married to a former model, Porschla Coleman. They tied the knot on the 10th of September 2011 and are still waxing strong.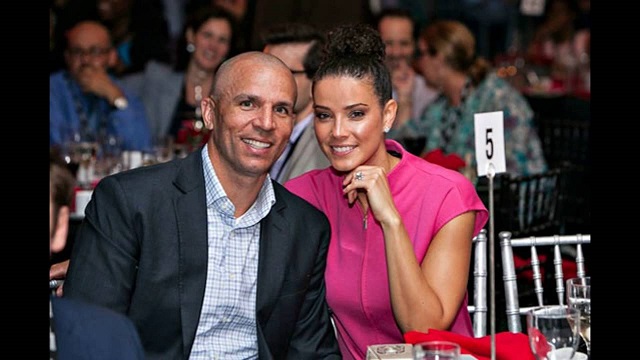 Jason Kidd has a total of 7 children. His first child, Jason Kidd Jr. was born on the 16th of November, 1993, while he was in college. The mother's name is Alexandria Brown. Kidd's first marriage produced three children, a son Trey Jason (born on the 12th of October 1998) and twin daughters, Miah and Jazelle (born on the 26th of September 2001).
The coach also has three children with his present wife, Porschla. They are Chance Kidd, Noah Grace, and Cooper Anne. Cooper Anne was born in November 2017. Kidd's sons played basketball in high school but there is no indication that they are making a professional career out of it. Kidd's first son, Jason Jr, is openly gay and is proud to be the 'pink sheep of the family'.
See Also: Who is Shaquille O'Neal's wife? His Son, Height, Weight, Biography
Height and Weight
Jason Kidd is 6 feet 4 inches tall and weighs 210 lb (95 kg). During his playing days, the San Francisco native was a master of the triple-double, thanks to his impressive passing and rebound skills. He accumulated a career 107 triple-doubles, the 3rd highest in the history of the NBA. His record stood until December 2018 when Oklahoma City Thunder guard, Russell Westbrook overtook him with 108 career triple-doubles.